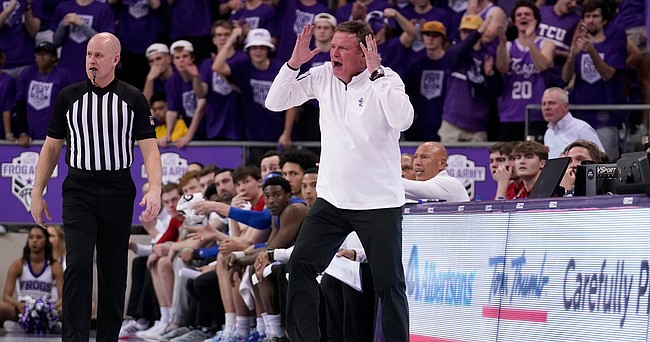 For the second year in a row, the Kansas men's basketball team finds itself playing the same opponent in back-to-back games late in the season, with TCU headed to Allen Fieldhouse on Thursday night for a rematch of Tuesday's 74-64 TCU victory over No. 6 Kansas in Fort Worth, Texas.
Thursday is the make-up date for what was supposed to be the conference opener for both teams on Jan. 1. COVID-19 issues within the TCU program forced that game to be postponed. A similar situation occurred with Iowa State last season and the Jayhawks wound up playing the Cyclones in back-to-back games in February of 2021.
Document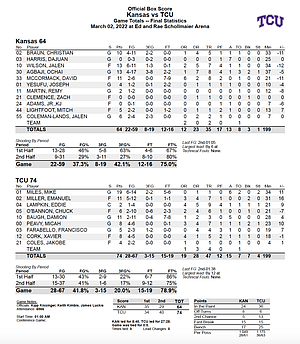 KU won both of those games against the Cyclones, but Kansas coach Bill Self said nothing much can be taken from that experience that will help with this year's scheduling oddity.
His focus heading into the week was to worry about Tuesday first and then figure out what needs to be done on Thursday from there.
"It's a one-game season right now for us," Self said.
KU sophomore Jalen Wilson said the biggest key to success in Round 2 was to learn quickly and focus on correcting the little details that might have cost you in the first meeting.
"It's kind of an advantage to both teams," Wilson said. "You learn from what you did, but you can't really think about what happened (in the first) game because it's going to be a completely new game."
That's certainly the hope for KU, which was bullied on the glass and made to look slow and unathletic for much of Tuesday's loss.
"They just killed us on both ends of the floor," said KU guard Joe Yesufu. "And we have to be better."
A year ago, the Jayhawks played Iowa State at home and then traveled to Ames to play the rematch a couple of days later. This year's schedule sets up more to Self's liking.
"I would probably rather play away-home than home-away," he said. "But there's no scientific reason for that. When you're comfortable with an opponent, maybe the preparation won't be as intense the second time you play them."
That doesn't figure to be the case in this one. If anything, KU's preparation — at least in terms of pride and points of emphasis — figures to be more intense than it was for Tuesday's setback.
"I personally think we did a poor job of getting them ready," Self said. "We've got great kids, they try their butts off. TCU came to play tonight. That was an impressive group of athletes they put on the floor tonight."
Rather than worry too much about specifically game-planning twice for TCU, Self entered the week focused on how he could guide his team through playing three games in five days, with all three of them potentially carrying great importance in the Big 12 race.
Self said that finding time for his starters to rest and getting good production from the bench would be two of the biggest keys to surviving the week. But he also noted that he was more worried about limiting the minutes played by David McCormack and Dajuan Harris Jr. than he was fellow starters Wilson, Ochai Agbaji and Christian Braun.
"Ochai is a different dude when it comes to conditioning," Self said. "He runs more than anybody else in a game. To me, he plays harder than everybody because of the way he runs the floor. Other guys play hard, don't get me wrong; but nobody runs the floor like he does in our program. He can probably physically play less than maybe CB can or even Jalen. But I'm not worried about his minutes this week. David's minutes I'd be more concerned with. And Juan's. But (with) the other guys, I'm not concerned about minutes."
KU and TCU are slated for a 7 p.m. tipoff on ESPN+ on Thursday at Allen Fieldhouse.
Agbaji a Jerry West Award finalist
Agbaji has been named one of five finalists for the 2022 Jerry West Shooting Guard of the Year Award, the Naismith Memorial Basketball Hall of Fame announced Tuesday.
Joining Agbaji as finalists are Bennedict Mathurin (Arizona), Jaden Ivey (Purdue), Johnny Juzang (UCLA) and Johnny Davis (Wisconsin).
A national player of the year candidate, Agbaji entered the week leading the Big 12 in scoring at 20.4 points per game, which ranked 15th nationally. He also was second in the Big 12 and 11th nationally in 3-point field goal percentage at 43.3%. Agbaji has scored 20 or more points in a league-high 16 games this season and has scored in double figures in all 28 games he has played in this season.
The Kansas City, Missouri, native who has earned Big 12 Player of the Week honors four times this season is a two-time Academic All-Big 12 selection who entered Tuesday night ranked 26th on KU all-time scoring list with 1,471 career points and seventh with 228 3-point field goals made.
Advice for Remy
As KU guard Remy Martin continues to work his way back from a prolonged absence brought about by a bone bruise in his right knee, Wilson shared some of the advice he recently tossed Martin's way.
"Just stay confident," Wilson said. "Keep working every day to get a little bit better every single day. Keep his mindset (good), be the best teammate he can be no matter what's going on."
Wilson said the biggest key was staying level-headed.
"When you're not doing the things you want to do or not being able to play, it kind of can mess with you a little bit," Wilson said. "We're just used to playing."
Wilson, who has started 17 of the 26 games he has played in so far this season, missed KU's first three games to serve a suspension following a DUI arrest in late October.
Martin, who played 11 minutes in his return to action last Saturday night at Baylor, played 12 minutes in Tuesday's loss, scoring two points on 1-of-2 shooting and adding one turnover.
On Tuesday's pregame radio show with Brian Hanni, Martin said he was having a blast with the program even while injured.
"Even though I wasn't out there with my guys, I still felt just as much invested in the program," he said. "I'm happy (with) the route we're heading to. I think we have a lot more to go, but I'm just happy to be a part of as much as I can."
This and that…
Tuesday's loss made KU 107-16 in games following a loss during Self's 19 seasons in charge… The loss also snapped an eight-game winning streak over the Horned Frogs, bringing KU's all-time record in the series to 22-3, including 9-2 in games played in Fort Worth, Texas… The Jayhawks are now 6-4 in true road games this season and 10-5 in games played away from Allen Fieldhouse.