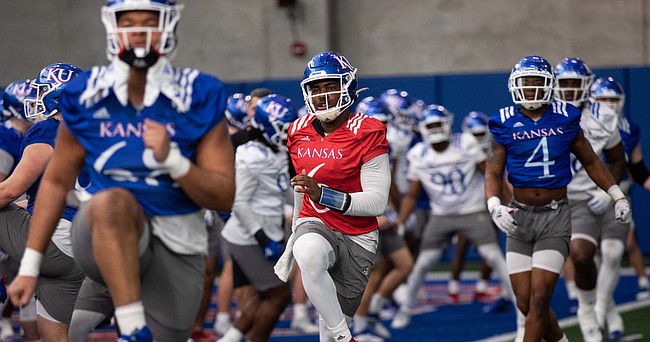 Kansas quarterback Jalon Daniels is dealing with an unspecified injury that will limit him through at least the opening two weeks of spring practice, coach Lance Leipold said Tuesday.
Leipold said he was not "going to go very deeply into it" and said that there were "some postseason things that he had to (address)." Daniels is participating in some drills but is "not taking a lot of team reps," the coach said.
Daniels, who will be a junior in the fall, played in six games and started three for the Jayhawks last season. He was pressed into action in the game at Texas on Nov. 13 when Jason Bean and Miles Kendrick were unavailable because of injuries, and he engineered Kansas' surprising 57-56 overtime victory and punctuated it with the winning two-point conversion pass to fullback Jared Casey.
That kept him in the starting role for the final two games, against TCU and West Virginia, and led to the burning of a potential redshirt. On the season, Daniels completed 81 of 117 passes for 860 yards, seven touchdowns and three interceptions, and he ran 33 times for 83 yards and three touchdowns.
Daniels entered the six weeks of spring practice, which began Monday, with the expectation that he would resume as the starter when the season kicks off Sept. 2 against Tennessee Tech. Bean, who transferred to Kansas from North Texas prior to last season, is still on the team and will be a redshirt senior in the fall. Kendrick has since decided to transfer to New Mexico.
"For (Daniels), a full development in the same offense and the same opportunity, really, I've been impressed," Leipold said. "He looks different. He's one of those that has changed the look of his body here since the second semester. I think in a lot of things, he continues to make great strides in every fashion as a quarterback and as a person."
Leipold said wide receiver Torry Locklin, whose season ended in early November with a lower leg injury, is still recovering. Fullback Spencer Roe and running back Gayflor Flomo are also recovering from unspecified injuries.
Linebacker Gavin Potter, meanwhile, is "not with us at the moment," Leipold said, though he declined to offer any specifics regarding Potter's situation. Potter, who will be a senior in the fall, started 11 games last season and had 78 tackles, a sack and an interception. He has started 19 of the 31 games in which he has played since he was a freshman.