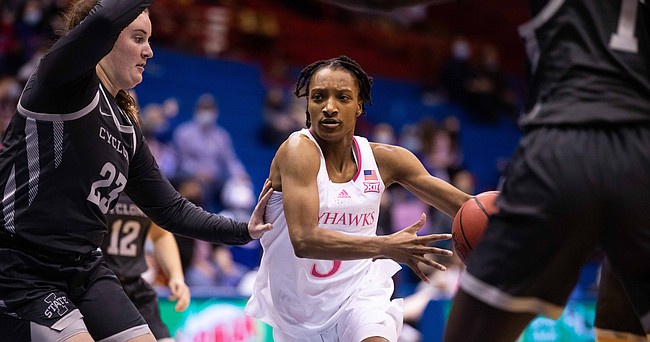 One of the first times Aniya Thomas dribbled a basketball was when her father knew she could be someone special.
Thomas was just 4 years old when her father, Aaron, took her to one of his pickup games at the King Recreation Center in Dallas. He and his brother were playing against two of Thomas' uncles when a loose ball rolled toward her on the sideline.
"She picked the ball up and dribbled it like she was watching us," Aaron Thomas said. "It blew our minds. If we had video cameras or camera phones back then? Man.
"I just made sure that when me and her mom (Crystal) talked about it, she kept practicing because we knew she wasn't going to be 6 foot. When I talked to her, I told her, 'When you play this game, you've got to handle that ball,' and she took it from there."
Thomas, a guard on the Kansas women's basketball team, didn't make it to 6 feet. She stands just 5-foot-7.
But she did reach excellence in the sport that few others achieve. On Wednesday night, she and teammate Julie Brosseau will be honored at Allen Fieldhouse prior to the game against No. 9 Texas as part of the Jayhawks' senior night celebration.
Nobody has played in more games for the Jayhawks than Thomas, who will be making her 109th appearance when she steps onto the court. She has started 69 games and scored 930 points during her four seasons.
To coach Brandon Schneider, however, her greatest quality may be that she exemplifies the hard-working mentality he has been trying to instill at Kansas. That the Jayhawks (19-7, 10-6 Big 12) have achieved their greatest success under Schneider this season, his seventh, is due in part to the example he said she has set.
"She's been part of building the foundation," Schneider said. "I think that she and I have been through a lot together, highs and lows, and fortunately for this particular year, there's been a lot more highs. She's been a key, key contributor. She's what I would call a defender of the culture. She helped build it and then she defends it every day."
That's because basketball has been part of Thomas' identity since before she began grade school. Cathy Self-Morgan, Thomas' coach at Duncanville High School just southwest of Dallas, recalled her showing up at a basketball camp for fourth- and fifth-graders when she was in third grade.
Self-Morgan tried to turn her away, but Thomas refused.
"She was like, 'I don't care. I can do this. I can do this!'" Self-Morgan said. "She did. She got it done. ... She was just a little bit, but she still had that soul, that heart, that passion."
Thomas won state titles at Duncanville during her junior and senior years. Between them, she earned a scholarship offer from Schneider after impressing him during a recruiting camp at Kansas in 2017.
She and highly recruited high school teammates Zaay Green and Starr Jacobs committed to play together at Kansas on Oct. 1, 2017, marking a recruiting coup for Schneider and the Jayhawks. It was short-lived, however, as Green and Jacobs rescinded their decisions shortly thereafter, with Green instead choosing Tennessee and Jacobs heading to Houston.
Thomas, though, never wavered. She wanted to play at Kansas because of her connection with Schneider, and even in recent years, when the Jayhawks struggled and several teammates chose to transfer, she remained resolute.
"I've been here when it was at its worst," Thomas said. "I'm glad to be part of the change and get to experience it. People in the past left, but I'm glad I didn't leave or anything. I'm glad I still get to be here and experience the change that I wanted to since I've been here."
Still, this season has not been easy for Thomas. She fell out of the starting rotation on Jan. 29 — the start of Kansas' record-tying seven-game conference win streak — because of a shooting slump. Before the season, it seemed likely that she could reach 1,000 career points; she's averaging 8.5 points per game this season, leaving that mark in doubt.
She may get a reprieve. Thomas has an extra year of eligibility remaining because of the COVID-19 pandemic, and although she and Schneider have discussed it a return, she said she hasn't determined whether she wants to use it.
That decision could come after she plays in the NCAA Tournament for the first time later this month. That's the type of spotlight Thomas has wanted to be under since she first picked up a basketball all those years ago.
"I'm enjoying it," she said. "It's been a long time. Been through a lot of ups and downs, people not respecting us, and it's just been a lot, but we're proving everybody wrong day by day. We're still here. We've still got a lot of work to do. It doesn't stop now."