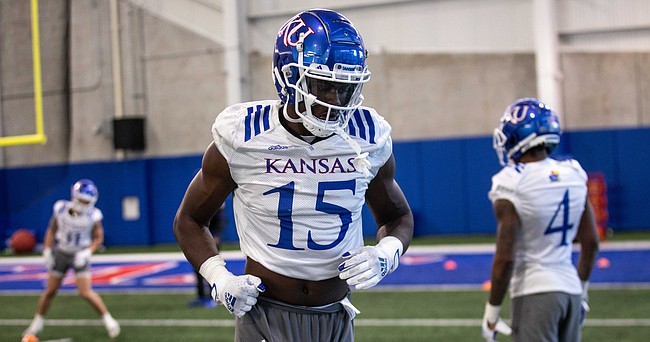 The only constant for Craig Young during his college years has been change.
Young, who committed to play at Ohio State intending to play wide receiver, will be playing linebacker for Kansas in the fall. In the four years in between his decision and this spring, Young was moved to safety, asked to play linebacker, returned to safety — and, in January, he headed to Kansas, where he will play linebacker and nickelback.
Come this fall, Young wants to be able to focus on doing one thing well above all else.
"The role for me is just to be the best player I can be," Young said. "Do my job. Everything is going to fall into place if I just do my job and we'll win games."
Young, who has three seasons of eligibility remaining, was one of the best high school football players in Indiana in the Class of 2019. He was ranked the No. 10 player in Indiana by Rivals.com and received scholarship offers from Michigan State, Wisconsin, Purdue, Iowa, Iowa State and Indiana, among others, before choosing the Buckeyes.
He played in 26 games over three seasons as a backup at Ohio State, with his notable highlight an interception he returned 70 yards for a touchdown against Maryland in October.
Young will likely assume a starting role come the fall — and if not, he's almost certain to be playing significant snaps for the Jayhawks. The 6-foot-3, 230-pound native of Fort Wayne, Indiana, is "really a bona fide athlete," according to defensive coordinator Brian Borland, who has been impressed by his talent.
"His athleticism, his speed, his length is something that we need more of, and so he's been able to step in," Borland said. "It's a credit to his talent, but again, he's been so good in terms of really being hungry to learn, hungry to just work hard all the time (in the) weight room. Anything that we're doing, he's all business."
Kansas coach Lance Leipold said before spring practice began in February, just weeks after Young enrolled at the university, that Young is "looking for that fresh start and rededicating himself to getting himself to the fullest of his potential." He recalled a conversation he had with another coach, whom he did not name, who once watched Young go through drills during a high school camp at Ohio State and said it was among the best workouts he'd ever seen from a player that age.
"I mean, he's talented, man," said Derrick Moore, Young's high school football coach. "He's super gifted. I think he kind of got lost in the shuffle, which is easy to do over at Ohio State. But above all, he's the ultimate competitor."
It's not often that a linebacker is asked to play nickelback, a role typically asked of smaller, quicker players — usually cornerbacks — who have to cover slot receivers. Jarrett Paul, who is transferring to Kansas from Rutgers via Eastern Michigan, and Cam'Ron Dabney, who played in every game last season as a freshman and started two, are among the players who will also get a chance to compete for snaps.
Young, though, was a sectional champion sprinter at Wayne High School who ran the 100 meters in 10.7 seconds, which means he offers a combination of size and speed that will pose problematic for offenses if he's used in that role.
"I would say it probably opened some peoples' eyes, knowing how thick I am and my weight and everything," Young said. "They probably didn't think I could move this fast."
"Craig is a crazy athlete," said cornerback Kalon Gervin, who also transferred to Kansas in January but from Michigan State. "That's what people on the outside don't understand. We're going to be really good this year. Craig is a crazy athlete who gives you the best of both worlds. He's physical. He can play the run, but he also can run with them (fast) guys, those speed guys. He brings a lot to the table. He's a Swiss Army Knife."
One of the biggest reasons why Young chose to transfer to Kansas, he said, was because he felt like the Jayhawks needed help in the secondary. They have overhauled the back end of their defense in recent months, adding not only Gervin and Paul but also Marvin Grant, a safety who started 13 games at Purdue last season.
Grant figures to start alongside Kenny Logan, who led the Big 12 with 113 tackles last season — the most by a safety in the Football Bowl Subdivision.
Young also felt like he could buy in to what the coaching staff was telling him and trust that he could make the team better.
And if the plan the coaches have for him means a lot more change, so be it.
"Me just being versatile and everything, I just know how I am, so it's really good," Young said. "I like when the coaches are moving me around, putting me in different spots and everything, making me have to think and everything, having to play. I like it.
"I like playing different spots. I like learning new things and everything. It's not really a problem to me guarding the receivers or setting the edge or playing in the B gap or playing in the deep half (or) rushing the passer. It's not really a problem to me because I like everything. I like it all."