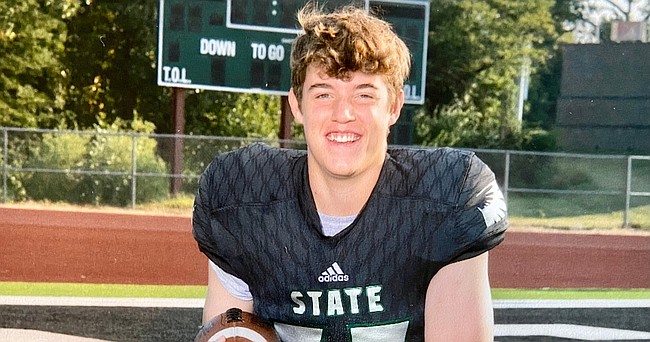 Free State High offensive tackle Calvin Clements has narrowed his list of colleges to three, with Kansas, Kansas State and Baylor all remaining in contention as he prepares to enter his senior season.
Clements took official visits to all three schools over the past month. He began his recruiting tour at Kansas on June 10, spent the next weekend at Kansas State, then was at Baylor from Friday through Sunday.
A three-star prospect who is considered the No. 8 prospect in the state by Rivals.com and 247Sports, Clements was named to the Journal-World's All-Area team in December. He has also received scholarship offers from Oklahoma State, Iowa State, Minnesota and Nebraska.
"I think he's the best player in the state, and I've told him that," Free State coach Kevin Stewart said Tuesday. "I really do believe that. Now, he's not a skill player, so maybe it's not as sexy or he doesn't get all the hype, but he's just got so much talent and for his size, the speed that he has is just unbelievable — and his coordination."
Kansas was the first school to offer Clements a scholarship when it did so in March 2021 — before he had played in a varsity game for Free State. He has primarily been recruited by offensive line coach Scott Fuchs, who is the father of Hank Fuchs, one of Clements' teammates at Free State. Another teammate, Landon Leipold, is head coach Lance Leipold's son.
Clements, who is 6-foot-7 and 275 pounds, has made several unofficial visits to Kansas since he received the scholarship offer and was previously on campus for a spring practice at the end of March.
Stewart said Clements is looking to make his decision on a college during the summer so he can focus on his senior season.
"I talked to him a little bit today about trying to live in the moment, live in the present," Stewart said. "Obviously, this is an exciting time for him, but once he makes that decision, he'll be able to focus kind of his senior year and not worry as much about college and the future. And then once the future gets here, he can worry about that."
Five players are committed to Kansas as part of the class of 2023 — and four of them joined Clements on campus for official visits earlier this month — but none of them are offensive linemen.
Baylor, which has 19 commitments, has received pledges from three offensive linemen but all are projected to play guard or center. One of Kansas State's seven commitments is an offensive lineman, but he, too, is expected to play inside in college.
Free State went 8-3 last season and lost to runner-up Derby in the sectional round of the Class 6A playoffs.