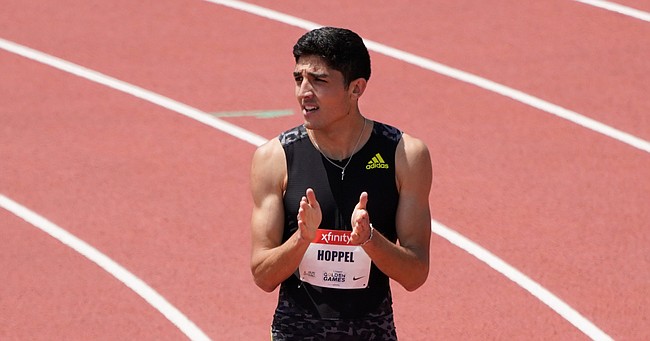 Former Kansas standout Bryce Hoppel won the 800 meters at the USA Outdoor Track and Field Championships in Eugene, Oregon, on Sunday to qualify for the World Athletics Championships next month.
Hoppel, 24, won the event in 1:44.60 to claim his first outdoor title at the national championships. Jonah Koech finished second in 1:44.74 and Brandon Miller was third in 1:45.19.
Miller held the lead through the first 400 meters, but Hoppel claimed the lead on the backstretch on the last lap and held off Koech around the final turn to win.
A two-time national champion while at Kansas from 2016-19, Hoppel won the 800 meters at the USA Indoor Track and Field Championships in 2020 and did so again in February. He finished third in the event at the World Athletics Indoor Championships in Belgrade, Serbia, in March.
He also completed in the Tokyo Olympics last year and finished fifth in his semifinal heat.
Two other Kansas athletes competed at the national championships. Zach Bradford finished seventh in the pole vault after clearing 5.60 meters (18 feet, 4 1/4 inches) and Rylee Anderson finished ninth in the high jump by clearing 1.82 meters (5-11 1/2).
The World Athletics Championships will be held in the United States for the first time as they, too, will take place at Hayward Field in Eugene from July 15-24. Hoppel will be reunited with Kansas coach Stanley Redwine, who is serving in that role with Team USA.
Meanwhile, the USATF U20 Outdoor Championships also took place at Hayward Field over the weekend, with Kansas' Jaden Patterson claiming third in the triple jump at 14.66 meters (48-1 1/4). Quenton Walion took fifth in the 1,500 meters at 3:53.70, Christopher Stone finished eighth in the 3,000-meter steeplechase in 9:38.56 and Peter Walsdorf was ninth in the 3,000 meters at 8:43.97 and 16th in the 5,000 meters at 15:09.11.