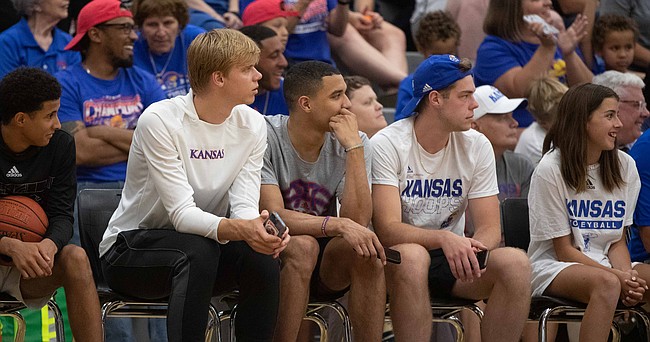 Years from now, when Kansas basketball fans look back at the night Ochai Agbaji and Christian Braun were drafted into the NBA, they may remember June 23, 2022 as the start of KU's next memorable draft run.
For years, Kansas coach Bill Self watched his KU players get picked in the NBA draft with consistency and regularity. The Jayhawks landed at least one player in every draft but one during a 12-year stretch from 2007 to 2018. That included a streak of nine drafts in a row and 11 lottery picks.
That run ended in 2019, KU was shut out of the draft, and, in a three-year stretch from 2019 to 2021, former KU big man Udoka Azubuike was the only Jayhawk to get picked, going No. 27 overall to Utah in the 2020 draft.
After being missing out again in 2021, the Jayhawks landed in the spotlight on Thursday night, when Agbaji and Braun went No. 14 and No. 21, respectively, to Cleveland and Denver.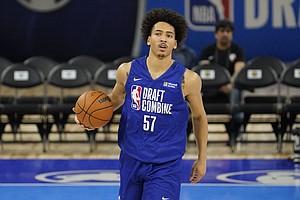 And while Self was visibly elated to see two of his hardest workers and KU fan-favorites realize their dreams in this year's draft, he took time on Thursday to look ahead to who might be in their positions a year from now.
"There's no telling who it's going to be, but you've got to start with Jalen," Self said of returning junior Jalen Wilson during a post-draft Zoom call from New York. "Jalen shot 26% (from 3-point range) this year; if he shoots 38% next year, he'll be a first-round pick. I'm confident of that."
Wilson shared his reasons for returning earlier this week. In doing so, he spoke about understanding that being ready and making sure you fit is far more important than simply hearing your name called on draft night.
"My biggest thing was just patience," Wilson said. "If you look at all the guys that were on our team last year, a lot of them it was their third, fourth year playing."
Wilson's 2022-23 season will be his fourth with the program. And he's hoping for a jump and boost to his draft stock that resembles those that Agbaji and Braun experienced during the 2021-22 season.
Wilson is far from the only player on KU's current roster who could find himself walking across the NBA draft stage one year from now.
As it does every year, ESPN.com released its latest 2023 mock draft on Friday and the two-round projection featured two Jayhawks.
The most recent mock draft has KU freshman Gradey Dick projected to go 18th overall to Minnesota and Texas Tech transfer Kevin McCullar Jr. slated in the No. 53 spot to Brooklyn in the second round.
Neither Wilson nor freshman MJ Rice, whom many KU fans worried might skip college and jump to professional hoops altogether, appear in this particular mock draft, but both clearly have time to work their way onto the NBA radar.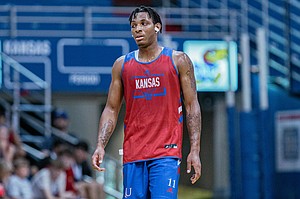 McCullar, who Self has said for years is a future pro because of his size, athleticism, elite defensive skill set and maturity is, according to Self, in the same boat as Wilson.

It remains to be seen what a year at Kansas can do for him. He tested the NBA waters this offseason but, like Wilson, elected to return to school to improve his stock.
The two native Texans and longtime friends are energized by the idea of playing together next season, and Self sees big things for both of their futures, at Kansas and beyond.
"Even though we haven't coached Kevin yet, they're both guys that made good decisions to come back because they both probably weren't exactly where they wanted to be," Self said of McCullar and Wilson. "But I think with them having a good year, we'll be talking about those guys being potential first-round picks next year. And, obviously, Gradey and MJ, too."
Kansas has not had more than two players taken in a single NBA draft since 2011, when Marcus and Markieff Morris were both lottery picks and Josh Selby went in the second round at pick No. 49.
That draft and 2008, when KU had five players drafted, are the only two years in the Self era when Kansas had more than two players drafted in the same draft.
Seeing two Jayhawks taken in a single draft has now happened seven times in the Self era, and Agbaji and Braun on Thursday became the 26th and 27th Jayhawks who played for Self to be drafted into the NBA.
McCormack to Minnesota
Former Kansas big man David McCormack agreed to an Exhibit 10 contract with the Minnesota Timberwolves on Friday.
McCormack, who went undrafted on Thursday night after finishing his KU career with his best basketball as a Jayhawk, will look to use his size, versatility as a scorer and rebounding ability to catch on through the undrafted free agent route in the weeks ahead.
This year's NBA Summer League, which is scheduled for Las Vegas, Salt Lake City and San Francisco, is slated to begin in early July.