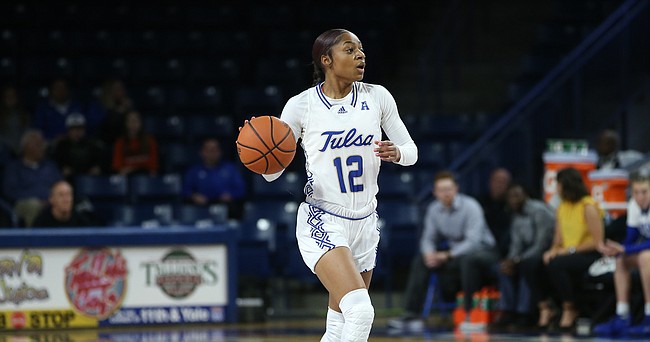 Rabu Leyva remembers the time incoming Kansas guard Wyvette Mayberry made an opponent quit.
Mayberry was a senior in high school when Leyva, her coach, assigned her to defend the point guard. That player, whom he would not name but is now playing at a Division I mid-major school, grew increasingly frustrated by Mayberry's relentless full-court defense until she finally snapped.
"She didn't want to bring the ball up the court anymore," Leyva said. "She was like, 'No, I'm tired of Wyvette guarding me.'"
Mayberry may now be known as a scorer, but her defensive tenacity made her just as threatening at Booker T. Washington High in Tulsa, Oklahoma. In March 2020, after her final season, conference coaches honored her as the player of the year and the defensive player of the year.
That defensive approach will carry her well as she transfers from Tulsa to Kansas. Mayberry, who will be a junior with three years of eligibility remaining, will join a team that pointed to its ability to shut opponents down as a large reason why it made the NCAA Tournament for the first time in nine years last season.
"Wyvette is a relentless defender and competitor," Leyva said. "I think most people, if you watch her, they wouldn't necessarily get that. She's not going to do it with overactivity, but that girl never wants to come out of a game and physically, never has to. I mean, I don't know how she does it. It's like she doesn't get tired."
Mayberry's father, Lee Mayberry, helped lead Arkansas to the Final Four in 1990 under coach Nolan Richardson, then played seven seasons in the NBA. He and his wife, Marla, have five daughters — Wyvette is the fourth — and the oldest three also played Division I basketball.
Leyva said Mayberry's father played a large role in instilling the level of coordination not only needed to play high-level defense but also, on the other side, to be able to handle the ball with considerable control.
"That is a Mayberry tradition," he said. "You're going to play one-on-one, full-court, handling the ball against another person. Not cone drills. They're not doing cone drills. Live, one-on-one, full court."
Mayberry committed to play at UT-Arlington in April 2020, but when coach Krista Gerlich was hired by Texas Tech over the summer, Mayberry reevaluated her options.
Four months later, just before classes were set to begin, she chose to stay close to home and play for Tulsa and coach Matilda Mossman, who recruited her heavily before her initial decision.
"We were kind of at the point where we only had one scholarship left and we were trying to sign a big, and then all of a sudden, she became available, so the question was, 'Do you wait for a big or do you sign a really good player?'" Mossman said. "We didn't even have to think long and hard about it. We have this really good player in front of us. We had to take her."
Mossman, who retired after 10 years at Tulsa following Mayberry's freshman season, also said the family's history in the sport is the reason why her knowledge and feel for the game are so polished.
She said Mayberry will make a significant, game-changing play but won't gloat about it because she believes that's what is expected of her.
"She's always been a team-first player, but I don't think she ever realized how good she could really be," Mossman said. "Things come so easy for her. When she's out there on the floor, she just does things — it's almost like she's not putting out any effort because it's just so natural to her.
"She's a great teammate. She's very steady. She's the kind of kid you know you can count on, and not just as a basketball player. You know you can count on her as a person. If she tells you she's going to do something, she's going to do it."
Mayberry, who is 5-foot-7, averaged 14.1 points, four rebounds and 2.9 assists in 33.3 minutes per game last season, when she was selected to the American Athletic Conference's second team.
Kansas coach Brandon Schneider was looking to add a combo guard who could handle the ball, score and play defense, and he said last month that she was "the kind of player that we were looking for, without question."
"She has great confidence, and she's longer than you think, so if a defender takes a bad step, she's by you in one step and then she's glad to give it up for a wide-open shot," Leyva said. "I think her length as a ballhandler — you look at it and you go, 'She's not going that fast, but wait a minute, she just passed her two times in a row. What happened?' That kind of deceptive speed allows her to take advantage of her high-level ballhandling and vision."
Mayberry said after committing that she chose the Jayhawks' scholarship offer over several others, including one from NC State, which was a No. 1 seed in the NCAA Tournament last season. Leyva said she had also started hearing from Baylor, a No. 2 seed, at the time she committed to Kansas — a decision she thought would be mutually beneficial.
"I think the sky's the limit for her," Mossman said. "I don't think she's going to miss a beat in playing in the Big 12. I think her best years are ahead of her, and again, if you start playing with better players and against better players, that raises her level of play. I think she strives in that kind of environment."