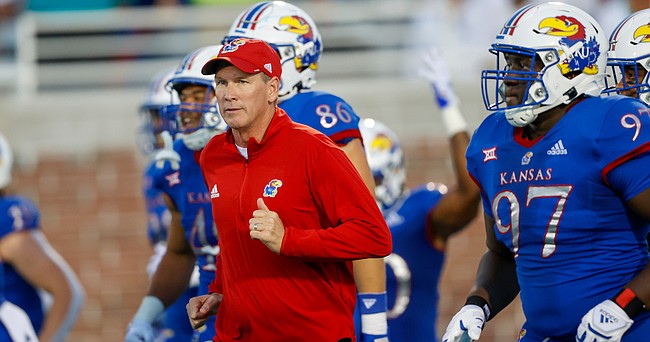 If the Kansas football team can have as much success this weekend with its visitors as it did a week ago, its recruiting class will be in excellent shape.
The Jayhawks will host their second of two big recruiting weekends beginning Friday as several of their top targets will be on campus for official visits.
One of them is Taylor Davis, a safety from Missouri City, Texas, who became the first player in the class of 2023 to commit to Kansas when he did so on June 6.
Davis, who has said he has been trying to sway other prospects toward Kansas since he committed, will have an opportunity to do so in person.
Perhaps the highest-profile player expected to be in town is Dillan Fontus, a 6-foot-5, 260-pound defensive end from Canarsie High in Brooklyn, New York.
Fontus, a three-star prospect, is considered the top player in New York by Rivals.com. He holds scholarship offers from more than 20 schools, including Nebraska, Virginia Tech, Missouri, Ole Miss, West Virginia, Louisville, Pitt, Rutgers and Syracuse.
The official visit to Kansas will mark Fontus' first time in Lawrence, but he has taken several unofficial visits to other schools, including two to Penn State.
Two more defensive linemen, both from Florida, have said they'll be on campus this weekend. DJ Jones is a defensive end from Tampa who has offers from Iowa State, West Virginia and USF, among others, and Marcus Calvin is a defensive tackle from St. Petersburg with offers from FIU and Marshall.
Kansas has been recruiting Jones for some time and offered him a scholarship on March 9. Calvin's offer was issued more recently as he only had the opportunity to play at Kansas beginning June 5.
Outside linebacker K'Vion Thunderbird, from Chicago, and offensive lineman Jacob Booth, from Swartz Creek, Michigan, will also be on campus, according to Rivals.com.
Thunderbird, a 6-foot-1, 205-pound outside linebacker, is considered a top-20 player in the state. He received his scholarship offer from Kansas on Feb. 9 and is also being recruited by Auburn, Michigan State, Ole Miss, Oregon, Nebraska, Tennessee and Missouri, among others.
Booth is a 6-foot-5, 250-pound offensive tackle who originally planned to attend the Jayhawks' camp before receiving a scholarship offer. It is his first from a Power 5 school, with Army, Central Michigan, Eastern Michigan and Kent State also recruiting him.
Running back Brandon High, from Spring, Texas, has also said he'll be on campus. High, who is 6 feet and 200 pounds, received a scholarship offer from the Jayhawks on May 18 and has narrowed his choices to Kansas, TCU, Colorado State, SMU, UTSA, Louisiana, Grambling and Sam Houston State.