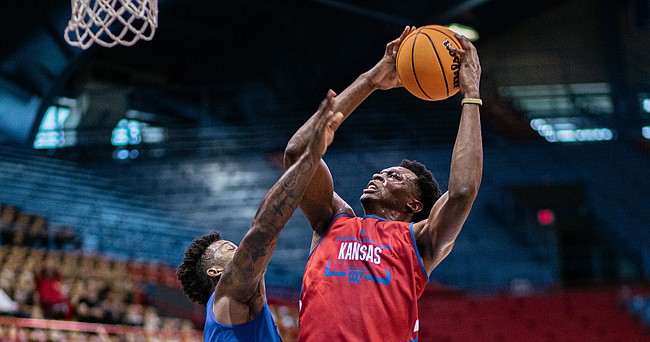 Zuby Ejiofor has only been at Kansas for four days, so when he joined his new teammates for a scrimmage Wednesday to conclude a week of youth basketball camps, he didn't want to hold anything back.
"I feel like I had to make a statement," Ejiofor said.
That he did, scoring 28 points as he led the red team to an 85-73 win over the blue team in a game with a 30-minute running clock in a sweltering Allen Fieldhouse.
A 6-foot-8, 250-pound forward from Garland, Texas, Ejiofor was surprised to hear he had scored so many points and said that doing so "feels amazing."
He scored in a variety of ways, including off an underhanded lob from teammate KJ Adams with around 90 seconds left, but perhaps the most eye-opening baskets were the pair of 3-pointers he calmly knocked down.
Ejiofor made the first one, wide open from about 25 feet away at the top of the arc, with about 16 minutes left. Not long after, he knocked down another from similar range, with the only difference that he spotted up a few feet to his left.
He said he began working on his shot as a sophomore, when he and his coaches recognized that a reliable outside shot and ballhandling skills outside of the paint would make him into a more well-rounded player.
"That's going to get you to the next level," Ejiofor said. "Having a big that can just do more than just the little things. The more you can do it, the more you can show yourself and (gain) more improvement in your game every day."
Ejiofor is one of five players who has joined the defending national champions, including Texas Tech transfer Kevin McCullar Jr., a guard, and a trio of other high schoolers in center Ernest Udeh Jr. and guards Gradey Dick and M.J. Rice.
McCullar, Rice and guard Bobby Pettiford Jr., who will be a sophomore next season, did not play in Wednesday's scrimmage. Forward Jalen Wilson, who decided to return to Kansas after going through the NBA Draft process, won't be back on campus until next week.
Udeh, who is 6-foot-10 and 230 pounds, also had an impressive showing on Wednesday. He finished with 22 points to pace the blue team, and, like Ejiofor, was active throughout the game — something made especially obvious by the sweat he still struggled to keep off his forehead five minutes after it ended.
He said he had been told by college coaches throughout his recruitment that one of his most noticeable traits is that he plays hard, and that's something he hopes to continue doing while at Kansas.
"Us as big guys, you know, you don't see many big guys with that much agility, that much energy, so that for sure makes us stand out," Udeh said.
The two will encounter a relatively wide-open competition for minutes and roles once team workouts begin this fall. Kansas' top two big men last season, David McCormack and Mitch Lightfoot, were seniors last year, and Adams and Zach Clemence were the only others to log minutes of note as freshmen.
They will return — though coach Bill Self has said that ideally, Adams will move full time to the wing — and Cam Martin, a sixth-year senior who redshirted last season after a transfer from Missouri Southern, will also compete for time.
Although Self hadn't yet seen Ejiofor work out when he addressed their futures on Monday, he said he's pleased with his and Udeh's conditioning.
"I would say they're both athletic and they both seem to be in pretty good shape," Self said. "I believe they've done their push-ups and sit-ups on a regular basis, it looks like, over time. But they're both going to be — they need to get stronger. Let's just call it like it is. They need to get stronger. And they will. They're just young."
One of the things that drew Udeh to Kansas was the way it has historically run its offense through its big men. Udeh said he has often watched clips of Joel Embiid as a pro and even during his year with the Jayhawks as an example of how he can adjust to a higher level of competition.
Embiid, the No. 3 pick out of Kansas by the Philadelphia 76ers in 2014, was the runner-up for the NBA's Most Valuable Player award the last two seasons.
"His ability to finish around the basket and his versatility, how he's gotten better over the years," Udeh said, "that's something that I appreciate."
Whether Ejiofor and Udeh can share the floor at any time next season is uncertain, but Ejiofor thinks it's possible. He joked that it would only happen if Self trusts him to be able to handle the ball well enough.
That will start to work itself out in the near future, however, especially now that Ejiofor has made it to campus — albeit at least a week after his classmates.
"It was definitely tough," Ejiofor said. "I was thinking about it the entire time. My school graduated like a week later than everybody else, so I've been waiting for this opportunity and now I'm here. I'm ready."