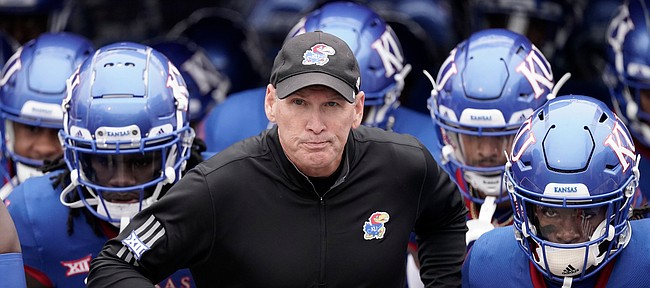 Dean Miller, an outside linebacker at College of the Canyons, became the latest player to commit to transfer to Kansas when he did so on Wednesday afternoon.
A freshman last season, Miller, who is 6-foot-6 and 210 pounds, has three seasons of eligibility remaining plus a redshirt year. An outside linebacker in the Cougars' 3-3 stack defense, he would likely play defensive end at Kansas, which uses a 4-3 base defense.
Miller chose Kansas over scholarship offers from Oregon State, Indiana, Utah State and San Jose State. He took an official visit to Kansas from May 16-18 alongside Eastern Michigan safety Jarrett Paul, who committed to the Jayhawks' coaches before leaving, and has primarily been recruited by defensive ends coach Taiwo Onatulo and defensive backs coach Jordan Peterson.
After an official visit to Indiana last month, Miller decided to call Onatulo on Wednesday and ask a few lingering follow-up questions. He then told Onatulo wants to play at Kansas.
"It was a great talk, so I committed over the phone with him," Miller said. "I had the whole coaching staff on the phone with him listening in, so it was just great hearing them all get excited and cheer once they heard me commit. That was awesome, for sure."
Miller said Wednesday that even though he enjoyed his official visit to Kansas, he wanted to wait to commit because he felt it was important to see other schools.
"I had no complaints," Miller said. "It was just truly amazing, honestly. But it was also my first visit that I had ever been on, so I just kind of wanted to make sure that the feelings stayed the same even when I had some time to come back, think about it and digest it all. It's definitely gotten to a point where the feeling has stayed just as strong as when I left, so I'm just ready to get this thing moving with them."
As a full qualifier, Miller said the next step is for him to apply for admission to the university. Once he's accepted, he'll be able to head east, which he hopes happens by the end of the month.
Miller attended Valencia High in Santa Clarita, California, but transferred roughly 40 miles southeast to Cathedral High in Los Angeles in 2020 in order to be able to play his senior season amid COVID-19 restrictions at public schools. He chose to attend a junior college in order to generate additional interest from football coaches so he could continue playing the sport.
"I've played football since I was about 8 or 9 and it's always been kind of the strongest passion of mine growing up," he said. "It's definitely something that I've always wanted to take as far as I could possibly take it."
He considers his length and speed to be his greatest attributes and recognizes that if he's going to succeed playing defensive end in college, he will need to gain weight. Kansas' defensive ends play at about 240 pounds.
"That's going to be the main focus for me," he said. "Definitely putting on some good weight because at the Power 5 level, what I'm going to be going against is 6-5, 300-plus, so it's definitely important that I put on some more weight so I can hold my own every down."
Miller is the second junior college pass rusher to commit to transfer to Kansas since spring practice ended. Davion Westmoreland, a defensive end at Hutchinson Community College, did so on May 9.
One of Kansas' starting defensive ends, Kyron Johnson, was drafted in the sixth round by the Philadelphia Eagles in April. The other, Malcolm Lee, started 11 games last season and will be a fifth-year senior, and Miami (Ohio) transfer Lonnie Phelps, who will be a redshirt junior, is in the mix to start.
He is the 15th player who has decided to transfer to Kansas since the end of last season.
Miller had the option to return to College of the Canyons for his sophomore season, but as soon as he began receiving Power 5 offers, he knew he wouldn't.
"(It) is kind of a school known for getting people out if you do your thing there," Miller said. "I just kind of figured I'd go down that route and bet on myself and work for what I wanted to get. I can see now it's kind of working out and paying off."