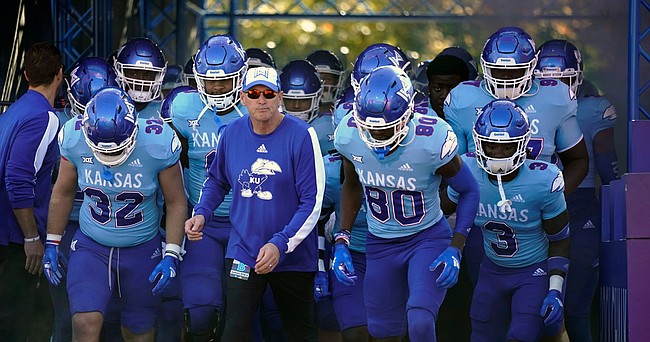 The Kansas football team received two more commitments from players who made an official visit over the weekend when Keaton Kubecka and Tony Terry Jr. decided to join the Jayhawks.
The additions of Kubecka and Terry mean that five of the eight players who were meeting with coaches and players from Friday through Sunday intend to play for Kansas.
A 6-foot-2, 195-pound wide receiver at Westlake High in Austin, Texas, Kubecka committed to Kansas over offers from Houston, Colorado State and Tulane. He also had interest from all three service academies, among other schools.
Terry, a 6-foot-5, 245-pound defensive end from Jackson, Missouri, accepted the Jayhawks' offer over those from Kansas State, Utah State, Central Michigan and New Mexico State, and he was also hearing from Iowa, Minnesota and Missouri.
"I loved every part of (the official visit)," Kubecka said. "It's definitely a college I could see myself at. Every little detail, I loved and fell in love with."
Kubecka received a scholarship offer from Kansas in January 2021, a little more than three months before coach Lance Leipold was hired to replace Les Miles, and made an unofficial visit to campus last summer.
He kept an eye on the Jayhawks — and Leipold had reason to stick with him.
Kubecka caught 42 passes for 714 yards and 13 touchdowns last season for Westlake, which defeated opponents by an average of 47.9 points per game and went 16-0 to win a third consecutive state championship.
Although he lined up mostly in the slot last season, Kubecka said he expects to move outside as a senior.
"I really view myself as a bigger-type receiver — one that's going to go up and win a 50-50-type ball," Kubecka said. "Or, I mean, I'll get you at the line. My route-running is pretty good."
Two of the other players who have committed to Kansas as part of its class of 2023 are also wide receivers — Surahz Buncom of Chula Vista, California, and Jarred Sample of Cypress, Texas. They, plus Kubecka, should help solidify Kansas' receiving game for several seasons.
Between Buncom, Sample and now Kubecka, the Jayhawks will have a trio of wide receivers with differing skills. Buncom, who is 6-foot-4, is a deep threat who was hand-timed at 10.53 seconds in the 100 meters during a high school meet in April. Sample, who is 5-foot-10, is another shifty playmaker with top-end speed; he has been timed at 10.67 seconds in the 100 meters.
Terry is the first defensive lineman in his class to choose the Jayhawks but the second defensive player behind safety Taylor Davis, who did so early last week. Junior college linebacker Tristian Fletcher, who will transfer to Kansas and intends to join his new teammates this week, also was on campus for an official visit over the weekend.
The Jayhawks offered Terry a scholarship following a camp at Lindenwood in St. Charles, Missouri, two weekends ago and hastily arranged to get him in for an official visit, according to 247Sports.com.
Kansas did not sign a defensive end out of high school in the class of 2022 but did add a pair of them via transfer in the past six months. Miami (Ohio)'s Lonnie Phelps and Hutchinson Community College's Davion Westmoreland will join the Jayhawks for next season, with Phelps set to be a redshirt junior and Westmoreland a redshirt sophomore.
The other three visitors were Free State offensive tackle Calvin Clements, Highland Park wide receiver Tre Richardson and Logan Brantley, a linebacker from Englewood, Colorado.
For Kubecka, the decision to join Kansas was based on a number of factors, including a series of in-person conversations with those on the team.
"I mean, all the players have a strong, strong belief that the program's about to take off and go in the perfect direction," Kubecka said. "Everybody's hopping on the train and they're all going far."