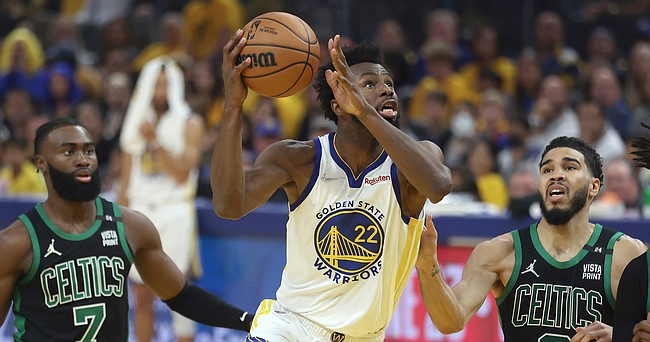 If the Golden State Warriors wind up winning this year's NBA title, former Kansas standout Andrew Wiggins will go down as one of the biggest reasons why.
On Monday afternoon, KU coach Bill Self called Wiggins "Golden State's second-best player in the playoffs." On Monday night, Wiggins was by far the team's best player, carrying the Warriors to a Game 5 win to give Golden State a 3-2 series lead heading into Game 6 on Thursday night in Boston.
Wiggins scored 26 points and grabbed 13 rebounds on Monday night. That, after scoring 17 points and grabbing a career-high 16 boards in a Game 4 win on Friday night. Broadcaster and former NBA coach Jeff Van Gundy called those "the two most important games of his life," and it marked just the second time that he had delivered back-to-back double-doubles in his pro career.
According to CBS Sports, Wiggins joined Shaquille O'Neal (2000), Kevin Garnett (2008) and Kawhi Leonard (2019) as just the fourth player to score 25 or more points and grab 12 or more rebounds in an NBA Finals game without a single turnover.
"People forget that Wiggs has averaged 19 a game for his career," Self said Monday. "He's had a great career."
And he's now just one win away from adding a pretty important prize to it. Think about this: If the Warriors win one more game in this series, Wiggins will win his first NBA title in the same season that he started his first All-Star Game.
Based on how the last two games went, it's not entirely out of the realm of possibilities that he could even be named the Finals MVP, though he'd have to be sensational for a third straight game, while Steph Curry would have to struggle again, for that to happen.
This one almost is starting to take on the feeling of Ochai Agbaji and David McCormack at the Final Four. Most people understood why Agbaji was named the Most Outstanding Player, but many of those same people also thought McCormack was awfully deserving of the MOP honor, too.
It's been a long road to this point for the former No. 1 overall pick, but there's no denying that he has looked ready for the biggest stage in basketball.
After being traded by Cleveland shortly after being selected at the top of the 2014 draft — and then spending a few forgotten years scoring but doing little else in Minnesota — Wiggins has found a home in the Bay Area. Not only has he played his role as the team's third or fourth offensive option to perfection, but he also has found his confidence again.
During Monday's Game 5 broadcast, television analyst Mark Jackson said it looked as if Wiggins was back in college — or even high school — where he knew he was the most athletic and most dynamic player on the floor every night and believed that no one could stop him.
It's been so much more than that, though. He has been Golden State's best defender, taking on a number of nasty defensive assignments throughout their playoff run, and he has done it all with the poise of a veteran who has been there before even though he hasn't.
During the on-court postgame television interview following the game, Wiggins was smiley but serene.
"Man, I'm just trying to do every little thing to win," he said. "If I've got to score, rebound, defend, anything I'm asked to do on the court to help win, I'm going to do."
That includes, of course, dropping a highlight at any given point. On Monday, that came in the form of a ferocious one-handed jam down the lane that essentially signaled the end for Boston.
Asked what he thought the dunk's message was, Wiggins smiled and said: "We're here. We're hungry. We want this."
With former KU point guard Aaron Miles on the Boston bench as an assistant coach, Self noted that he's happy for both former Jayhawks and added that he had enjoyed watching both succeed at the highest level of basketball.
"I don't want to say I hope one over the other wins," Self said. "But I'd love to see it go seven (games) and (have) Wiggs be MVP of the series."
If he is, there's been talk in the past about that potentially being enough to have Wiggins No. 22 jersey raised to the rafters at Allen Fieldhouse. Even just being picked No. 1 overall eight years ago has inspired some to say he belongs among the greats at KU's home venue.
Time will tell on all of that. For the former to matter, though, Wiggins and the Warriors still have work to do.

Game 6 is set for 8 p.m. central on Thursday night in Boston.