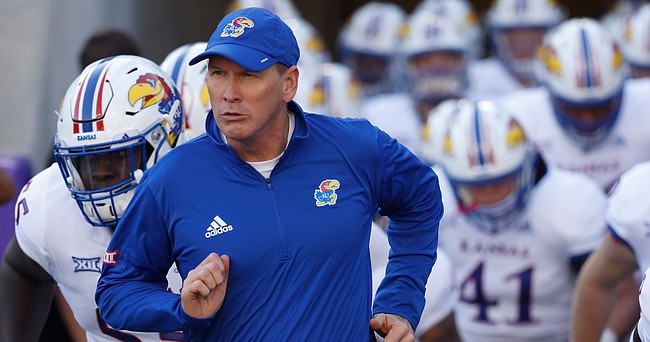 It was difficult for Tristian Fletcher to keep a straight face.
Fletcher had just committed to play football at Kansas during his official visit on Saturday when coach Lance Leipold encouraged him to play coy and not immediately share the news with the Jayhawks' assistant coaches.
But Fletcher, a linebacker from Trinity Valley Community College, realized as soon as linebackers coach Chris Simpson asked him about the meeting that he couldn't keep up the ruse. He strung Simpson along for a moment — long enough that Simpson expressed some disappointment — before he shared his decision.
"It was funny, he looked at me like, 'Dang,'" Fletcher said. "I started celebrating right there."
Fletcher wasn't the only one who felt comfortable with his choice. He was one of three players who decided to join the Jayhawks during their first big recruiting weekend of the month, though he is the only one eligible to play immediately as a transfer.
The others — a pair of high school wide receivers in Surahz Buncom and Jarred Sample — also made pledges to Leipold before their visits were up. And with Buncom and Sample on board, and safety Taylor Davis having given his word early last week, Kansas has managed to land three of its top recruiting targets in the Class of 2023.
Those decisions come as Kansas prepares for another weekend of official visits beginning Friday, when it could receive more news from players who are looking to firm up their college choices before beginning their senior seasons of high school.
Fletcher is a 6-foot, 215-pound middle linebacker who left Trinity Valley after just one season and will have three years of eligibility plus a redshirt remaining. He was originally a running back at Cypress Ridge High in Cypress, Texas, who moved to defense during his senior season and chose to attend a junior college in order to increase his opportunities to play football in college.
He committed to Sam Houston State earlier in the spring but reconsidered once he received a scholarship offer from Kansas on June 3. After flying back home on Sunday with his parents, who joined him for the official visit, he'll return to Lawrence on Wednesday to join his new teammates for workouts.
Buncom, who is 6-foot-4 and 175 pounds and plays at Mater Dei Catholic in Chula Vista, California, decided to commit to Kansas a week earlier over Oregon, Oregon State, Colorado and Duke. He took the visit in order to have continued discussions with the coaches and his future teammates, as well as to meet with academic advisors from the business school who could tell him about opportunities after college.
"Definitely some happiness and relief, I could say," Buncom said. "Those are the two biggest words that I could describe it. I'm pretty comfortable and happy with my decision. I'd say nothing but positive things."
Sample is 5-foot-10 and 165 pounds and also from Cypress, Texas, though he attends Cypress Ranch. He had also received offers from Memphis, Tulsa, Tulane, Army and Navy but only took an official visit to Kansas.
Fletcher said he saw Sample at the airport in Houston and thought he also could have been on his way to Kansas for an official visit. When they got off the plane in Kansas City, they found out they not only were both going to Kansas but that they live in the same town.
Also joining them on the weekend were two highly regarded local players — Free State's Calvin Clements and Highland Park's Tre Richardson — as well as Keaton Kubecka, a wide receiver from Austin, Texas; Logan Brantley, a linebacker from Englewood, Colorado; and Tony Terry Jr., a defensive end from Jackson, Missouri.
By committing to Kansas, Fletcher is the 14th player to transfer to the Jayhawks since the end of last season, the fourth from a junior college and the sixth to do so since May 1.
"When I made that decision, I was like, it was more of a relief," Fletcher said. "I was just ready to work, honestly. That's why I'm ready to get right back on campus."