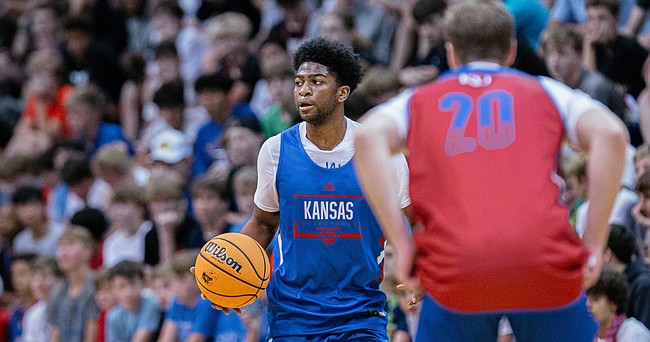 Even though it was only a scrimmage that few others were taking seriously, Kyle Cuffe Jr. was still smiling.
After all, the 30-minute game played by members of the Kansas men's basketball team at Allen Fieldhouse on Wednesday was one of the few times Cuffe has been able to play in anything resembling a competitive outing in what he said was "probably two or three years."
"I redshirted last year and it was COVID the year before," Cuffe said. "I haven't played in an actual game in a while."
A 6-foot-2, 180-pound guard from New York, Cuffe did not suit up for the Jayhawks during their run to the national championship last season. The only time he had a ball in his hands was during pregame warmups, when he would serve as a rebounder or passer for those who were playing and, if the occasion struck, take a shot or two himself.
His high school, Blair Academy in Blairstown, New Jersey, played just two games during the 2020-21 season because of the pandemic, meaning Cuffe's last significant stretch playing in games that mattered was before the coronavirus forced the world to pause in spring 2020.
A four-star prospect who reclassified to join Kansas last summer, Cuffe redshirted because he was essentially a high school senior who was recovering from arthroscopic knee surgery in September. His path to playing time was blocked by the Jayhawks' starting frontcourt of Dajuan Harris Jr., Ochai Agbaji and Christian Braun and top backups Remy Martin, Jalen Coleman-Lands, Joe Yesufu and fellow freshman Bobby Pettiford.
"He may be further along than what he thought he would be, but he's not ready to be an impact player for us, especially early in the season," coach Bill Self said after the decision for Cuffe to redshirt was made.
Cuffe said following the victory parade in April that "practicing against those guys all the time got me way better." Although Agbaji, Braun, Martin and Coleman-Lands have departed, Harris, Yesufu and Pettiford will return.
Kansas also added a pair of high school all-America guards in Gradey Dick and M.J. Rice and welcomed Texas Tech transfer Kevin McCullar, who averaged 10.1 points, 4.6 rebounds and a team-high 3.1 assists last season.
It seemed plausible that Cuffe, who among others had scholarship offers from UConn, UCLA, Providence, Seton Hall and St. John's, his father's alma mater, would have decided to transfer after last season.
Instead, he has decided to remain in Lawrence — "I'm 100% in," he said at the parade — and prove that he's worthy of taking the court for the Jayhawks.
"I'll approach my season a little different from everybody else," Cuffe said. "I've got to still prove myself on that defensive end. That's where I know I'm going to get my minutes from, so that's what I've got to do in order to really get on the floor and shine. All the offensive stuff is going to come. I'm worried about the defensive stuff."
And while Cuffe said sitting out has been "mentally challenging," his focus has been on trying to train so he'll be ready when the season begins in the fall.
That includes the pick-up scrimmages like the one held in front of several hundred youth campers — one that his team won and, he joked, made him "2-for-3 so far" in similar games this offseason.
"I've just got to keep focusing and staying locked in, getting in the gym as much as I can," Cuffe said. "Still working out. Still having fun with the game, but I haven't played in an actual game in forever, so just this year, hopefully getting back out there and getting to play again, that's going to be fun."