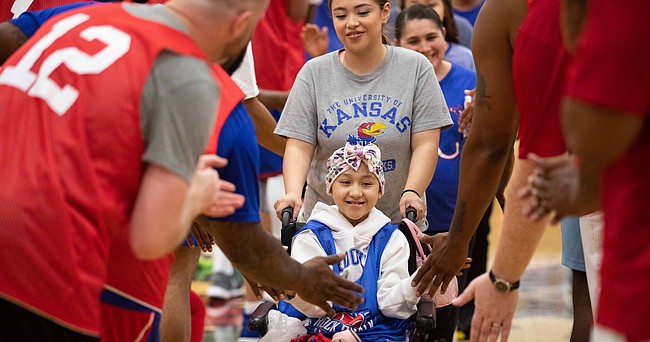 The first full-scale Rock Chalk Roundball Classic in three years came down to a buzzer-beater on Thursday at Free State High School.
But it wasn't Devonte' Graham, Svi Mykhailiuk, Wayne Selden, Sherron Collins, Mario Little or any other former KU sharpshooters that delivered the game-winning bucket for the red team.
Instead, the big bucket came from 2003 power forward Jeff Graves, who rebounded a miss by Collins and laid it back in as the horn sounded for a 113-111 victory.
The bucket by the big man known for his rebounding helped the red team erase a 26-point deficit early in the second half, as the blue squad raced out to a big lead — including 67-48 at halftime — behind strong play from KJ Lawson (nine points), Mario Little (18), Tyrel Reed (17) and Tyshawn Taylor (11).
After trailing 11-3 following three consecutive Devon Dotson 3-point makes, the blue team ripped off a 22-8 run to temporarily take control of the game.
Graves actually banked in a 3-pointer during that run, yelling "I called it" toward the blue bench after his unexpected make.
One of the other first-half highlights for the blue squad came when former KU women's standout Kylee Kopatich threw a lob to Tyrel Reed, who caught it with two hands and flushed it, showing he still has plenty of hops. Reed said the connection was particularly meaningful for him because he helped guide Kopatich through physical therapy when she was in high school at Olathe South before coming to Kansas.
While the game got a little loose and featured a bunch of half-court shot attempts, wild plays and six points from "Downtown" Terry Brown's young son, it turned serious near the end.
"I thought it was going to get more competitive," said Dotson, who finished with 23 points. "But it was all fun and games. When I saw it was like four minutes left, it was like a game and I wanted to keep hooping."
Mykhailiuk, who finished with 17 points, said after the victory that the end was the only thing that mattered.
"We were down 20," he said. "So we had to come back, especially at the end. But it was great to get out here with all the guys, for a great cause and have some fun. It was great."
Mykhailiuk also provided an update on his parents, whom he said are safe and doing well in his native Ukraine. Mykhailiuk said his mom was able to leave the country for a little while but his father has been there the entire time since the start of the Russian invasion.
"I talk to my parents every day," Mykhailiuk said. "They're great. It's pretty safe where I am."
The Mykhailiuks are located in his hometown of Cherkasy, which the former Jayhawk said is about a 2-hour drive from the country's capital city of Kyiv.
Some of the other highlights from Thursday's game included: Selden firing a pass off the backboard to himself for a one-handed jam; Taylor stealing the inbounds pass from Mykhailiuk before he inbounded it for an easy two; Elijah Johnson subbing in off the bench, hockey-style, for a key steal late for the red team; and first-time participant Greg Ostertag finishing a dunk on a pass from Dotson and then immediately asking to sub out because of fatigue.
The whole point of the night, however, was to honor the Starting Five families fighting various forms of pediatric cancer. Three of the five were in attendance on Thursday night, including Jake Jones, a 13-year-old from Roeland Park, who subbed in and scored a bucket.
Ten-year-old Fatima Gomez and her family, of Olathe, were also in attendance, as was the family of 8-year-old Olathe resident George Langston, who also suited up and made his way through the starting lineup introductions before the game tipped off.
"To the people that support the Rock Chalk Roundball Classic, I just don't know that "thank you" even covers it," said Langston's mother, Linda.
The 14th annual Rock Chalk Roundball Classic weekend of events will continue Friday night with a VIP dinner on KU's campus and Saturday with the Rock Chalk Roundbowl Classic at Royal Crest Lanes.
To date, the event has raised more than $770,000 for local families fighting cancer.
Final Stats:
Red team – Devon Dotson 23, Jeff Graves 17, Elijah Johnson 10, Svi Mykhailiuk 17, Wayne Selden 25, Brady Morningstar 2, Sherron Collins 9, Greg Ostertag 6.
Blue team – Devonte' Graham 9, Dedric Lawson 14, Tyshawn Taylor 11, Cole Aldrich 14, Ron Kellogg 3, Mario Little 18, Christian Moody 4, KJ Lawson 9, Tyrel Reed 17, Kylee Kopatich 6.
* The individual totals do not add up to the same as the final score because some players scored for both teams and a handful of children scored out of the crowd.