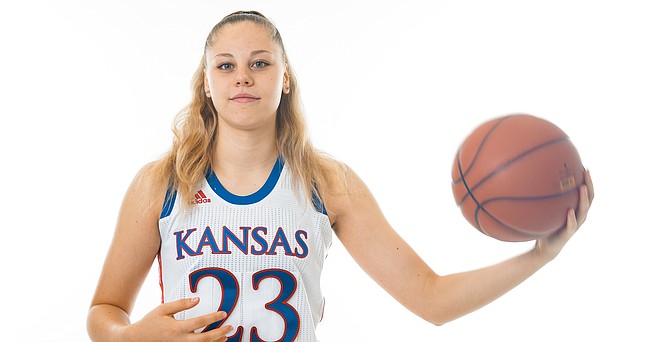 As Zsofia Telegdy watched the Kansas women's basketball team's pair of NCAA Tournament games from her host family's home outside Atlanta, she cheered along with every made basket and, ultimately, felt the heartbreak of the second-round loss.
"I felt like I was with the team even though I was a thousand miles away," Telegdy said.
It won't be very long before Telegdy is with the team in person. One of two high school players who have signed letters of intent to join the Jayhawks beginning next season, Telegdy is less than two months away from traveling to Kansas and starting workouts with her new teammates and coaches.
First, though, there's some basketball to be played back home in Hungary. On Monday, she began trying out for a spot on the team that will represent her country at the FIBA U20 Women's European Championship beginning July 8, and Telegdy, who participated in the FIBA U19 Women's World Cup a year ago, believes she has a good shot of making it.
Like last summer, when Telegdy competed in Debrecen, the tournament will be held in Hungary. This time, the team will compete in Sopron, on the opposite side of the country but still two hours from her Budapest home.
"If everything goes well and I get into the team, we're going to have a month and a half of workouts before the European championships," Telegdy said before tryouts began. "I'll have a week at home before it, and two weeks at home after we finish, (then) I have to come back."
Come this fall, Telegdy will be the sixth European player on the Jayhawks. Unlike the others, however, she has spent the last two years in the United States playing for Trinity Christian in Sharpsburg, Georgia.
She made her official visit to Kansas for the "Late Night in the Phog" event at Allen Fieldhouse on Oct. 1 and committed to play for the Jayhawks shortly thereafter, bypassing scholarship offers from schools such as UAB, UTEP and Chattanooga.
A 6-foot-4 forward capable of making shots from the perimeter, Telegdy is "absolutely skilled in so many ways," said Joe Daniels, her high school coach. Kansas' frontcourt players could not do so last season, which means the Jayhawks should have a different type of scoring threat when she's in the game.
"Her court vision is better than most point guards," Daniels said. "She knows everything that's happening. She knows what's going on in front of her, behind her. She sees the floor amazingly as a post, which makes her deadly in so many ways. She can score from inside, from outside. She's an incredible passer. ...
"We went to the Elite Eight in the state tournament, and one of the things that made us deadly is that she would grab a rebound and turn and just peel up the court like a point guard. We didn't have to send somebody back to get the ball and bring it up. We were off to the races as soon as she got the ball. She made us a lot of fun to watch."
Part of the reason Telegdy is so talented is because she comes from an athletic family. A grandfather, Gyorgy Telegdy, represented Hungary in the 1952 Summer Olympics, and her mother, Aniko Biro, won a bronze medal with Hungary in the European championships in 1991. One of her older brothers, Adam Telegdy, even competed in the 2016 Summer Olympics in the 200-meter backstroke.
Telegdy was always taller than her teammates growing up, and despite her ability to shoot, coaches often told her to stay under the basket, post up and rebound. Once she began playing at Trinity Christian, she said, her game opened up, and "they were begging me to shoot."
"I'm not just a four," Telegdy said. "I'm not just a power forward. I love to go outside. I love to shoot from outside. So, I feel like I can work with that, and also, I can post up and I can finish it under the basket, so I feel like I have a lot of skills that I can prove (at Kansas) that I can help them with."
Telegdy will be joined in the fall by a pair of combo guards: Wyvette Mayberry, a transfer from Tulsa who will be a junior, and Bella Swedlund, a freshman-to-be from Winner, South Dakota.
Throughout last season, Telegdy sent text messages to her future coaches and teammates that wished them good luck or offering congratulations. She won't be needing to do that anymore.
"I was trying to be there," she said, "and let them know that I'm watching."