It's probably not much of a twist of the arm to ask Kansas basketball fans to watch the 2022 national title game again or, specifically, the game's final possession.
A lot has been made in the past couple of months about then-freshman KJ Adams being on the floor for that final miss by North Carolina, and, on Monday, before the first summer workout of the 2022-23 season, Adams talked briefly about what being in that moment meant to him.
"Even though I played probably like three minutes of the game, coach trusted me to put me in that last possession," Adams said Monday. "I feel like I can grow on that."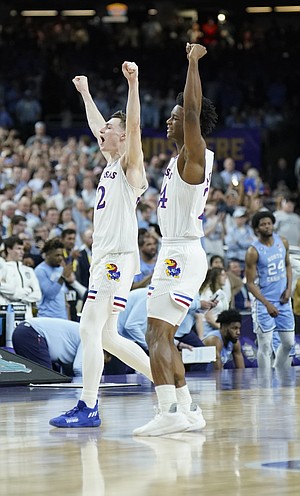 Now that the result is known and everything worked out for Adams and the Jayhawks, it's also much easier for him to look back at the sequence that started with Kansas coach Bill Self telling him to check in and ended with North Carolina's Caleb Love missing a jump shot that secured the title for Kansas.
Adams said Monday that the moment Self called his name during the timeout was still "a little bit of a blur" but he recalled being ready for any moment like that throughout the second half of KU's comeback win.
"Coach likes to use me for defense," Adams said. "So when I see there's this amount of seconds left, I already have my jersey (ready) to go so when he calls my name I'm already there."
During the timeout, as he tucked in his jersey tight and took a couple of deep breaths in the huddle, Kansas assistant coach Kurtis Townsend approached Adams and quietly reminded him, "don't foul a 3-point shooter."
Shortly thereafter, when the 10 players in the game hit the floor, you could see Adams walking toward Love when KU junior Christian Braun told him to reverse course.
"I remember a lot of it," Adams said of the final play. "I remember I wanted to guard Caleb and then Christian said, 'No, I'm not letting this freshman mess this up,' so he ended up guarding him."
Adams threw a token hand in Love's direction as he hoisted the final shot, but it likely had no bearing on the miss. Adams explained Monday, that, in that moment, his whole focus was on doing something — anything — to help KU get the stop.
"When everything's going so fast and so quick, you don't really realize what's going on," he said. "I think I was just trying to help just in case something happened."
What happened was Love missed, and Adams got to spend the next few months — and, really, the rest of his life — celebrating a national championship.
With many of the key players from that team no longer on the roster, Adams said the new group that will be tasked with defending the title was ready to get things started. Monday marked the first day of summer workouts. Tuesday is the first day of summer classes. And by sometime next week, when all 16 members of the 2022-23 roster are in town and working together, next season will officially be in full swing even with the first game still five months away.
"I think it's good that we have something else to focus on and not just dwell on the national championship even though we were really happy with that," Adams said. "It's hard to move on, especially when you go back home and that's all you hear about. But I think everybody's just anxious and ready for the new expectations this year."
Adams, who confirmed Monday that he never even considered transferring from KU in the offseason despite what some rumor mills were cranking out back in April, said his two weeks back home in Austin, Texas, were particularly fun because of the bragging rights he took home with him.
"Rubbing it into a lot of Longhorns fans, I enjoyed that," he said. "I feel like you come to Kansas to play in big time moments, and I feel like I was in a lot of big time moments this last year. … Even though I was in that last possession, I want to grow and play more minutes as I stay here."
https://www.youtube.com/watch?v=do22Ax9m1S4
https://www.youtube.com/watch?v=rc2B2sbLNXc