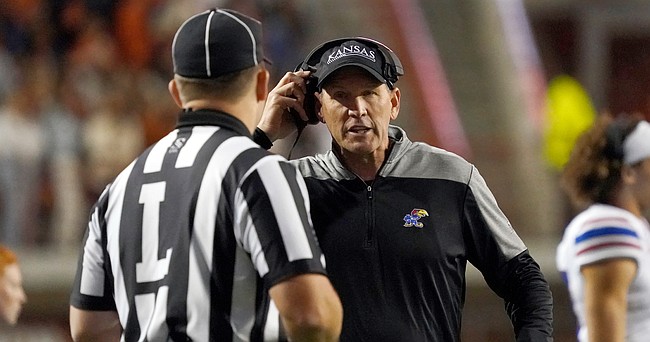 As Kansas football coach Lance Leipold and his family continue to take root in the community just over a year after they moved to Lawrence, they understand the weight their voices can provide to initiatives that are important to people close to them.
And so on Monday, Leipold found himself at Eagle Bend Golf Course as the honorary chairman of the Audio-Reader Golf Classic, a fundraiser for a service that reads newspapers, magazines and books to the visually impaired in Kansas and western Missouri via the internet and closed-circuit radio.
Leipold embraced that role at the behest of former Kansas tight end Jim Moore, a tournament committee member whose son Parker plays football at Free State with Leipold's son, Landon.
"From the time that we got here, we've been welcomed so well by the community, by our alumni, and obviously, when you have an opportunity to give back to the community, and especially something special like this, you make time for it and you can do it," Leipold said. "Hopefully, it's a beneficial day for their fundraising needs."
Eighty players had signed up to compete in the event, which was being held for the first time since 2019 because of COVID-19. That year, the event raised $33,000 for Audio-Reader, which employs three full-time staff members and benefits from the assistance of more than 160 volunteers to disseminate the written word to those who otherwise would not be able to consume it. Although it operates on campus in a building a quarter-mile from David Booth Kansas Memorial Stadium, Audio-Reader no longer receives funding from the university.
Beth McKenzie, Audio-Reader's director of development, said the service's importance to those who are visually impaired was especially noticeable early in the pandemic because it circulated information about operating hours for businesses and government programs.
William Hawkins, the founder and CEO of Hawkins Financial Service in Kansas City, Missouri, wakes up each morning at 6 a.m. and begins his day by learning from the newspapers about developments in sports and business.
A big fan of the Jayhawks who enjoys arguing with his friends about sports every day, Hawkins was born with glaucoma and cataracts and relies upon Audio-Reader in order to keep him informed on what's happening in the world.
"It's just wonderful to be able to read the newspaper, so to speak," said Hawkins, who was volunteering at the event. "I hear all of what's being talked about in the newspaper. This gives me the opportunity to know exactly what it's in there."
Tom Anderson, a board member of the National Federation of the Blind of Kansas, lives in Overland Park and attended the event in order to thank the golfers for their support. A native of Minnesota, Anderson has retinopathy of prematurity and has traveled the world, including time in Poland and in Zambia, assisting others who are visually impaired.
"The radio reading service was a pioneer in making things accessible for blind and visually impaired people," Anderson said.
In addition to a morning on the course, golfers were able to participate in a silent auction fundraiser that included Kansas apparel and memorabilia, including signed shirts, helmets and shoes.
Leipold, who joked that he is not much of a golfer, said he had spent some time learning about Audio-Reader in the weeks before the event. He also took the opportunity to speak to some of the organization's volunteers Monday and express his appreciation.
"Especially through COVID, when everything was shut down, it became more important," Leipold said. "What a special service it provides, and to be a part of it is nice."