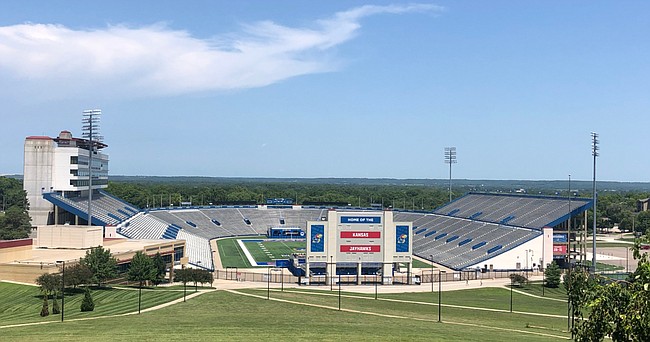 In late 2009, a large banner was hung on the east side of Memorial Stadium that promised a new future for Kansas' football program.
"Coming Fall 2010: Gridiron Club, Join The Legacy," read the banner, the words printed under images of Gale Sayers, John Hadl, Todd Reesing and Darrell Stuckey.
That September, the Kansas Board of Regents formally approved the creation of the KU Gridiron Club, a membership-based fundraising arm that was designed to finance a $34 million, 3,000-seat addition to the east side of the stadium as well as provide a $40 million commitment to enhance academic programs.
Lew Perkins, then the athletic director, hailed the addition to the stadium as "a premium ticket to Kansas football" and "the place to be on Saturday afternoons."
After several promises and a dozen years, however, few substantive renovations have taken place at the 100-year-old facility, the most notable being the removal of the athletic track in 2014. Kansas has cycled through six head coaches and four athletic directors since that banner appeared, and 23 wins over 12 seasons have sapped enthusiasm from many of the team's ardent supporters.
Yet under athletic director Travis Goff and football coach Lance Leipold, each of whom just entered their second year at Kansas, there's renewed hope that a transformation may finally be able to go forward.
Goff, who received bachelor's degrees from the university in 2002, told the Journal-World that the athletic department is "working toward and through" an approach to modernizing the stadium and that a strategic plan for the future of the athletic department will be released in the fall.
It has become evident in the past decade, as major conferences have realigned and media rights contracts have ballooned, that achieving success in football is crucial to securing Kansas' place in the upper echelon of college athletics. And if the university wants to remain competitive well into the future, the vehicle through which it must do so is football — despite winning another national championship in men's basketball in April.
"You have to layer on tangible indicators of what's different about Kansas football, and there's nothing more tangible, as a demonstrative indicator about our commitment to where we're trying to go, than that massive facility," Goff said of KU's football stadium in a recent sit-down interview with the Journal-World. "At the right juncture, with the right plan, no question, that's got to be part of this next X years of demonstrating what's different and what has changed.
"Ultimately, it makes a statement to fans, it makes a statement to our own conference, it makes a statement to our community, it makes a statement to recruits and it also makes a statement to a group of young men that are working hard to get this thing healthy and viable. It's critical. It's not important. It's not nice. It's not, 'Yeah, it'd be great.' It's critical. Yeah, we have to get this right this time."
•••
Kansas was riding a high after the 2007 season, when it went 12-1 and defeated Virginia Tech in the Orange Bowl behind players such as Reesing, Stuckey, Aqib Talib, Marcus Henry and Anthony Collins. It was the perfect time for the university to generate support for a nascent program, and it turned to a tried-and-true sales pitch: Donate now to keep this momentum going.
The Gridiron Club was borne of that success. It was modeled on a fundraising program undertaken by California, which had recently included a plan to add 3,000 club seats on a long-term purchase agreement as part of its $321 million renovation of its facility, also called Memorial Stadium. At Kansas, supporters could pay $25,000 for a seat for five years or $105,000 to have that seat for 30 years, but they could sell their stake at any time to another interested party at a market rate.
What was unforeseen, though, was the significant downturn in Kansas' football fortunes. The Jayhawks finished 5-7 in 2009, including losses in their last seven games, and coach Mark Mangino, who led them to their Orange Bowl success, resigned in December amid an investigation into his mistreatment of players. The economic recession, which began in 2008, also affected the ability to raise funds.
By January 2010, only $4.5 million of the $34 million earmarked for the Gridiron Club had been raised, and the athletic department was not willing to begin construction until the entire amount was secured.
"It's a 10-month construction project," associate athletic director Jim Marchiony said at the time. "Even if we started February 1st, you can do the math."
That spring, the athletic department was the subject of a federal investigation into a ticket scalping scandal in which five employees pleaded guilty to selling more than $2 million worth of tickets for personal profit. Federal prosecutors never discovered any evidence that Perkins knowingly participated in the scheme, but Perkins, who had been the athletic director at Kansas since June 2003 and was then 65, retired in September 2010, four months after the investigation was complete, putting plans for the Gridiron Club on ice.
•••
Sheahon Zenger didn't have the easiest first year at Kansas. Hired to replace Perkins, Zenger fired coach Turner Gill on Nov. 27, 2011 and hired Charlie Weis a couple of weeks later while navigating the first wholesale major-conference realignment since the Big 12 was formed.
Zenger, however, didn't waste much time in turning his attention to the fate of Memorial Stadium. In July 2012, he addressed the future of the aging facility, noting that the most immediate concern was heavily cosmetic — the removal of the athletic track.
"We will do something very special with Memorial Stadium," Zenger said then. "But we want to make sure we honor what we have, and we want to make sure we do it right, because we only get one chance."
The track could not be removed until another was built, and that finally happened in spring 2014, when Rock Chalk Park opened in northwest Lawrence as part of a public-private partnership that also included new homes for the softball, women's soccer and women's tennis teams. By June, plans were afoot to tear out the track, and it was gone by the start of the football season in what Zenger called "step 1A of four or five steps" after $500,000 was gifted by an anonymous donor.
Two months before the track was removed, Kansas hired HNTB, an architecture firm based in Kansas City, Missouri, to begin drawing blueprints for the renovation. Still, little progress was made for years — in 2016, Zenger said that any reconstruction would be a five-year project — until September 2017, when Kansas formally unveiled a $350 million plan to renovate several athletic facilities, including Memorial Stadium, as part of its Raise the Chant campaign.
In November 2017, chancellor Douglas Girod said the university had raised about $70 million toward that $350 million goal. That included a $50 million pledge over five years from businessman David G. Booth, who received a bachelor's degree from the university in 1968, that led to the renaming of the facility as David Booth Kansas Memorial Stadium.
"I buy a lot of art," Booth said in September 2017. "This would buy a lot of art. But every now and then you've just got to stand up because you realize nobody else is going to. And I'm able. Not that many people can, right? A lot of people would give $50 million to the university if they had it."
Like the Gridiron Club before it, the Raise the Chant campaign also fizzled. Zenger was fired in May 2018, and his successor, Jeff Long, slow-played any discussion of stadium renovations for more than a year after he was hired, insisting that the football team needed to be able to draw fans to the stadium before changes could be considered.
In December 2019, Long said there was a goal to raise $25 million over five years for the stadium and that $16 million had already been secured. Populous, an architectural design firm that specializes in sports facilities also based in Kansas City, had been hired to conceptualize ideas, and financing plans were being developed.
Then the COVID-19 pandemic hit, and Long resigned in March 2021, two days after football coach Les Miles was fired amid sexual misconduct allegations from his tenure at LSU. Yet again, plans were halted.
•••
Goff, who was hired as Kansas' athletic director in April 2021, has been involved with modernization before. In his seven years as an associate athletic director at Tulane, he led the fundraising for the 30,000-seat Yulman Stadium, which opened in 2014, and during his nine years as a deputy athletic director at Northwestern, the Wildcats raised more than $400 million toward new or renovated athletic facilities.
"To me, it's the experience I have in the process that I will continue to lean on here," Goff said.
In April, the Kansas Board of Regents included a two-phase, $350 million renovation to Memorial Stadium as part of its capital improvement requests for fiscal year 2024 and its five-year plans. Doing so, however, does not guarantee work on the stadium, or any project, will be undertaken. Instead, it indicates a willingness by the university to raise and/or finance money should an opportunity arise.
Goff has not solicited any donations earmarked solely for a football stadium, but he said "philanthropy is going to have to have to drive the successful outcome."
Given the price and the athletic department's inability to cover any gaps in fundraising in the past, there is a possibility that stadium renovations could include a level of public financing.
"Maybe one of the more unique, or added, layers that we're trying to focus on is what's the broader campus benefit that we can create?" Goff said. "Or, the broader university outcomes that we can help facilitate with this project, with this stadium, and how does it help impact the Lawrence community? Profoundly. How does it impact the state and the region as an economic driver?
"If there's a process that's different this time than last time — maybe; I didn't do last time, so I don't know — it's that we've taken off any blinder that says, 'This is just about Kansas football or Kansas athletics.' This is about all those entities and broad-based positive impact."
Goff expects Leipold, whom he hired a month after his own appointment, to have "a strong voice" in the project. He also wants to include players' input as well as hold focus groups and surveys to incorporate a variety of perspectives.
Ultimately, any work on a new stadium experience will need to stem from results and growth, which Kansas has not experienced since Mangino's departure. Renovations would take years to complete, depending on the scale, meaning the football team will need to win games and sustain that success for the investments to be worthwhile.
"(Starting the process again) is not anything negative about what's been done," Goff said. "It literally is that in 2022, a stadium project is absolutely going to be very different from one that would have been done in 2018. Some of that is pandemic-driven. Some of that is just the change in consumers. Some of that is the expectations of what experience looks like in premium and accessibility. But absolutely, this has to be what the next 25, 35, 50 years of the stadium needs to be at the University of Kansas."