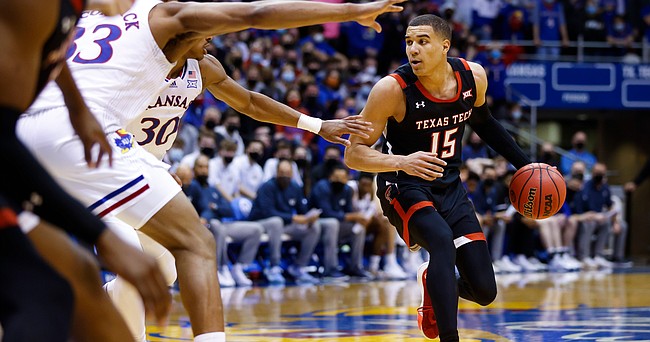 The final piece of the Kansas basketball roster for the 2022-23 season was put into place Wednesday evening, when Texas Tech transfer Kevin McCullar Jr. announced his intention to withdraw from the NBA draft.
"I'm a Jayhawk," the 6-foot-6, 210-pound wing wrote on Twitter a little before 7 p.m. "See you soon Lawrence! #RockChalk."
McCullar committed to KU a couple of weeks ago with the contingency of joining the Jayhawks if he withdrew from the NBA draft. In the time between committing and withdrawing, McCullar was all over the country working out and meeting with NBA teams about his future.
"It's definitely tiring at times," McCullar told the Journal-World shortly after withdrawing his name from the draft pool. "It's tough, but it was a great process and I enjoyed every minute of it. But it's good to know where I'm going to be going now."
That place, of course, is Lawrence and McCullar, who hails from San Antonio, Texas, said he planned to arrive on campus in time for the start of summer workouts on Monday. The first session of KU's summer school classes starts Tuesday.
KU now has all of its 13 scholarships spoken for for the 2022-23 season. Many college basketball analysts project the Jayhawks to be highly ranked in the preseason, landing anywhere from fifth to the 10th as they open defense of their 2022 national title.
That challenge was not far from McCullar's mind throughout the process or Wednesday night.
"We're super stoked, super excited," he said of himself and his family. "They're just happy for me. You know, I'm one step closer to reaching my ultimate goal of playing in the NBA, but it's great to be going to play at Kansas and I'm so excited to try to go win another national championship."

After a second consecutive honorable mention all-Big 12 season at Texas Tech, McCullar was invited to the G League Elite Camp in mid-May. However, he said a rolled ankle there forced him to sit out most of the action. That did not stop him from taking advantage of the opportunity to meet with teams and collect feedback about his game.
In his final decision, which came right around 6 p.m. on Wednesday, McCullar said the chance to go to Kansas with head coach Bill Self was too good to pass up.
"Going to Kansas and playing for coach Self and developing under him, I feel like he can get me to where I want to be and that's playing in the NBA and helping me reach my dreams and goals," McCullar told the Journal-World. "It just was the right fit for me."
McCullar said the pros of coming to a place like KU were too numerous to mention.
"It's Kansas," he said, adding that playing for Self in a place with so much history and tradition, as well as recent success, was very appealing throughout the process.
He also noted that he liked the rest of KU's coaching staff and that he and future teammate Jalen Wilson, who withdrew his name from the NBA draft pool a couple hours before McCullar, were longtime friends having grown up around each other in Texas.
They never played together but they will now. And their goals will be the same — to lead the Jayhawks as far as they can take them and showcase their improvement for the NBA scouts and team officials they met with during the past several weeks.
"I had some more team meetings today with some some teams in the NBA and stuff," McCullar said Wednesday night. "Me and my family sat down and just thought about it and felt like it'd be best if I went back to school and boosted my stock."