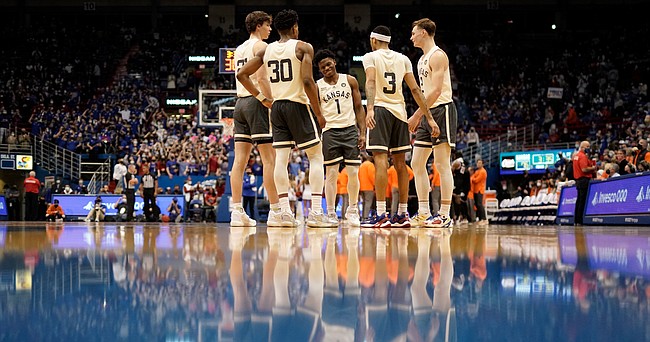 Name, image and likeness efforts by the University of Kansas took a big step forward on Wednesday with the announcement of a major donation, a rebranding effort and the creation of a nonprofit organization called Reaching Champions Joining Hearts (RCJH).
All of them will work together to provide NIL opportunities for KU's student-athletes across all sports.
"We've done quite a bit in the NIL space quietly and there's been a lot of progress made," said RCJH Executive Director Matt Baty. "But now it's time to scream at the top of our lungs that we've made tremendous progress, here are our programs and this is how you can get involved."
The initiative is spearheaded by Baty, who previously co-founded the Wichita-based 6th Man Strategies and 12th Man Strategies organizations that have handled a large portion of NIL dealings for the KU men's and women's basketball programs and Kansas football.
Those names, however, are no longer. The rebranded initiative will now be known as Mass Strategies, a for-profit entity that will oversee KU's NIL efforts and pays homage to Lawrence's Massachusetts Street.
The first major move announced by the organization came in the form of a $1.5 million gift from Ripple CEO and KU alum Brad Garlinghouse.
According to a press release announcing the move, RCJH "will focus on uniting student-athletes with local charities, to bring awareness to their missions and support for their volunteer efforts." The release notes that KU's student-athletes will be compensated for their time, personal appearances and promotions of programs and events in support of the charitable organizations, consistent with NCAA NIL rules and regulations.
"RCJH's work will be vital in both supporting local causes, as well as helping student-athletes access opportunities and partnerships that they may be passionate about," Garlinghouse said in the release. "This is a chance to embrace the new era of college athletics."
To that end, Baty said the newly named Mass Strategies was proud of its efforts so far with men's and women's basketball and football and excited about what the future holds for those athletes and others at KU.
"Ultimately, our goal is to put together programs that all 550 student-athletes can take part in," Baty said.
He added that while KU's NIL efforts have seemed to move slowly in the eyes of the public, much of that had been by design, with Kansas Athletics Inc., preferring to be more conservative with its initial approach and much of the work being done behind the scenes through connections, contacts and conversations with potential supporters, athletic department officials, student-athletes and more.
"That's just not the Kansas way. Never has been," Baty said of the idea of trying to make a splash or win a press conference. "So we're doing things with due diligence, we're doing things with a compliance lens and we're making sure i's our dotted, our t's are crossed and we're protecting these student-athletes."
Mass Strategies recently hired Stephanie Temple as its director of athlete engagement and Baty said the company was in search of a chief operating officer, as well.
Like Baty, a KU alum and former Kansas baseball player, Temple's connections to the university go back decades. She, too, is a KU alum and her grandfather, Floyd Temple, was the KU baseball program's longtime head coach.
"We couldn't think of a better person, with a bigger heart, who loves the university and also fits what we're trying to do," Baty said of Temple, who also worked as KU's Adidas rep for 11 years. "She was a no-brainer for us to hire, and she's been crucial to our mission so far."
According to an article in the Tulsa World, Kansas basketball coach Bill Self said at an Oklahoma Coaches Association clinic on Monday that he thought KU was "quite a bit behind" in the early NIL efforts but that he hoped the school would get "caught up."
"I think NIL is actually good if it's done the right way," Self said. "But I don't know what the right way is."
Mass Strategies aims to answer that question emphatically and Baty is confident it will happen.
"We're in a growth mode right now," he said. "And this is an opportunity for us to really put Kansas athletes at the forefront of NIL. With our donor base and our fan base, I think we can be leaders in the space."