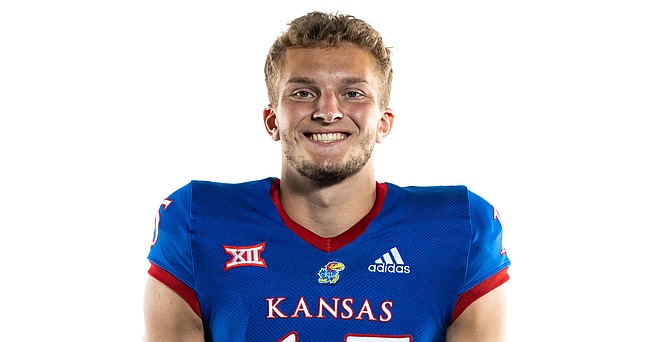 Even though Ethan Vasko has only been at Kansas for a few informal offseason practice sessions, he has already impressed Jalon Daniels.
Vasko, a freshman quarterback from Chesapeake, Virginia, has what Daniels called "a tremendous amount of athletic ability" last week at Big 12 football media days. Daniels said Vasko already has shown to his teammates that he should be able to handle playing in college.
"It's more than meets the eye," said Daniels, a junior who finished last season as the starting quarterback and figures to remain in the role for the opener against Tennessee Tech on Sept. 2.
"You'll probably look at him and be like, 'Nah, he's not fast,' or, 'Nah, he can't do this.' Ethan is probably one of the fastest freshmen that we have coming into this school. The fact that Ethan is able to make a lot of the throws that juniors in college are making already? He came in with that."
Vasko, who is 6-foot-4 and 200 pounds, led Oscar Smith High to the Virginia Class 6 state title game three times in three years and won a second consecutive championship last season. He went 35-3 with 9,203 total yards and accounted for 134 touchdowns while in high school, including 10 in the opening round of the playoffs in November.
He committed to Kansas on Dec. 13, one day after he decommitted from Old Dominion, and held scholarship offers from Virginia Tech and several Ivy League schools. He had also been recruited by the Jayhawks' coaches when they were at Buffalo.
Vasko enrolled last month for summer classes, which allowed him to participate in summer workouts with his new teammates.
"I'm very pleased with him from what I'm seeing," coach Lance Leipold said. "I say between physical development for a high school quarterback — size, maturity, personality, the things that you worry about early on is where he's going to be. Moving halfway across the country and all that, I'm very pleased with where he's at in those stages. Anxious to see him in uniform."
How Vasko fits into Kansas' rotation at quarterback this season remains uncertain, but he seems to be a candidate to redshirt during his first year. In addition to Daniels, the Jayhawks have Jason Bean, who started nine games last season after transferring from North Texas, and Ben Easters, who redshirted last season as a freshman.
Vasko's readiness should be no surprise to Daniels, who recognized it when the two connected while watching film during Vasko's official visit in January.
"He knew way more than I knew as a true freshman coming in," Daniels said. "That impressed me right off the bat because that showed me that he wants to do this. He wants it. That's exactly how I came into KU. I was hungry to learn. I was hungry for better, and that's exactly what he's coming in for."