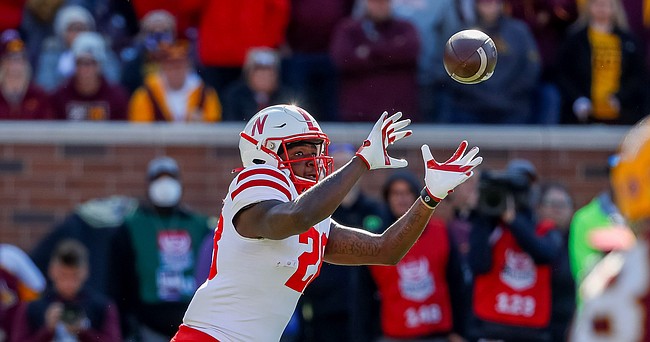 Even though Sevion Morrison and Adrian Martinez didn't share many snaps while they played together at Nebraska last season, Martinez always thought the running back had potential.
After all, Morrison rushed for more than 5,000 yards while playing at Edison High in Tulsa, Oklahoma, was considered one of the top 250 high school players in the class of 2020 and often showed flashes of excellence that caught Martinez's eye.
"I think he's pretty shifty," said Martinez, who spent four years as the Cornhuskers' starting quarterback. "I didn't really get to see him in game very much, so I didn't get to see those live interactions, but everything that I was able to pick up led me to believe he would be a good player."
Morrison, who is 6 feet and 212 pounds, had just 30 carries across six games last season, which was part of the reason he decided in December to transfer to Kansas. Martinez also chose to leave Nebraska and landed up at Kansas State, meaning their reunion will come during the Sunflower Showdown in Manhattan on Nov. 26.
"I think Sevion's a really good dude, a really genuine guy that everyone at Nebraska really enjoyed and liked," Martinez said last week at AT & T Stadium, home to Big 12 football media days. "I think he's got a lot of talent and I hope he does really great things there at Kansas."
The more unfamiliar of the two running backs who chose to join the Jayhawks after last season — Ky Thomas, a Topeka native, led Minnesota in carries and rushing yards while playing in nine games — Morrison figures to be a different type of running back than incumbent Devin Neal.
He's considered a big-play threat who has the patience to wait for an opening at the line of scrimmage and the acceleration needed to get through it.
"I really like the way his feet turn over and his burst," Kansas coach Lance Leipold said. "The other guys won't like it if I say it, but I would say that between quickness and flight of speed, he's probably the one that showed us the most in the spring. I just think he needs to get himself in a good routine of being comfortable, and that goes with, again, he's got some pretty good competition in the room. But he's going to help this football team and I look forward to it."
Neal said Morrison is "really dynamic," while safety Kenny Logan Jr. compared him to Le'Veon Bell, the three-time Pro Bowl running back while with the Pittsburgh Steelers who also played for the Kansas City Chiefs.
"It was one of our scrimmages (in the spring), and he had made like, a jump cut inside the hole and made one of the guys miss on defense and just hit it at full speed," Logan said. "I was like, 'Sevion's different.'"
Morrison said in the spring that he often appreciated watching former Chiefs wide receiver DeAnthony Thomas because he could cut, accelerate and "making people look silly pulling away like that."
Along with redshirt sophomore Daniel Hishaw, who missed last season while injured, and redshirt junior Torry Locklin, who is also a threat in the passing game, the Jayhawks like the depth they have at running back — especially Neal, who will get to witness what Martinez did not.
"I'm really excited to see him develop," Neal said. "I don't know how much he played at Nebraska. I wasn't in tune with much of the Big Ten, but I'm just glad he's part of us. He's a really good guy and I love him to death. I'm glad I've built a relationship with him, too."
Burt recognized by AFCA
Defensive tackle Sam Burt has been nominated for the AFCA Good Works Team, which recognizes players for their community service, academic dedication and impact on the field.
Burt, a sixth-year senior from Abilene who has played in 45 games for the Jayhawks, has been selected to the academic All-Big 12 first team three times and also been named to the Big 12 Commissioner's Honor Roll and the Athletic Director's Honor Roll.
He has read books for elementary school students and been involved in community clean-up events and other campus activities this summer.
There are 114 nominees for the team, which has been selected since 1992 and recognizes players from all three NCAA divisions as well as those in the NAIA. Twenty-two players will ultimately be selected to the team; last year, corporate partner Allstate pledged $1 million to support the players and their charitable causes for the first time.