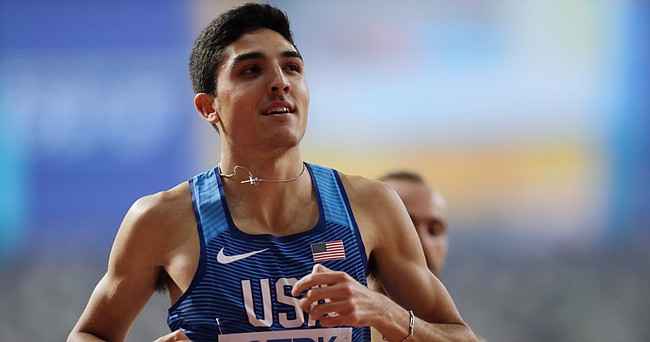 Former University of Kansas track standout Bryce Hoppel failed to advance out of his heat in the 800 at the World Championships in Eugene, Oregon, this week, bringing an end to his bid to add to his long list of victories and records in the event.
Hoppel, who won several Big 12 and national titles at KU and qualified for the 2020 Olympics in the 800, finished fifth in his heat on Wednesday with a time of 1:49.98. In late June, the 24-year-old Midland, Texas native won the 800 at the USATF Outdoor Championships, setting him up to compete on the world stage.
The top three runners in each heat advanced to the semifinals, but Hoppel and three other American runners in the 800 all failed to reach the semifinals. According to national track writer Jonathan Gault, of letsrun.com, it marked the first time ever that the United States failed to have at least one male runner reach the semis of the 800 at the World Championships.
During the race, Hoppel appeared to be shoved by a Canadian runner and, according to his Twitter account, he filed a protest over the contact following the race. He later updated the status of that protest on Twitter, saying that officials told him there were "no obstructions in that encounter."
Hoppel placed 15th in the 800 at the 2020 Tokyo Olympics. In 2019, he placed fourth in the 800 at the world championships.