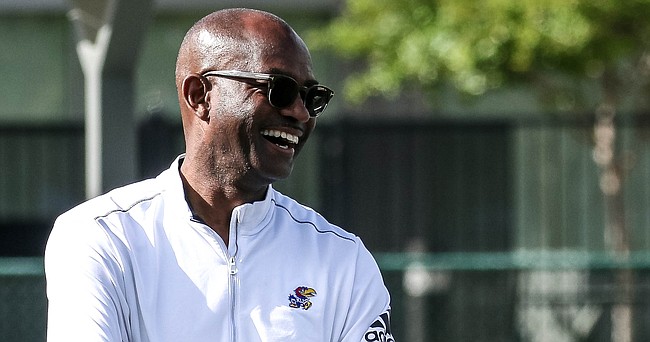 Kansas has signed track and field and cross country coach Stanley Redwine to a contract extension that will last through the 2024-25 season.
Redwine, who has been the Jayhawks' coach since 2000, is a five-time Big 12 Coach of the Year who in 2013 guided the women's track and field team to Big 12 indoor and outdoor titles and the NCAA outdoor national championship.
He has also coached competitors to 145 individual Big 12 titles, 230 All-America selections and 20 national championships, and 12 athletes competed as Olympians.
"I'm excited that (athletic director) Travis Goff, (associate athletic director) Paul Pierce and the University of Kansas has extended me the opportunity to continue serving as the head cross country and track and field coach at here at KU," Redwine said in a statement. "The University of Kansas and the community of Lawrence is a special place to me and my family. This extension is a reflection of our coaches, staff and student-athletes working hard to improve our cross country and track teams."
Redwine's 22 years at Kansas are second only to Bob Timmons, who coached the programs from 1966-88. Eight of his athletes earned All-America honors from the NCAA during the last academic year.
Financial terms of the contract were not immediately available. Redwine is the third Kansas coach to have signed a new contract in the past five months, following women's basketball coach Brandon Schneider and men's golf coach Jamie Bermel.
"Throughout his distinguished coaching career at KU, Stanley has been dedicated to the holistic development of our student-athletes," Goff said in the statement. "Coach Redwine is widely recognized as an all-time great in his field and is a tremendous ambassador for the University of Kansas at the national and international levels of competition. We look forward to his continued leadership as we build upon past success in the program while raising the bar in the days ahead."
Redwine, 61, is serving as the coach of the United States men's team during the ongoing World Athletics Championships, which are being held at Hayward Field on the Oregon campus. He also was an assistant coach at the Tokyo Olympics last summer, coaching the United States' middle distance and distance runners.