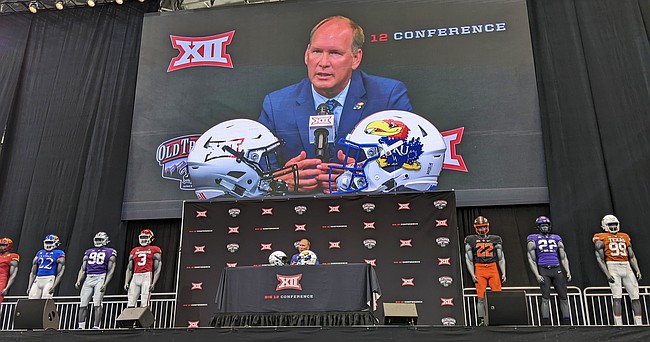 The question posed to Lance Leipold during the formal portion of Big 12 football media days last week was blunt.
"Kansas has beaten Texas twice in six years," a reporter asked. "What's up with that?"
Leipold, sitting at a table in front of a massive broadcast of the event, could only smile. For months, the Jayhawks' coach, assistants and players have gotten plenty of mileage out of the surprising 57-56 overtime victory on Nov. 13, with all maintaining that it is a sign that Kansas is on the verge of a turnaround.
With hundreds of members of the media gathered at AT & T Stadium in Arlington, Texas, Leipold had no problem using the opportunity to bring that back up.
"We've been starving for some wins, so any of them we're going to talk about," Leipold joked before elaborating.
"When you beat a program with the tradition and past success of the University of Texas and resources, all in all, it's something that we're going to be proud of. I've said this as well: To go down there at 1-8 and where we've been is probably one of the things I'm most proud of — that the preparation and that our guys kind of still were doing what we were asking."
Kansas, which also beat Texas in overtime at home in 2016, finished last season with narrow losses against TCU and West Virginia. Whereas their first losses were by an average of 31.5 points per game, their final two were by a combined nine.
That feeling led to players such as left tackle Earl Bostick Jr., who is entering his sixth season, to decide to return to Kansas, and safety Kenny Logan Jr., who is regarded as a team leader, to let his teammates know he was going to return for his senior year.
"I would say from the Texas win, guys just found out that we could compete at the highest level and that we could beat one of the teams that has been one of the bluebloods of the conference," Logan said. "So, just that momentum booster going into the rest of the season was definitely key for us. We definitely saw that and we definitely kept pushing throughout the end of the season. Even though we didn't have the wins to show it, we definitely improved, I thought, on how we went about games."
Leipold said he and his assistants have used the victory as a recruiting chip when reaching out to players from Texas. Three of the six high school players who have committed to play for Kansas as part of the class of 2023 are from the state.
"It made it easier to walk in some Texas high schools, to be quite honest, that there may be that chance that maybe we didn't get on young men before," Leipold said. "Now we have to build upon it, but it's definitely something positive."
The teams will play again on Nov. 19 at David Booth Kansas Memorial Stadium, but there's no guarantee of any future meetings. The Big 12 will expand to 14 teams next season following the additions of BYU, Houston, Cincinnati and UCF, and Texas and Oklahoma are set to depart the conference in summer 2025.
Leipold also acknowledged that the Longhorns were in flux as coach Steve Sarkisian, like Leipold, was in his first season.
"We probably hit them at a time when they were in a struggle and were able to take advantage of it," Leipold said. "But we know obviously this is a new year, new challenges."
Mayberry finds home
Former Kansas cornerback Duece Mayberry Jr. has decided to transfer to Louisiana-Monroe.
Mayberry, a sophomore last season, played in all 21 games during his two years with the Jayhawks. He decided to transfer in April following the spring game and will rejoin his brother, Kyle, who played at Kansas before transferring to Utah State and is a graduate assistant for the Warhawks.
Ten of the 12 scholarship players and walk-ons who left Kansas following the spring game are known to have found new homes: wide receiver Tristan Golightly (Abilene Christian) and Kyler Pearson (Northwestern State), running back Gayflor Flomo (Concordia-St. Paul), offensive linemen Corey Robinson (Georgia Tech) and Larson Workman (Texas State), linebacker Takulve Williams (Northern Iowa), cornerback DeVonte Wilson (Florida A&M;) and safety Johnquai Lewis (McNeese State).