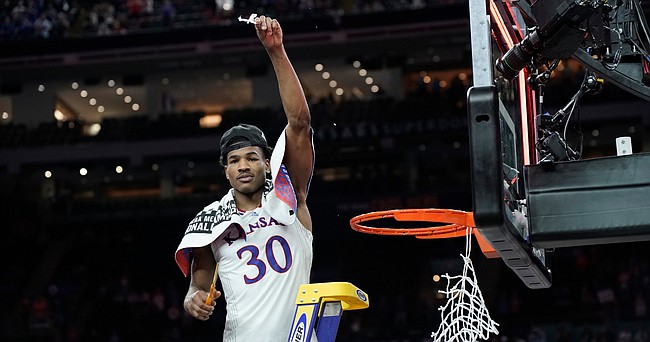 A pair of conference titles, as well as breakthrough performances on grander stages, led to the selections of Ochai Agbaji and Alexandra Emilianov as Kansas' nominees for the Big 12 Athlete of the Year awards.
Those honors, which recognize one man and one woman based on their athletic performance, academic achievement and citizenship, will be decided next week by a media panel and fan voting conducted on the Big 12's website.
Agbaji, a senior last season, led the men's basketball team with 18.8 points per game as it won the national championship. He was recognized as the most outstanding player in the Final Four, the unanimous Big 12 Player of the Year and a consensus first-team All-America player, and last month was selected by the Cleveland Cavaliers with the No. 14 pick in the NBA Draft.
He had 19 games of 20 or more points, which was most in the Big 12, and led the Jayhawks in scoring 22 times. He also ranked third in the Big 12 with a 47.5 shooting percentage, second with a 40.9 3-point shooting percentage and 18th in the Big 12 with 5.1 rebounds per game, and he played 35.1 minutes per game — more than any other player in the conference.
Emilianov, also a senior last season, won the Big 12 championship in the discus for the third time in May and was the runner-up at the NCAA Outdoor Track and Field Championships in June. She reached 60.48 meters (195 feet, 8 inches) at the conference meet, held at Texas Tech, and 58.44 meters (191-9) in wet conditions at the NCAA meet at Oregon.
The school record-holder in the discus, Emilianov, from Moldova, also holds the indoor and outdoor school records in the shot put. She competed at the Tokyo Olympics last summer and, despite a throw of 60.67 meters (199 feet) on Monday at the World Athletics Championships, narrowly missed qualifying for the finals, which will be held Wednesday.
The Big 12 has been recognizing its male and female athletes of the year since it first sponsored competition during the 1996-97 academic year. Only three competitors from Kansas, all men, have won the award: Frank Mason III, who shared it with Texas swimmer Will Licon in 2016-17; Nick Collison, who earned it in 2002-03; and Jacque Vaughn, the inaugural winner in 1996-97.
Other notable winners over the years include Texas quarterback Vince Young, Baylor women's basketball player Brittany Griner, Iowa State wrestler Cael Sanderson and Texas softball player Cat Osterman, the only athlete to win the award three times.