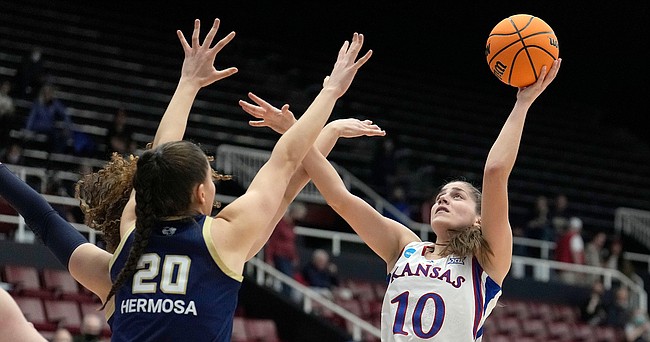 Kansas forward Ioanna Chatzileonti made an impact in the FIBA U20 Women's European Championships, which concluded over the weekend.
Chatzileonti, a junior, averaged 18.3 points per game, which was third in Division B, and 9.9 rebounds per game to help Greece finish in fifth place.
She started all seven games, played 30.4 minutes per game, had four double-doubles and led her team in scoring once and in rebounding once. She had a tournament-high 22 points in the 119-20 win over Albania, Greece's first game, and had 18 points and 13 rebounds in the 65-57 quarterfinal loss to Israel.
The only two players who topped Chatzileonti in scoring were Albania's Ornela Muca, who averaged 22.3 points per game, had 44 in a win against Armenia and is a junior at California, and Israel's Yarden Garzon, who had 20 points per game and is a freshman at Indiana.
Her Kansas and Greece teammate, sophomore Danai Papadopoulou, stood out in the 74-49 win over Germany in the fifth-place game. She scored a team-high 20 points and had five rebounds in 17:45 off the bench and made nine of her 11 field goal attempts.
Papadopoulou averaged 6.6 points and 3.7 rebounds in 10.2 minutes per game for Greece and had 14 points and eight rebounds in the victory over Albania.
The FIBA U20 Women's European Championships were split into two 16-team tournaments, with Division A playing in Sopron, Hungary, and Division B playing in Skopje, Macedonia.
Two Kansas players participated in Division A, with freshman Zsofia Telegdy representing Hungary and sophomore Sanna Strom playing for Sweden.
Telegdy averaged 2.9 points and 3.9 rebounds in 14.9 minutes for Hungary, which finished fifth in Division A. She scored a tournament-high seven points and had five rebounds in an 80-64 win over France.
Strom had 7.2 points, 4.8 rebounds and 2.7 assists for Sweden, which was 11th. She did not play in the opener but started Sweden's next six games and had 12 points, five rebounds and four assists in the 71-44 win over Lithuania in the 11th-place game.
Meanwhile, Laia Conesa helped Spain reach the final of the FIBA U17 Women's Basketball World Cup, which it lost 84-62 to the United States on Sunday in Budapest, Hungary.
Conesa, a guard from Barcelona who is part of the Jayhawks' class of 2023, averaged 4.7 points 2.6 rebounds and 2.1 assists in 19.4 minutes. She started two games — against Egypt and South Korea — and scored 11 points in the championship defeat.