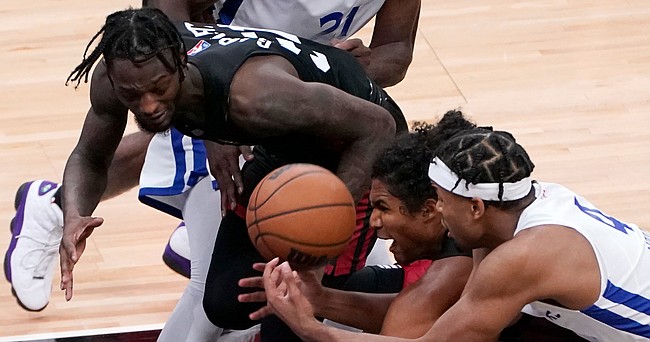 Former University of Kansas standout Marcus Garrett's NBA career is going to continue right where it began.
After another successful Summer League stint with the Miami Heat, Garrett signed a two-way contract with the franchise over the weekend.
After going unselected in the 2021 NBA draft, Garrett signed an Exhibit 10 contract with the Heat and eventually joined the franchise on a two-way deal. A wrist injury last winter knocked him out for the second half of the 2021-22 season and the Heat waived Garrett in January.
Had he not been injured, Garrett likely would have stuck with the Heat for the rest of the 2021-22 season and throughout the current offseason.
As it stands, he gets a fresh start in a familiar place.
Despite being cut, Garrett, now 23, stayed in the Miami area to rehab with the Heat's medical team and, according to the Miami Herald, he was cleared to resume basketball activities in June.
Known throughout his college career as an elite defender, Garrett showed off his defensive skills in a Summer League game against the Celtics. A clip of him harassing a Boston ball handler went viral and reminded folks of just how nasty Garrett and his 6-foot-10-inch wingspan can be on the ball.
He also scored 13 points on 5-of-6 shooting in 26 minutes in that July 9 win over the Celtics.
In the two games that followed, the Dallas native scored just nine points on 1-of-13 shooting, but the fact that Miami parted ways with two players who already had signed two-way deals to make room for Garrett made it clear that the Heat like what Garrett brings to the table.
The feeling is mutual.
"I just like how things are run," Garrett told the Miami Herald last week when asked why he chose to rejoin the Heat's Summer League squad in 2022. "I love the organization. I love how it feels like family. That's kind of something I've been accustomed to throughout my whole career. It's not something that I just wanted to leave and not be a part of."
Before the injury, Garrett appeared in 12 games with the Miami Heat and eight more with Miami's G League affiliate, the Sioux Falls Skyforce. In Sioux Falls, Garrett averaged 12.4 points, 8.3 rebounds, 4.5 assists and 2 steals per game.