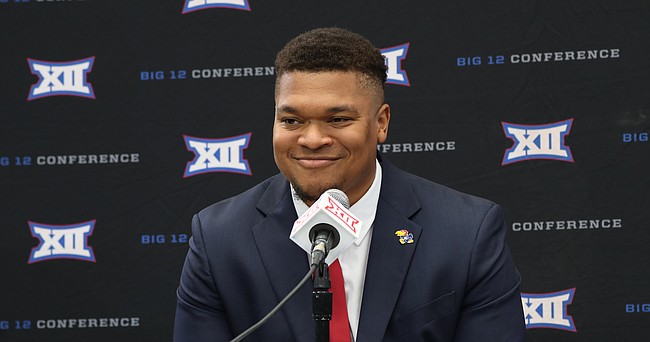 ARLINGTON, Texas — Earl Bostick Jr. played for three head coaches and eight position coaches during five seasons at Kansas.
But with a sixth year of eligibility available and the most stability he's had since graduating high school, there was no doubt Bostick, the Jayhawks' starting left tackle, was going to return for this season.
"I stuck it out because I wanted to change the program since I got here in 2017," Bostick said. "I wanted to be part of that change or the first steps in changing the program to the right direction."
When Bostick enrolled at Kansas, players couldn't profit off their name, image or likeness. David Booth's name was not yet on Memorial Stadium. Texas and Oklahoma had not yet decided to leave the Big 12 for the SEC.
Bostick has been a tight end, a right tackle and a left tackle. He has caught a touchdown pass and scored a two-point conversion. After playing his first two seasons for David Beaty and his next two for Les Miles, he is now entering his second under Lance Leipold.
"I feel like every year is something different about college ball," Bostick said. "But at the end of the day, it's football. We just have to go out there and play football."
That Bostick wanted to see his time at Kansas through to completion is not surprising to those who know him well. Dwayne Garrick, his football coach at Barnwell High in Barnwell, South Carolina, said Bostick is mentally tough and has learned how to endure challenging situations.
"He's one of those guys that's going to show up every time he's supposed to show up and all that kind of stuff," Garrick said. "Once he sets his mind on something and sets a goal, he's going to complete it, and that's probably his biggest push — probably his self-drive. ...
"I'm sure there were some times in his mind when he thought maybe he needed to move on and do something different, but you know, I think also at the same time, he realized, 'Hey, I'm here. I've got a spot. I'm gonna finish this thing.' That speaks volumes for him in today's society, in today's college football, with the transfer portal and everything that's going on. That speaks a ton for him that he has wanted to (stay)."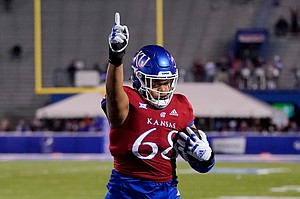 Bostick, a high school tight end and defensive end, had planned to play at Appalachian State but took an official visit to Kansas a week before signing day and committed two days later. The first time he had been on an airplane was for that visit, and he fought homesickness during his first weeks on campus by trying to make better friends with his teammates.
He played in nine games and started four as a tight end during his first season, then played primarily on special teams as a sophomore in 2018. He moved to the offensive line in 2019 and appeared in four games, preserving his redshirt, before playing in all nine games in 2020 while going from right tackle to left tackle. That's where he settled in last season, when he started all 12 games.
The extra year of eligibility given to all players because of the pandemic-shortened season in 2020 presented Bostick with a decision over the winter. He could leave Kansas and potentially play elsewhere, or he could return and likely reclaim a starting role.
"I felt like we talked about where he was at and where he could be," Leipold said, suggesting that opportunities in professional football may be in his future if he returned.
"He was perceptive enough — my guess — of how he was being coached and that what was being done was going to be positive, that it would have been hard for him to think about leaving and going through another head coach, another position coach and another set of surroundings. And then looking at it and the way things went, he was very confident in being part of us."
Said quarterback Jalon Daniels: "I believe Earl came back because he has faith in our program. He wants to be somebody who is able to say they helped the peak of this turnaround. He has faith in Kansas. He has faith in being in Lawrence. He loves being in Lawrence. He loves our team. He loves the people that are there."
Bostick isn't the only player on the Jayhawks returning for his sixth year — defensive linemen Sam Burt and Ronald McGee will do so as well — but he's the only one with a clear path to significant playing time.
His importance to the team was also demonstrated by Leipold choosing Bostick to join Daniels, safety Kenny Logan Jr. and running back Devin Neal to represent the team at Big 12 football media days at AT&T; Stadium.
"I thought I would have never got here, but it's a blessing in disguise still being here and actually playing still for KU," Bostick said.
"With COVID and stuff like that, I thought I probably wouldn't, but I'm blessed that I made the right decision to come back to improve and show more consistency in my game to scouts and stuff, and to improve the team naturally with my knowledge of the game."