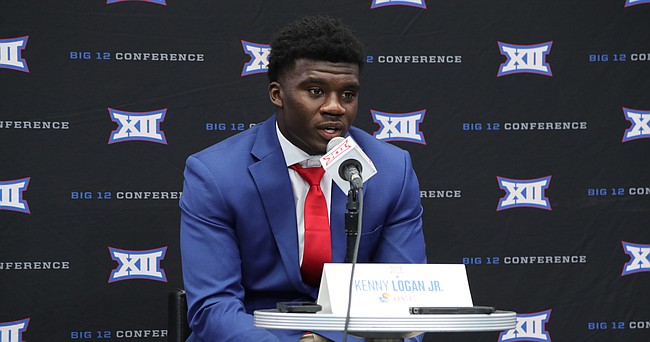 ARLINGTON, Texas — One of the first discussions coach Lance Leipold had with his players when the Kansas football team reconvened for the start of winter workouts in January was that they would need to begin to embrace internal competition.
No one's role was safe, he told them, and he stressed that not only would those on the team be striving to earn a larger responsibility the following season, others who would be joining the Jayhawks would be vying for playing time as well.
So when Leipold and Kansas' five-player contingent boarded their flight to the Dallas area on Tuesday for the start of Big 12 media days, unofficially kicking off the football season, senior safety Kenny Logan Jr. reminded Leipold of what he said.
"You said you were going to create a culture of competition — and you've done that," Logan told him.
When Kansas begins its second season under Leipold on Sept. 2 at home against Tennessee Tech, it does so believing it has addressed some of the main issues that plagued it in Year 1: a glaring lack of depth at key positions and a team that was heavily on youth and inexperience.
Thirteen players who were redshirt sophomores or younger started at least three games for the Jayhawks last season and will return, including two of the biggest offensive playmakers in quarterback Jalon Daniels and running back Devin Neal. Five defensive backs who were redshirt sophomores or younger started at least one game.
An additional year, by nature, helps with the age discrepancy. It's the experience that could not be addressed organically, so to solve that, the coaching staff added 19 players via the transfer portal, the most of any Big 12 school.
"Embracing competition is going to help you grow," Logan said. "It's going to help you grow in your darkest moments. Coming in and not being defensive or scared of who comes in the room or where they came from is also going to help you grow as a person or a player, so I definitely think that was key coming in."
Logan, who led the Big 12 with 113 tackles last season, spent the entire spring practice period working alongside three players who will be sophomores in O.J. Burroughs, Edwin White-Schultz and Jayson Gilliom.
Once that period ended, however, Leipold and his staff identified safety as a position of concern, and he added a quartet of transfers in Purdue's Marvin Grant, Eastern Michigan's Jarrett Paul, Palomar Community College's Jalen Dye and Utah State's Monte McGary, who is more likely to play cornerback.
Their additions, however, could block the opportunities from those who spent last year and beyond with the Jayhawks. Grant, in particular, figures to start ahead of Burroughs. Leipold's message to anyone with concerns has been simple: "If you're not going to embrace the competition in the room, that person or our team will never get where we need to or want to be on Saturday afternoon."
"It's part of the new way of what's going to happen," he said Wednesday, "but I think overall, our team has handled that really well."
Leipold's push to manufacture competition among players was evident during his formal press conference when, given the chance, he declined to state the obvious — that Daniels will be the Jayhawks' starting quarterback.
Daniels, who replaced Jason Bean in that role for the final three games last season, joined Logan, Neal and left tackle Earl Bostick Jr. at the event. He discarded the idea that he and Bean are competing, suggesting that the label carries a connotation that betrays the strength of the relationship they have as friends.
Rather, Daniels said, he'd prefer to think of competition and depth as insurance against injuries or illnesses. After all, it was an injury to Bean that led to Daniels assuming the starting role beginning with the surprising 57-56 overtime win at Texas in November.
"I said it last year before the season and I'll say it again: The only person I'm competing with is myself," Daniels said. "At the end of the day, it's a you-versus-you mentality. If you feel like you're not able to compete with the ones around you, that just means that you don't feel confident in what you can do."
Logan understands that, too. Whereas some of his younger, longer-tenured teammates may have experienced frustration about their paths to the field being limited, they recognize that vying with proven players for opportunities will raise their games.
And, if not, they can at least benefit from the possibility that they pick up a redshirt they missed out on during their first seasons at Kansas.
"I try to talk to those guys all the time, but those guys are feeling how I feel about the whole situation," Logan said. "They're open to it and they want them guys to help them grow, too. We're all just trying to push each other, so there's no man who's like, running from it or trying to run from competition. We're all embracing it with an open head and we're trying to push each other to the highest level."