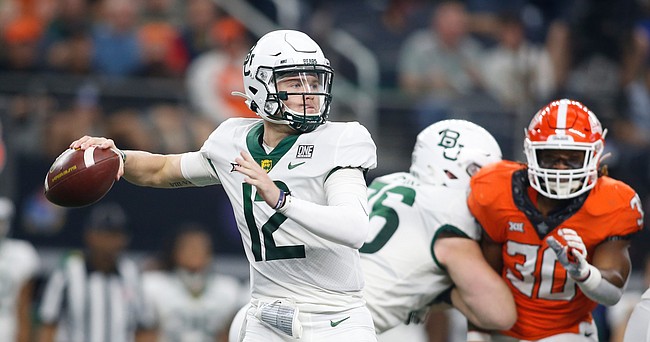 ARLINGTON, Texas — As the Big 12 holds its annual football media days at AT & T Stadium beginning Wednesday, one topic will surely be discussed more than any other.
Conference realignment is again a substantive matter after UCLA and USC decided two weeks ago to leave the Pac-12 for the Big Ten. Those moves won't be finalized for another two years, but they have once again stoked concerns about long-term viability of the athletic programs at universities around the country.
Incoming commissioner Brett Yormark will have a chance to address that matter directly when he opens the two-day event with a news conference early Wednesday. There's no doubt that the conferences' football coaches and the nearly 40 players who will be in attendance will share their thoughts and concerns as well.
The Big 12 is undergoing yet another period of change, with this season the last under the 10-team configuration the conference adopted a decade ago after Colorado, Missouri, Texas A & M and Nebraska left and TCU and West Virginia replaced them.
With that in mind, there are three storylines that will be at the forefront of discussions as the event takes place at the palatial home of the Dallas Cowboys.
1. The Big 12's future
With the SEC and Big Ten positioning themselves to be the NCAA's two marquee conferences, how the Big 12 responds is crucial as it attempts to successfully navigate the seismic changes that are coming in the following years. BYU, Cincinnati, Houston and UCF will join the conference ahead of the 2023-24 academic year and Texas and Oklahoma will depart for the SEC no later than July 1, 2025. Could other moves be on the horizon? There have been multiple reports recently that the conference is interested in adding Arizona, Arizona State, Colorado and Utah as they look to escape the Pac-12, and the Big 12's members are also looking for self-preservation. And let's not forget about their own arms race, especially after Texas Tech shared plans for a $200 million renovation and expansion of its football facilities on Monday.
Regardless of what maneuvers are taking place behind closed doors, there likely won't be any grand announcement by Yormark on Wednesday — not just about realignment, but about anything. Yormark, who has been an executive at Roc Nation and was previously the CEO of the Brooklyn Nets, will need to be aggressive to ensure the viability of the Big 12. He will not formally replace Bob Bowlsby as the commissioner until Aug. 1, however, and although he has been clued into the challenges and opportunities the conference faces, Wednesday's news conference will likely be full of welcoming remarks and general pleasantries than one that serves as a substantive, transparent discussion of pressing issues.
2. Quarterbacks in transition
Between the creation of the transfer portal and the ability to play immediately, players across college athletics have been able to leave situations they didn't believe to be beneficial to them in recent years and suit up for a new team the following season. That increased level of movement hit a high mark this offseason as several high-profile quarterbacks have departed the Big 12 — and several others have replaced them.
Oklahoma lost Caleb Williams to USC, where he rejoined former coach Lincoln Riley, and watched Spencer Rattler head to South Carolina, but new coach Brent Venables replaced them with UCF's Dillon Gabriel. Texas added Ohio State's Quinn Ewers, the No. 1-ranked high school prospect last season, to compete with Hudson Card for the starting role after Casey Thompson headed to Nebraska. Former Georgia quarterback JT Daniels is at West Virginia, Kansas State added Nebraska's Adrian Martinez and Gerry Bohanon landed at USF after Blake Shapen won Baylor's spring quarterback competition.
With Iowa State's Brock Purdy drafted in the seventh round by the San Francisco 49ers, only four teams still have a quarterback who finished last season for them: Oklahoma State and Spencer Sanders, who led the Big 12 in total offense last season; TCU and Max Duggan; Texas Tech and Tyler Shough; and Kansas and Jalon Daniels.
3. Can Baylor stay on top?
With the Big 12 media days being held at AT & T Stadium, two coaches will accompany their players to the season's first event and the last — the Big 12 Championship Game. Dave Aranda undoubtedly wants to be one of them.
In December, Baylor withstood Oklahoma State's late rally by denying Dezmon Jackson's fourth-down end-zone dive with 24 seconds remaining to win 21-16 and claim its third Big 12 title. That was enough for the Bears to be named the team to beat in the Big 12 preseason poll for the first time when it was released last week. Oklahoma, which had been selected as the No. 1 team in each of the previous six years, was picked to finish second.
The Sooners figure to challenge for the title, with Oklahoma State and Texas in the mix as well. But as we saw with Baylor last season, none of the other teams can be discounted. After all, Aranda led a turnaround from 2-7 in 2020, his first season, to 12-2, the conference title and a 21-7 win over Ole Miss in the Sugar Bowl on New Year's Day.