Kansas basketball point guard Dajuan Harris Jr. has a stated goal of finding a way to be more aggressive on offense this offseason.
But his plan has nothing to do with scoring more points, being the man or hogging the spotlight during his fourth season as a Jayhawk.
"A lot of people think I really can't score, but I have to show them this year that I really can," Harris said during a break at Washburn basketball camp in June. "Just looking for my shot more. That's all it is. Getting stronger and being more aggressive."
Rare is the point guard on a national title team that does not steal headlines, but Harris is comfortable operating in that space.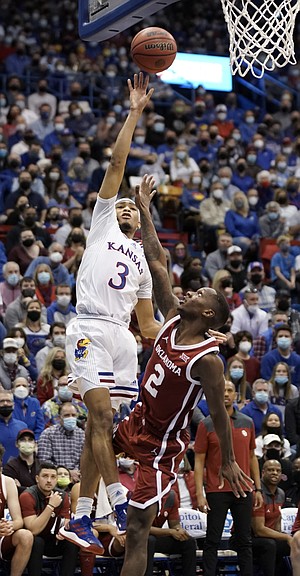 He knows his importance. He feels the love from his coaches and teammates. And, even as a reigning champion, Harris' focus for the 2022-23 season remains way more on making another run at a title than on elevating his status as a household name throughout college basketball.
"I'm just happy to be out there," Harris said. "Whoever coach puts me out there with, I'll try to get the job done."
Baylor guards Jared Butler and Davion Mitchell received plenty of love both during and after their national title run in 2021. Two years before that, in 2019, Virginia guard Kyle Guy's story was one of the best and most popular to tell during the Cavs run to the title.
And there's little doubt that a year later, had the NCAA Tournament not been canceled, KU's Devon Dotson would've received all kinds of attention, as well.
Look at last year, too. After Remy Martin transferred to KU from Arizona State, many assumed that Martin would be the Jayhawks' starting point guard. All he did was enter the season as the Big 12 Conference's Preseason Player of the Year.
So, yeah, the spotlight tends to shine bright on guards in Harris' shoes. But the soft-spoken, win-at-all-costs competitor from Columbia, Missouri, could not care less about how much individual attention he receives. He would much rather win games and please his coaches and teammates than read his own headlines. His goals this offseason have been tied directly to that.
"We lost everybody, so I've got to be one of the biggest leaders on the team," he said, noting that Jalen Wilson's return would be huge in that area, as well. "I'm a point guard, and that's what coach has preached all the time since I've been here. Even my freshman year, when I wasn't even playing, he was trying to make me a good leader."
For many players, being a good leader means taking command and calling the shots. But Harris is just as happy leading by example and producing quietly as he is barking orders. That approach makes his words mean more when they are heard.
No one has seen more of that side of Harris than his close friend Christian Braun, who is starting his professional career with the Denver Nuggets at the NBA's Summer League in Las Vegas, after being the 21st overall pick in last month's draft.
"He's the biggest cheerleader for everybody," Braun said of Harris during the Jayhawks' NCAA Tournament run. "He's also competitive and wants to be out there, but he's just a winner and will do whatever it takes to win."
With guys like Braun, Martin, Ochai Agbaji, David McCormack no longer on the KU roster, that will be decidedly harder than it was in the past. But Harris isn't worried about that either, even if he will be playing without Braun for the first time in years.
"It is going to be different," he said. "But I've been here for (a long time), too, so I know everything — where to go, what to do — so I'll be straight. I won't miss him."
https://www.youtube.com/watch?v=Ow5WyY_c2aM