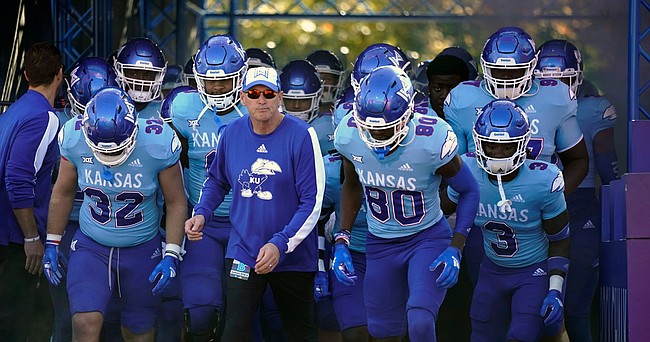 Monte McGary finally knows his long, complicated college journey will end close to home.
McGary, who is from Omaha, Nebraska, is transferring from Utah State to Kansas and will be eligible to play this season after his application for admission to the university was approved on Friday.
"Kind of the best-case scenario happened," McGary said.
A 6-foot, 195-pound defensive back, McGary played free safety at Utah State last season but is expecting to play cornerback, his preferred position, at Kansas. He would be the 19th player the Jayhawks have added via transfer since the end of last season and the fifth in the secondary.
McGary said he chose Kansas over Illinois, Memphis and Western Kentucky because of the opportunity to play in the Big 12, as well as to be near family members who can help him and his girlfriend, Ty Stovall, raise their 2-year-old daughter, Xhuri.
His intends to be on campus and join his teammates next week.
"Being closer, definitely, is one of the reasons it'd be easier — to access some of the support that we have available and being able to access after being so far away the last few years," McGary said.
Kansas will be McGary's fifth college in seven seasons. After graduating from Omaha South High in 2016, he redshirted his first season at South Dakota State and played in all 16 games in his second as the Jackrabbits reached the FCS semifinals.
Seeking to raise his football profile and earn regular playing time, McGary chose to enroll at Iowa Western Community College for the 2018 season and then headed to Troy in 2019. He never played for the Trojans, however, as he tore the labrum in his right shoulder early in preseason camp and then opted out of playing in 2020 because of concerns about the pandemic and its effect on his newborn daughter.
A graduate transfer at Utah State last season, McGary played in all 14 games for the Aggies and made three starts but wasn't convinced he'd be able to return to a similar role. The distance — a nearly 14-hour drive — was also a factor, so on June 21, he entered the transfer portal.
He heard from Kansas "almost immediately," he said, and thinks the transfer process went a lot quicker this time "probably because it's closer to when the season's about to start." One downside to the timing of his transfer, however, is that he wasn't able to visit Kansas before making his decision, but he said his questions and concerns have been answered by defensive backs coach Jordan Peterson, his primary recruiter.
The Jayhawks will have a new-look secondary this season after the additions of cornerback Kalon Gervin, who transferred from Michigan State, and safety Marvin Grant, who was at Purdue. McGary will compete with Gervin and three players who started games for Kansas last season — redshirt sophomore Ra'Mello Dotson and sophomores Cam'Ron Dabney and Jacobee Bryant — for playing time.
McGary said he settled on Kansas as his choice before the Fourth of July weekend and has been waiting for the move to be finalized before sharing the decision with his mother, Chonna Kellogg. She has only seen him play in one football game in college and hopes that following his transfer, she'll be able to see him play in quite a few more.
"The reason's out of my control every time that I've had to make a move," McGary said. "It's kind of been chaotic and challenging, but they know that I've overcome it. It's a crazy story, but it's something I'm proud of."