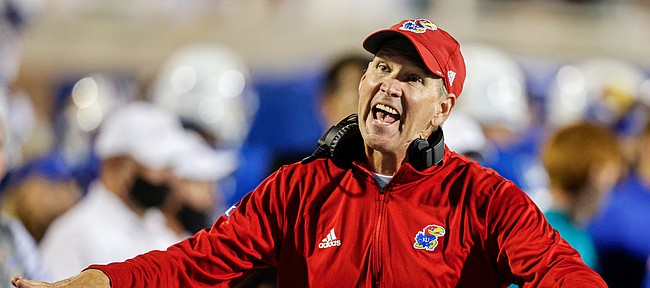 Although the Kansas football team's players and coaches enter the season with a renewed sense of optimism, those on the outside will apparently need some time to buy in.
The Jayhawks were again picked to finish last in the Big 12 preseason poll, which was released Thursday afternoon. Forty-one people voted in the poll and Kansas received 48 points, meaning not everyone projected a last-place finish.
It's the 12th consecutive season in which they received the fewest votes from the panel of media voters. They have been chosen last every year since 2011, the first season after the conference contracted to 10 teams.
The panel has been correct for most of that stretch, as the only time the Jayhawks did not finish last was in 2014. That season, they went 3-9, including 1-8 in the conference, to finish ahead of Iowa State, which did not win a Big 12 game.
Kansas finished 2-10 last season and went 1-8 in the Big 12, with the stunning overtime victory at Texas on Nov. 13 serving as the highlight of its season. Although the Jayhawks didn't win either of their final two games, they have often pointed to the three-point loss at TCU and the six-point loss at home against West Virginia in recent months as signs that they are improving.
Baylor, which defeated Oklahoma State in the Big 12 championship game in December, was chosen to finish first as it received 365 points and 17 first-place votes. It's the first time the Bears have been selected as the favorite in the Big 12 preseason poll.
Oklahoma, which had been chosen first the last six years, was chosen to finish second under new coach Brent Venables as it earned 354 points and 12 first-place votes.
Last year's runner-up and regular-season champion, Oklahoma State, was third with 342 points and nine first-place votes. Texas was fourth with 289 points and two first-place votes and Kansas State was fifth with 261 points.
Iowa State received the remaining first-place vote and 180 points. TCU was seventh with 149 points, West Virginia was eighth with 147 points and Texas Tech was ninth with 119 points.
Kansas will begin the season, its second under coach Lance Leipold, with a home game against Tennessee Tech on Sept. 2.
Jayhawks' transfers highly regarded
Kansas has reached No. 66 in 247Sports' overall class of 2022 recruiting rankings — an evaluation that is essentially final as the start of preseason camp draws near.
The Jayhawks' ranking is bolstered by what the site considers the No. 21 transfer class, although it does not include junior college players in that category. Kansas has had 18 players decide to transfer in since the end of last season, five of whom are from junior colleges.
Four players tied for the team high with a grade of 0.88: running back Ky Thomas from Minnesota, safety Marvin Grant from Purdue, middle linebacker Lorenzo McCaskill from Louisiana and defensive end Lonnie Phelps from Miami (Ohio).
Kansas' high school recruiting class was ranked No. 116, but it added just seven incoming freshmen during the last cycle as coach Lance Leipold and his staff tried to balance out the distribution of scholarships among the classes and add experienced players to a young team.
At No. 66, Kansas still has the least-regarded recruiting class in the Big 12, according to 247Sports, but it ranks ahead of Pittsburgh, Oregon State, NC State and Wake Forest.