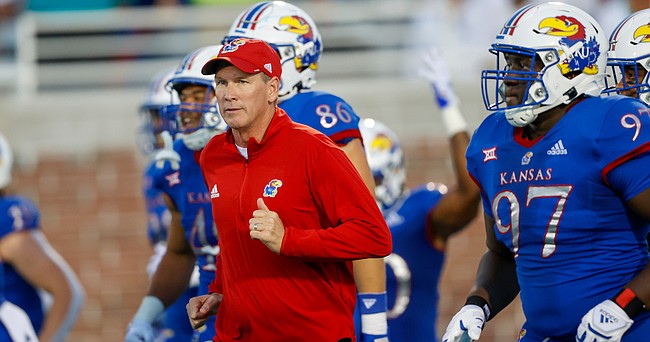 The Kansas football team added another offensive tackle to the mix when Dominick Puni, formerly of Central Missouri, decided to transfer and join the Jayhawks.
Puni, from St. Charles, Missouri, is not a recent addition for coach Lance Leipold and his staff. Rather, he decided to transfer to Kansas on March 7, two days after he took an official visit to the university and attended the men's basketball game against Texas, and chose not to publicize it.
A 6-foot-5, 300-pound graduate of Francis Howell Central High outside St. Louis, Puni has two seasons of eligibility remaining. He played in seven games and started three at right tackle for Central Missouri in 2018, started all 13 games at left tackle in 2019 and started the first two games last season before missing the rest of the season with an unspecified injury (the MIAA did not play football in 2020 amid the coronavirus pandemic).
JayhawkSlant.com was the first to report that Puni had transferred to Kansas on Saturday, once he enrolled at the university.
Puni is the 19th player to transfer to Kansas since the end of last season and the third offensive lineman, though he's the first who did not leave Buffalo. Nolan Gorczyca joined the team before spring workouts and Deondre Doiron did so once the semester ended.
Kansas only lost one starting offensive lineman from last season in left guard Malik Clark, who was a sixth-year senior and started throughout his final four seasons. Clark will likely be replaced by Michael Ford Jr., who will move to the left side after starting 10 of 11 games at right guard last year.
Coach Lance Leipold said during spring practice that he still needed to identify a swing tackle, a swing guard and a center who could step in to replace his starters when needed and that he wanted to work toward having a second unit with players at each of the five positions.
Well-traveled McGary considering Kansas
Monte McGary, a defensive back who spent last season at Utah State, is considering transferring to Kansas, according to 247Sports.
A 6-foot, 195-pound native of Omaha, Nebraska, McGary is a sixth-year senior who would be changing schools for the fourth time. Mostly a cornerback, he played in all 16 games as a true freshman at South Dakota State in 2017, moved to Iowa Western Community College in 2018 and enrolled at Troy in 2019.
He never played that season because he injured a shoulder in fall camp, then opted out of playing in 2020 amid the early months of the COVID-19 pandemic. He received his undergraduate degree from Troy, then transferred to Utah State, where he played in all 14 games, with three starts, as a free safety last season.
McGary finished last season with 24 tackles, including an interception and a fumble recovery, and decided to enter the transfer portal on June 21.
Kansas has added three safeties since May 1 in Purdue's Marvin Grant, Eastern Michigan's Jarrett Paul and Palomar Community College's Jalen Dye.