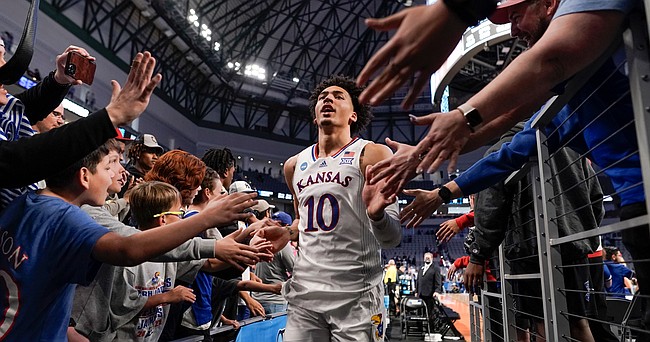 The Kansas men's basketball program is no stranger to high-profile players receiving serious praise before a season even begins.
And Kansas coach Bill Self believes returning junior Jalen Wilson could be the next name added to the list of Jayhawks who have received preseason accolades entering a season.
Asked recently if he thought Wilson's decision to return to KU for another season positioned the versatile wing to be in the mix for Preseason Big 12 Player of the Year, Self said he absolutely thought Wilson should get "great consideration" for that honor.
"You know how much that means, though," Self added.
In reality, the accolade means very little.
After all, entering the 2021-22 season, it was KU newcomer Remy Martin who was named the conference's preseason player of the year. Yet, because of injuries and the time needed to adjust to new surroundings, Martin did not even wind up receiving an honorable mention nod when the official all-Big 12 awards were handed out at the end of the regular season.
That didn't slow him down any in the postseason, of course, but until then Martin was far from the conference's MVP last season.
Wilson is a bit of a different story. There will be a new role for the fourth-year Jayhawk during the 2022-23 season, but it will come in a familiar environment and with familiar faces surrounding him.
Those two factors should cut down on the time required to adjust to the role and both Self and Wilson are eyeing big things for the Denton, Texas, native during his junior season.
"If J-Wil has a great year and shoots the ball decently, guys, he could be an All-American," Self said recently. "I'm not predicting it yet. I'll wait and study it."
Wilson, who took his decision to return to school down to deadline day, had no problem hearing that those expectations had been hoisted onto his shoulders.
"I agree," he said when asked about Self calling him a potential All-American. "I'm very confident in my game and I'm thankful my coach is confident in me, as well."
Both Self and the NBA folks that Wilson spoke to throughout the pre-draft process pointed to the same element of Wilson's game when trying to identify where he can make the biggest gains.
"The biggest thing was just shooting," Wilson said. "My numbers last year weren't that good, especially from the 3-point line."
For the season, Wilson shot 26.3% from 3-point range in 37 games, knocking in 30 treys on 114 attempts. Those numbers were markedly better when Big 12 play began, however, with Wilson elevating his percentage to 33.9% from behind the arc, making 19 of 56 3-point tries in 18 Big 12 games.
"So, he's not a 26% (3-point) shooter," Self said. "He's a 34% shooter that needs to get it up to 38%. He's obviously got to get better and all that stuff. He can't shoot 26% from 3. But if he shot 36% from 3 (last season) he wouldn't have been back in school."
The question now is simple: Can Wilson improve his outside shot? And if he does, will that be enough to move him into position to be considered the best player in the Big 12?
Self believes the answer is yes, saying that Wilson isn't quite where 2022 Big 12 Player of the Year Ochai Agbaji was as a pure scorer entering last season but adding that he's probably ahead of where Christian Braun was. Both of those former Wilson teammates were first-round picks in the recent NBA draft.
"He's more than capable of doing that," Self said of Wilson improving as a 3-point shooter. "He just hasn't done it yet. But there's nothing wrong with his stroke. It's not pure yet, but I'm a big fan. … I can't imagine Jalen not having the potential to be a middle-double-figure scoring guy for us."
Here's a quick look at some of the other likely contenders for Preseason Big 12 Player of the Year:
• Mike Miles Jr., TCU — The top returning player on a team that many expect will compete for a spot in the top half of the conference — if not higher — had a great season last season and has all the elements required to be the league's top player. He's a terrific scorer at multiple levels and a fearless competitor and improving passer.
• Adam Flagler, Baylor — A case could've been made for Flagler, and not former teammate James Akinjo, to land on the all-Big 12 first team last season. But injuries kept him from cracking the top five. If healthy, he should have no problem landing on that list this season, and he's arguably the most talented all-around offensive player in the conference.
• Timmy Allen, Marcus Carr and Tyrese Hunter, Texas — With all three UT players having the potential for monster seasons, it's easy to see how they could wind up hurting each other when it comes time to vote for just one. But if one of them emerges as the guy for the Longhorns, his role, along with Texas' potential to challenge for a Big 12 title, could put that player in position to earn the league's MVP award. Allen's the most versatile of the bunch. Carr might have the most upside. And Hunter, who transferred from Iowa State, will have to adjust to his new surroundings quickly to land on the MVP radar.
• Tre Mitchell, West Virginia — Kansas fans will remember Mitchell's banked in 3-pointer in Austin that led to a Longhorns victory. But his game is about much more than just luck. Mitchell has the size and skills to be a force and could emerge as a go-to scorer for Bob Huggins' Mountaineers next season. The question is how quickly he'll get there and whether WVU can do enough, as a team, to put him in position to win this type of award.