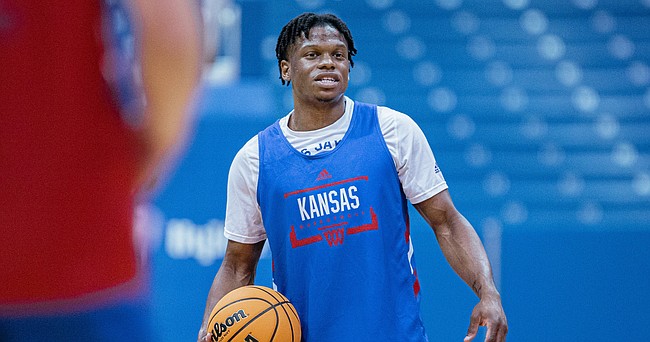 Joe Yesufu stood in a cramped corridor just feet away from the visitor's locker room at Iowa State in February, pleased with what just transpired.
Yesufu had seven points, five rebounds and four assists in what ended up being a season-high 22 minutes as Kansas won 70-61 in a game Ochai Agbaji missed because of COVID-19 health and safety protocols.
"It's a huge confidence boost, of course," Yesufu said then, smiling. "I've been playing (well) in the last couple of games, but this is a huge confidence boost going into the future."
What ended up transpiring the rest of the season, though, ended up being anything but. Yesufu, who spent two seasons at Drake, averaged 2.1 points in 9.2 minutes per game in his first year with the Jayhawks. With the exception of 10 minutes in the first-round blowout of Texas State, he didn't play more than three minutes in any other NCAA Tournament game — and didn't appear in the national championship victory over North Carolina.
Yesufu acknowledged recently that the lack of playing time affected him mentally throughout the season. Even though he settled in as a 3-and-D type of player — someone who specializes in making 3-pointers and playing tough defense — those opportunities were scant depending on the matchup.
Now, though, he believes he has put much of that behind him and can focus on what seems to be a clearer path to earning minutes for the Jayhawks.
"Basketball is meant to be fun, and I felt like me getting in my head made it not fun, so I've just got to enjoy the game that I started playing when I was 4," Yesufu said. "That was my biggest takeaway. ...
"It was just an accumulation of things that were happening in practice. I'd miss a shot. I would turn it over. I would just let that linger in my head and not go on to the next play."
Yesufu wasn't even a starter during his two seasons at Drake, the first of which was interrupted by a series of knee injuries. He only began earning heavy minutes late in the 2020-21 season, his second, and gained significant attention during the Bulldogs' NCAA Tournament appearance. He scored 21 points in 40 minutes in a first-round win over Wichita State and then had 26 points in 39 minutes in a second-round loss to USC.
Still, he was never going to earn a significant role last season, not with Ochai Agbaji, Christian Braun, Dajuan Harris Jr., Remy Martin, Jalen Coleman-Lands and, for the first half of the season, Bobby Pettiford Jr. staking claim to minutes in the backcourt ahead of him. That's despite coach Bill Self saying shortly after Yesufu's performance against Iowa State that he made the case for a greater opportunity.
"On the court, I felt like I wasn't performing how I knew I can perform," Yesufu said. "I just felt like I was regressing in my play, but in reality, I was just in my head, because basketball's a mental game, so I had to get past the mental part."
Part of what helped him get out of that malaise was "just the people around me," he said. "My friends, my parents, siblings. Like, they really helped me get through it. And praying. Praying a lot."
Self said that Yesufu's characterization of his struggles was "a pretty honest and accurate assessment."
"I think Joe's role should be more defined as, 'Hey, go score the ball,' as opposed to, 'Go not only do what you're supposed to do, but make sure you know what everybody else is supposed to do and where they're supposed to be at all times,'" Self said. "I think that that was something that we probably held him back a little bit with last year, and after knowing him a little bit more and how hard he tries and wants to be good and all that stuff, it's going to be hard for him to be good unless he has a free mind because he's such a conscientious kid. So, I think what he said is true and that's partly our responsibility to not let him feel that way."
Things have changed drastically after Kansas won the national championship in April, with Agbaji and Braun heading to the NBA and Martin and Coleman-Lands having exhausted their eligibility.
Kansas will enter next season with Harris, Pettiford and Yesufu in the mix at point guard and Yesufu competing with Kyle Cuffe Jr. and incoming freshmen Gradey Dick and M.J. Rice to earn minutes playing off the ball.
Self said the coaches must make sure Yesufu feels comfortable taking shots when they're presented, and he acknowledged that last season, with so many scorers on the team, it would have been hard for him to feel empowered to do so.
"Whenever you're the eighth man or so, your job is to make sure — or the ninth man, or whatever you're going to get — your job sometimes is to make sure that the other four guys in the game are good as opposed to you being great," Self said. "The ninth player very rarely affects the outcome of a game like players one through five do, and that's not a knock. That's just reality. ...
"So, those kids don't have the same, sometimes, reckless abandon feeling that, 'He wants me to score when everything else is designed for the other guys to maybe do their deal.' We got to fix it where Joe doesn't feel that way, regardless if he's a starter or not, that this is his role now. I think he'll accept that and I think he'll thrive in that situation."
Perhaps he already has. During an informal 30-minute intrasquad scrimmage at the conclusion of one of Self's camps last month, Yesufu finished with a game-high 30 points and showed a willingness to take open 3s, drive to the basket and find streaking teammates in transition for easy layups.
As a fourth-year player, he's also trying to focus on his leadership, which he believes "comes naturally." Although he tries to lead by example, he's been more vocal, too, imploring teammates to join him in the gym and for workouts.
And where does leadership come from? Confidence.
"Leadership is going to be the biggest thing for me this year," Yesufu said. "The incoming freshmen, the newcomers — I have to be able to lead them because I know what Coach expects for this upcoming year."