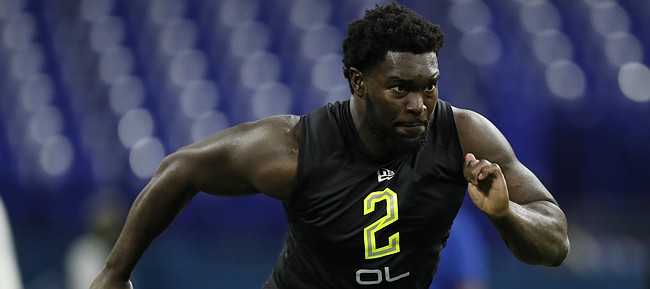 With just 53 players on each active roster and a handful of them coming from the same programs, the number of colleges represented at the Super Bowl each NFL season is typically a pretty exclusive list.
This year, the University of Kansas is back on it.
Former KU offensive lineman Hakeem Adeniji is headed to Super Bowl 56 with the Cincinnati Bengals in just his second season in the NFL.
Adeniji, who was the anchor of the Jayhawks' offensive line throughout his time at Kansas, started 12 games for the Bengals this season, including Sunday's AFC Championship victory over the Kansas City Chiefs, rotating in and out with teammate Jackson Carman at right tackle. For his pro career, Adeniji has now appeared in 27 games with the Bengals and made 17 starts.
Adeniji started all 48 games of his KU career, playing a variety of positions — primarily left tackle — which helped him showcase his versatility ahead of the 2020 NFL draft. The Bengals made Adeniji a sixth-round pick in that draft and later scooped up undrafted free agent and former KU running back Pooka Williams Jr. for their practice squad.

Williams was not active during Sunday's win, nor has he been active for any of the Bengals playoff games. Listed as a wide receiver on the Bengals' official roster, the New Orleans native and two-time all-Big 12 first team selection appeared in one game for the Bengals this season, returning three kicks in a Week 13 loss to the Los Angeles Chargers.
In addition to the two players enjoying the ride to this year's Super Bowl, the Bengals' coaching staff features another former Jayhawk in special teams coordinator Darrin Simmons.
Also serving as Cincinnati's associate head coach, Simmons is a former KU punter who lettered during the 1994 and 1995 seasons with the Jayhawks. Now in his 19th season with the Bengals, the Elkhart native was named to the academic all-Big 12 squad in both 1994 and 1995, as well.
During the 1995 season, he ranked sixth in the country in punting average at 43.8 yards per punt. His career average of 41.7 yards ranks tied for fifth on KU's all-time list. Simmons also served as a graduate assistant for KU in 1996.
Asked before the draft what the team that selects him would be getting, Adeniji referenced the moment he's current living in his answer.
"They are going to get a good, high-character football player that cares about his community and team," Adeniji said in 2020. "Someone who's going to have a relentless pursuit of success. My ultimate goal is to play in the NFL. But I want to hoist a Super Bowl trophy up. That's my biggest dream. And I'm going to make sure that wherever I go we're going to do whatever we can to get that done."
The Bengals are now just one win away from making that dream a reality and Adeniji, for all the criticism the Bengals O-Line has received throughout this playoff run, has been a big part of making it possible.
Prior to Sunday's kickoff, a few of Adeniji's former KU teammates posted a good luck video on social media through the official Kansas football Twitter account.