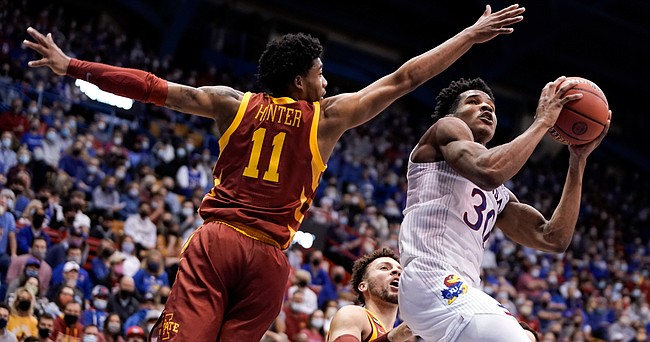 No. 10 Kansas Jayhawks (17-2 overall, 6-1 Big 12) vs. No. 20 Iowa State Cyclones (16-5 overall, 3-5 Big 12)
Time: 6 p.m., Tuesday, Feb. 1, 2022
Location: Hilton Coliseum, Ames, Iowa
TV: ESPN2 | Radio: IMG Jayhawk Radio Network
Keys for Kansas
1. Match ISU intensity
There's little doubt that the Jayhawks will be eager to get back on the court after laying an egg in their last outing. But that could work to their advantage.
As KU senior Mitch Lightfoot said Monday, the loss to Kentucky should be treated as "a wake-up call," and he and his teammates are thrilled that the alarm clock will go off sooner rather than later. "Thank God it's not football, where you lose and have a whole week to stew on it," Lightfoot said. "You've got to move on quick."
The Cyclones also figure to be ready. After losing a one-possession game to Kansas in Lawrence three weeks ago, ISU is eyeing a different outcome in the rematch and their rowdy fan base figures to be fired up, as well. Handling that will be a matter of mindset.
"You've kind of got to match that intensity," KU junior Christian Braun said Monday. "They're really good on defense, but they really play hard on offense."
Braun noted that ISU's cuts, backdoor chances and the space they create in their half-court sets means teams "have to be ready for everything" when they face them.
"Our practice intensity for Iowa State's always ramped up a little bit because of how hard they play on both ends," Braun added.
2. Bottle up Brockington
Hoping to shut ISU guard Izaiah Brockington down completely is a hopeless endeavor. The Big 12's third-leading scorer (at 16.8 points per game) is too talented and too much a part of the Iowa State offense to be shut out completely.
But Kansas coach Bill Self believes there is a way that Kansas can slow him down.
"He's going to score," Self said Monday. "Because he can get his own shot. So, you know, make him take hard 2s."
One shot in particular that the Jayhawks will be keying on is Brockington's left-handed pull-up jumper, which he gets so often because of his quickness and threat to drive.
The other thing that makes the shot — and Brockington's mid-range game overall — so tough to stop is the fact that he can get it from so many looks. On his own, off of motion, via handoffs and even as a post-up option.
"You've got to lock into scouting report," Lightfoot said of the approach to defending him. "He's really a problem when it comes to shooting those mid-ranges."
Brockington made just 6 of 15 shots against the Jayhawks in the first meeting, but he still managed to score 17 points and grab 8 boards in 36 minutes. It all felt like more, too, because he was huge down the stretch when Iowa State stormed back and nearly stole the game.
3. All about intangibles
Self said Saturday that he was most disappointed by his team's inability to win the battle for 50-50 balls, which, if KU had been successful, Self believes could have made the Kansas-Kentucky game more of an even matchup.
It wasn't, of course, and now the Jayhawks get to show whether that was a lesson they took out of the 18-point drubbing.
It's one thing, Self said, to lose to better athletes. But when facing those types of players — or anyone, for that matter —"You can't allow somebody's skill set to be superior to yours and you can't allow their try level to be superior," Self said.
All three issues — athleticism, skill and effort — cost KU against the Wildcats, and the Jayhawks are eager to correct that in a big road conference game at Iowa State.
"That game, (we) kind of put it in the past," Braun said of the loss to Kentucky. There's nothing you can do about it at this point. All the time has been spent on Iowa State and getting back in the win column."
Marquee Matchup
KU point guard Dajuan Harris Jr. vs. Iowa State point guard Tyrese Hunter
Widely considered KU's best all-around defender, Harris will have his hands full with the jet-quick and tenacious Hunter in this one.
He'll need to be good, too, because when Hunter gets going, the entire Iowa State team tends to follow. And Harris doesn't have much on the Kansas roster in the way of help that can slow Hunter down right now.
The matchup could be a good one for Harris, who is not likely to be physically overpowered by Hunter the way he occasionally has been by bigger guards and wings this season.
Hunter had a wild line against the Jayhawks in the first meeting, finishing with a dozen points, five assists and five steals, but also coughing up five turnovers to offset some of that. Harris, meanwhile, matched Hunter's point total and added three assists, but he also struggled with turnovers, giving it away four times in the narrow victory. Harris also had just one steal.
Kansas will need everyone to contribute in a positive way to get out of Ames with a victory in this one. But Harris, as the first line of defense against the motor that makes the Cyclones go, could have the biggest impact if he can both contain and frustrate Hunter while also out-performing him on the offensive end.
It's a big ask, but there's no doubt that Harris is capable and that the Kansas coaches and his teammates believe he's more than able to do it.
Jayhawk Pulse
Kansas heads north looking for the season sweep of the Cyclones on the heels of a tough loss to blue-blood rival Kentucky over the weekend.
The Jayhawks are 2-0 this season in games after losses, knocking off Iona in the third-place game of the tournament in Orlando and beating Iowa State by one in Lawrence three days after losing at Texas Tech.
It's not often that any KU team faces a conference rival after a loss in both meetings of the season, but that's the situation Kansas finds itself in today, looking for another road win to get back on track.
Tonight's game will be the fifth of nine road conference games for the Jayhawks this season, and KU is 3-1 in its first four Big 12 games away from home so far.
KenPom.com gives KU a 54% win probability, with a predicted score of 71-69 in favor of the Jayhawks. That's slightly higher scoring than the 62-61 win KU pulled out on Jan. 11, and Self's squad will face quite a challenge to get to the 70-point mark. ISU is currently ranked eighth overall in KenPom's defensive efficiency ratings, buoyed largely by the team's third-ranked turnover percentage. ISU forces opponents into turnovers on 25.6% of possessions, nearly 7 full percentage points higher than the national average.
Iowa State also defends the 3 well, at 27.2%, which ranks seventh nationally according to KenPom. And the Cyclones are 18th in steal percentage (13%) and eighth in non-steal turnover percentage (12.6%).
If you watched the game in Lawrence, you know why. ISU's style is suffocating and unrelenting and the Jayhawks will have to be good with the ball and poised from start to finish to survive this one.
KU leads the all-time series with Iowa State, 185-66. That includes an all-time edge of 27-22 in games played at Hilton, where KU has won four of the last seven dating back to 2015.
Overall, the Jayhawks have won five in a row against ISU and six of the last seven meetings.
Probable Starters
No. 10 Kansas
G – Dajuan Harris Jr., 6-1, 180, Soph.
G – Ochai Agbaji, 6-5, 210, Sr.
G – Christian Braun, 6-7, 205, Jr.
F – Jalen Wilson, 6-8, 225, Soph.
F – David McCormack, 6-10, 265, Sr.
No. 20 Iowa State
G – Tyrese Hunter, 6-0, 178, Fr.
G – Izaiah Brockington, 6-4, 196, Sr.
G – Gabe Kalscheur, 6-4, 198, Sr.
F – Tristan Enaruna, 6-8, 220, Jr.
F – George Conditt IV, 6-9, 234, Sr.