The only thing Kansas basketball coach Bill Self was interested in doing more quickly than putting Saturday's 80-62 drubbing by Kentucky in the rearview mirror was putting into perspective why it happened.
Sure, the Wildcats' rebounding advantage, edge in points in the paint and ability to control the pace of the game from the jump played a huge role in setting the final score. But Self summed up the loss in more of a big picture sense, as well.
"I think the message is why did we get our butts beat likes we did," he said after the game. "And I think there's a lot of things you can say we didn't do, (but) there's more things you can say they did. They were great. They were terrific. I don't know if they had a weakness in their game. … That's a team that could win it all."
Photo Gallery
Kansas basketball v. Kentucky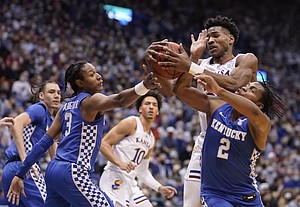 View a gallery of photos from Saturday's game between the Kansas Jayhawks and Kentucky Wildcats at Allen Fieldhouse.
The way the Wildcats looked on Saturday, few would argue that point.
In addition to having terrific lead guards, good outside shooting, big men who rebound and score, Kentucky, in Self's opinion, also won most of the intangible categories on Saturday.
Things like hustle plays, poise and swagger all went the way of the Wildcats, who led by 20 at halftime and as many as 24 in the second half before winning by an easy 18.
Because Kentucky plays two bigs, Self said Kansas guarded differently than it had all year long. Part of that strategy was to funnel contested shots to Keion Brooks Jr., outside of the paint. All he did to answer it was routinely knock those shots down while scoring a game-high 27 points, almost without breaking a sweat.
"He was great," Self said. "I was more disappointed in how we competed for balls. If we competed for balls, our defense wouldn't have been that bad."
On the other end, once the game got away from them, the Jayhawks (17-3 overall, 6-1 Big 12) too often appeared to be in a daze when they got anywhere near the paint. That surprised Self, largely because, as good as the Wildcats are defensively, it's not as if they have an Anthony Davis-type player waiting at the rim.
"They blocked zero shots and still yet they made us miss every shot inside," Self said of his team, which shot 40.2% for the game, 11-for-25 on layups and had just one dunk, which came in transition from the littlest player in their lineup. "It's like we anticipated something that didn't really happen. Hopefully we'll handle situations like that better."
In just about every way, the loss was the result of a perfect storm of things going right for Kentucky and wrong for Kansas. And that ran counter to how things had gone in the past couple of weeks for the Jayhawks.
Just one week earlier, in coming back from 17 down at Kansas State, KU did nearly everything right in the second half to pull out a win. The same was true in the final 11 minutes last Monday, when the Jayhawks survived double-overtime to beat Texas Tech.
"We've been living on a razor's edge the last couple weeks," Self said Saturday night. "And I don't want to say it caught up to us, but a much better team put it on us pretty good."
Despite the rough outing, Self said KU would do everything possible to both move past it and learn from it. He acknowledged that losing to a team like Kentucky, when you're Kansas, is going to dominate the news cycle for a period of time. But he also insisted that the only real impact of the loss for KU — or the win for Kentucky — would be from a momentum standpoint.
"They're going to have more momentum and be on more of an uptick, and we could potentially be on a down tick, so to speak, which could lead to maybe not performing well in games that are more important," Self said. "This game will not have any impact on the success of our season, but it could have impact on the immediate future if we don't correct some things real soon."
KU's first opportunity to do that comes Tuesday night at Iowa State. The Jayhawks and Cyclones will go at it at 6 p.m. on ESPN from Hilton Coliseum.
https://www.youtube.com/watch?v=ax8wIJ9Bsek
https://www.youtube.com/watch?v=jq_sucNFllU