The 12th-ranked Kentucky Wildcats on Saturday did something that other teams have struggled to do throughout the season — slowed Kansas senior Ochai Agbaji down.
Agbaji, who entered Saturday's blue blood battle as the reigning Big 12 player of the week after going for 37 points in a Monday night win over No. 13 Texas Tech, was limited to 13 points on 4-of-14 shooting in Saturday's 80-62 loss to the Wildcats at Allen Fieldhouse.
That included a 1-for-6 showing for three points in all 20 minutes of the first half.
"It wasn't really anything differently that they did," Agbaji said after the loss. "Just making it tougher for me. That's what teams are going to do, night in and night out. I really just couldn't get in a groove. Stuff wasn't falling tonight."
Despite the off night by their leading scorer, Kansas coach Bill Self said afterwards that it was unfair to pin too much of Saturday's struggles on Agbaji.
He likened it to a golfer who has been on fire on the green for six rounds who then takes an average number of putts in the seventh round and is greeted by people asking him what's wrong.
"The difference was, he was so good for so long and then the law of averages kind of just prevails," Self said of Agbaji. "It'd be nice to get Och going, but (Kentucky) was scoring every possession. Him not scoring, or going 1-for-6 in a half, that didn't have anything to do with them scoring every possession. That's when you've really got to bow your neck and be tougher and compete a little harder and we didn't do it."
"They did a good job on Och," Self added. "Don't get me wrong. But I was even more concerned about other players not being able to take advantage of some situations (offensively) or us not putting them in some situations to take advantage (of that)."
Hall of Famers team up
Friday night, Kansas coach Bill Self and Kentucky coach John Calipari, longtime friends and foes who both got their start in coaching at KU, joined together to host a fundraiser to support the John McLendon Minority Leadership Initiative.
Photo Gallery
Kansas basketball v. Kentucky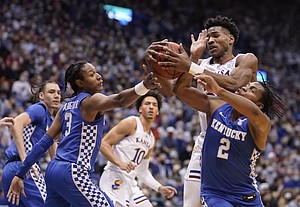 View a gallery of photos from Saturday's game between the Kansas Jayhawks and Kentucky Wildcats at Allen Fieldhouse.
McLendon, the former coach and Jayhawk known as the first Black head coach in all of professional sports, was inducted into the Naismith Memorial Basketball Hall of Fame in 2016 as a coach after first going in in 1979 as a contributor.
Self and Calipari have squared off in some pretty high-profile games over the years — each won his first national title at the other's expense — but both have done their part to enjoy each other's success and team up to do good whenever they can.
"My personal relationship with Cal is very good," Self said this week. "We talked for a long time the other day, text back and forth. I think that we have a solid relationship. He does go about his business, and I totally respect how he does it and how good he is at it. We go about ours probably a little differently."
KU freshman wins $19K
Hundreds of fans packed Allen Fielhouse Saturday morning for a live taping of College GameDay, the first on-campus edition of the weekly showcase in two seasons.
One of them came away $19,000 richer.
KU freshman Connor Loney was chosen to participate in the half-court shot contest that netted him $19,000 from a promotion through GameDay and State Farm. Shooting from the half-court circle with a red State Farm jersey on, Loney buried the shot on his third try.
The first one hit hard and high off the backboard. The second drew the front of the rim. And the third swished. After making it, Loney's buddies mobbed him fnear mid-court. In an on-camera interview with ESPN's Rece Davis, the Bixby, Oklahoma, native said he planned to spend the money with his "boys" and also would use it to pay for college.
Faces in the crowd
Saturday's game brought out a star-studded crowd at Allen Fieldhouse, with current KU signees Gradey Dick and MJ Rice seated behind the bench for the game. Both players were fresh off of being named 2022 McDonald's All-Americans.
Other notable faces in the KU crowd on Saturday evening included former Jayhawks Marcus Garrett, Tyshawn Taylor, Travis Releford, Elijah Johnson, Kevin Young, Nick Collison, Billy Thomas, Justin Wesley, Christian Garrett, Jeff Hawkins and more.
This and that…
Saturday's loss snapped a five-game KU winning streak this season and a four-game home winning streak over the Wildcats… KU is now 5-4 all-time in the SEC/Big 12 Challenge, which was won this year by the SEC for the second consecutive season… The Jayhawks are now 10-24 all-time against Kentucky in a series that dates back to 1950… KU is 9-1 at Allen Fieldhouse this season, moving the Jayhawks to 825-115 all-time in the building, including a mark of 286-16 under Self. Self, meanwhile, is now 7-6 all-time against Kentucky, 7-5 while at Kansas.
https://www.youtube.com/watch?v=ax8wIJ9Bsek
https://www.youtube.com/watch?v=jq_sucNFllU