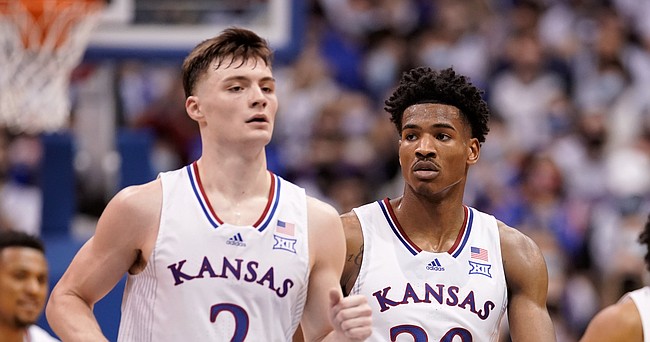 Bill Self has always been big on teaching. After Saturday night, the Kansas basketball coach may have found one of the best opportunities he'll have to do so this season.
The Jayhawks were defeated 80-62 at home by Kentucky in the Big 12/SEC Challenge, marking their second-worst home loss in Self's 19 years at KU. They failed to generate offense, could not rebound effectively and resorted to a variety of defensive schemes in the second half in a last-ditch attempt to climb back into the game.
There are fundamentals to refresh and drills to run, but the biggest lesson Self plans to impart upon his players will be a mental one.
Forget about it and move on.
"We may show a little bit of tape or something, but I'm not going to dwell on this to make it out bigger than it is," Self said. "I'm telling you, it's not in the big scheme of things."
Photo Gallery
Kansas basketball v. Kentucky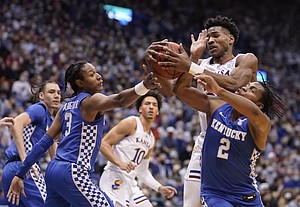 View a gallery of photos from Saturday's game between the Kansas Jayhawks and Kentucky Wildcats at Allen Fieldhouse.
In the Wildcats, the fifth-ranked Jayhawks (17-3, 6-1 Big 12) encountered an opponent that may be playing as well as any other in the country. An athletic, experienced team, 12th-ranked Kentucky (17-4, 6-2 SEC) provided the last nonconference foray for KU, a final measuring stick against an unfamiliar opponent before the cauldron of the Big 12 truly starts to heat up.
Although the outcome will surely have implications on Kansas' NCAA Tournament seeding, it's far too early to determine just how significant that will be.
The Jayhawks know what's most important is playing well and collecting wins against Big 12 competition through the first week of March.
"We've still got conference play in front of us," said junior Christian Braun, who, like senior Ochai Agbaji, scored 13 points to lead the team. "We've still got all the goals that we wanted. They're still available to us — to win (the conference title). But yeah, we've got to learn from this."
The road to a 20th Big 12 title won't be easy. Kansas will hit the road for a game Tuesday at 23rd-ranked Iowa State, which improved to 16-5 with a 67-50 home win against Missouri on Saturday. Fourth-ranked Baylor, which was upended at Alabama on Saturday, will be at Allen Fieldhouse next weekend.
A road game follows against Texas, which just dropped out of the Associated Press poll this week, and then there's the rematch against Oklahoma, which KU beat 67-64 behind Braun's late 3-pointer and free throws on Jan. 18.
According to ESPN's Basketball Power Index, the Jayhawks have the third-toughest schedule in the country remaining.
"The only thing we can do from this point on is go back to the drawing board, see what didn't work, see what was working at times in this game and really break down and analyze this game for Tuesday," Agbaji said.
And if some of KU's weaknesses can be addressed in the two days between games, Self will be pleased. That's because in his mind, they'll be back on track.
"I told our guys I'd much rather beat Iowa State than Kentucky," Self said. "Now, granted, we didn't have an opportunity to beat Kentucky. That was a one-sided affair tonight. But if this can somehow make us more hungry or more competitive for that game?
"You never want a loss to go to the point where it didn't teach you a lesson or cause something positive to come from it, and there's still that opportunity for that to happen."