Saturday, January 29, 2022
Keion Brooks Jr. scored a career-high 27 points, including 15 in the second half, as No. 12 Kentucky resoundingly defeated No. 5 Kansas 80-62 at Allen Fieldhouse on Saturday in the second-worst home loss in Bill Self's 19 seasons as the Jayhawks' coach.
Ochai Agbaji and Christian Braun each scored 13 points for the Jayhawks (17-3, 6-1 Big 12), who had their five-game winning streak snapped against perhaps the toughest opponent they have faced all season.
Brooks' performance overshadowed the battle between two of the top contenders to be named the national player of the year in Agbaji and Kentucky junior forward Oscar Tshiebwe.
Tshiebwe had 17 points and 14 rebounds for the Wildcats (17-4, 6-2 SEC), who won in Lawrence for the first time since Dec. 10, 1983.
KU had no answers for Kentucky's offense, which shot 50.8 percent (31-for-61)— including 61.8 percent (21-for-34) in the first half. It also dominated the battle on the boards, grabbing 41 rebounds to the Jayhawks' 29 — and had a 38-22 advantage on points in the paint.
An 8-0 run during a two-minute stretch before the first media timeout set the tone for the Wildcats, who sailed to a 51-31 halftime lead.
Kansas tried to slow Kentucky down in the second half by turning to a 2-3 zone and a triangle-and-two defense, but that's when Brooks took advantage. He scored 15 of the Wildcats' first 17 points of the second half, often comfortably knocking jumpers down from the top of the key.
Photo Gallery
Kansas basketball v. Kentucky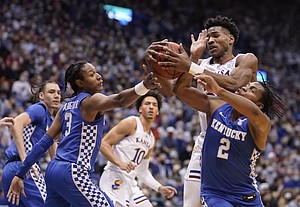 View a gallery of photos from Saturday's game between the Kansas Jayhawks and Kentucky Wildcats at Allen Fieldhouse.
The Jayhawks drew no closer than 14 points in the second half despite their defensive adjustments, and a significant number of fans started to head for the exits during Kansas' timeout with 5:48 remaining.
Kansas shot 40.7 percent (24-for-59), including 33.3 percent (6-for-18) from 3-point range. Jalen Wilson had eight points and eight rebounds, and Mitch Lightfoot had six points and seven rebounds.
The Jayhawks lost by 25 points to Texas last season for Self's worst home loss as coach. They had won four of the last six games between the teams, which have played in six of the last seven seasons. They also met in the NCAA championship game in 2014, which Kentucky won 72-40.
KU will be back on the court Tuesday night when they face Iowa State on the road at 6 p.m.
https://www.youtube.com/watch?v=jq_sucNFllU
https://www.youtube.com/watch?v=ax8wIJ9Bsek