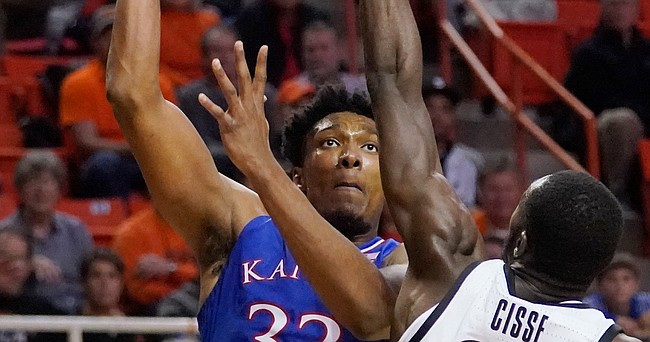 No. 5 Kansas Jayhawks (17-2 overall, 6-1 Big 12) vs. No. 12 Kentucky Wildcats (16-4 overall, 6-2 SEC)
Time: 5 p.m., Saturday, Jan. 29, 2022
Location: Allen Fieldhouse, Lawrence, Kansas
TV: ESPN | Radio: IMG Jayhawk Radio Network
Keys for Kansas
1. Lead guards matter
Whether it's Dajuan Harris Jr. and Remy Martin for Kansas or Sahvir Wheeler and TyTy Washington for Kentucky, the primary ball-handlers for both teams figure to have a huge role in this one.
Both teams like to get up and go, with Kentucky actually scoring a little more than Kansas on average (82.2-81.5), and these four guards play a big role in that.
They also play a big role in preventing that, and that could be a major factor with Wheeler, a transfer from Georgia who Kansas also recruited in the offseason.
"Sahvir, I think, is the best 94-foot player in the country, hands down," Self said referencing the length of the basketball floor. "He's one of the few guys who can pick up 94 feet (defensively) and, offensively, force the pace better than anybody else. I think he's had a fabulous year."
The freshman Washington is another player Kansas recruited hard in the offseason, and, at 6-foot-3, 197 pounds, he brings the frame and skills of a grown man into his matchup with KU senior Ochai Agbaji, who stands 6-5, 215.
"He's definitely a pro," Self said of Washington. "But we're going to be playing with a pro in that spot, too, you know. So I'm kind of excited to see that. There's some great individual (matchups), which should be fun."
ESPN analysts Seth Greenberg and LaPhonso Ellis both gushed about Martin during their Friday sit-down with the media, saying that his speed and play-making ability could be a major advantage for Kansas, if Martin is on and cooking.
"I just absolutely love Remy Martin," said Ellis, now in his 13th year with ESPN after an 11-year pro career with the Denver Nuggets. "Kansas is a different team when he's healthy. The burst and the speed that he has is real, and his decision making when he gets into the gap after he flattens out the defense is significant because it creates easier shops for Ochai and for Christian (Braun)."
Martin has been nursing a knee injury and playing limited minutes since the start of Big 12 play. And Washington missed Tuesday's overtime win at Mississippi State with an ankle injury.
Both teams have other players who can pick up the slack if Martin and Washington are limited, but each team has shown it plays at a different pace, offensively, with those players on the court.
2. Offensive rebounds win
The Jayhawks have been good about going to the glass in the past couple of weeks, with Agbaji, Braun and Jalen Wilson all finishing in the 7-10 rebound range in multiple games.
All three will have to be good in that area again in this one, and if they are, it could go a long way toward determining the outcome. That's particularly true on the offensive glass, where Kentucky has dominated opponents this season.
Not only are the Wildcats the top offensive rebounding team in the country, but they also rank 11th nationally in preventing teams from getting second and third chances off of offensive rebounds.
According to KenPom.com, the Wildcats get 39.2% of their own misses back and limit opponents to just 22.3%. Both numbers are way off the national average of 28.4%.
The numbers tell the story. The Wildcats are 16-1 this season when outrebounding their opponent. They also are 0-2 when getting out-rebounded and 0-1 when recording the same number of rebounds as their opponent.
The one team that beat them in a game despite finishing on the wrong end of the rebounding margin was Duke in the season opener at the Champions Classic. The Blue Devils won that game 79-71 despite getting out-rebounded 44-35. Notre Dame, LSU and top-ranked Auburn all beat Kentucky in part by finishing even or ahead on the glass.
Big man Oscar Tshiebwe leads UK in offensive rebounds with 105 in 20 games — good for 39.2% of the Wildcats' total offensive boards this season (coincidentally the same percentage that they're getting them as a team) — but seven other Kentucky players have recorded double-digit offensive boards this season, with Keion Brooks Jr. leading the rest with 27 in 19 games.
KU's top three offensive rebounders through 19 games this season — McCormack (63), Braun (32) and Lightfoot (25) — barely have more than Tshiebwe.
3. Veterans must play like veterans
While so much of this one figures to be decided by X's and O's, the experience of both teams could be a factor, as well.
Kentucky typically has one of the youngest rosters in college basketball, with UK coach John Calipari often fielding a roster full of highly-rated freshman who are experiencing college basketball for the first time.
Not this year. Kentucky's roster is one of the most experienced groups in the school's history and it features just three freshmen.
The transfer portal played a big role in some of that, with Tshiebwe and Wheeler tops among them.
Kentucky entered the season with 13,385 career minutes on its roster, more than any other roster in UK history dating back to the 1964-65 season when records were first kept. And Calipari's players also carried with them 5,203 career points, the second most in school history entering a season.
According to Kentucky's game notes, the team's Day 1 age average of 20.7 years old made the Wildcats one of the 25 oldest programs in the country.
The Jayhawks certainly aren't overly young, with experienced veterans like Agbaji, Braun, McCormack, Lightfoot, Martin and Jalen Coleman-Lands in their rotation. But while many of those guys have benefited at times from being more experienced than their foes this season, that advantage is not likely to be there against the Wildcats.
That makes things like poise, execution and attention to detail key elements in this one. And Self said on Friday that he was happy with the way his team had performed in those areas throughout the season.
"They've been pretty mentally tough," Self said of his team. "We haven't always been physically tough, but we've gotten better in that area. … There's a lot to like about our team. But there's also a lot to wish that we did better, and that's why I've been excited about them because I think our ceiling is still higher than what we've played so far."
Marquee Matchup
KU senior David McCormack vs. Kentucky junior Oscar Tshiebwe
You're not seeing things or having a flashback. That's the same Tshiebwe that played at West Virginia for a couple of seasons and the same Tshiebwe who was matched up with McCormack in this very space in the past, including as recently as last January.
Many of the keys that applied then still apply now, but both McCormack and Tshiebwe have grown as players from their last meeting.
Greenberg said it's the improved footwork that makes Tshiebwe stand out. Not only is he a load at 6-9, 255 pounds of pure muscle, but he's also athletic and moves well laterally, which allows him to play different styles on both offense and defense.
"A missed shot is like a pass off the backboard for him," Greenberg said Friday.
Currently leading the country in rebounding at 15.2 per game, Tshiebwe has delivered nine games this season of 16 or more rebounds, including five of 20 or more and a season-high of 28 in a win over Western Kentucky.
While those numbers might intimidate some, McCormack is comfortable with them, both because of his history with Tshiebwe and because of what the matchup allows him to do, as well.
"That's my optimal matchup," McCormack said. "Playing against a bruiser, you can bey physical and don't have to worry about small, ticky-tack fouls. You just know they're going to play the same way so it's kind of a relief."
In their one true head-to-head matchup a season ago — before Tshiebwe elected to leave WVU — McCormack outscored him 10-3 and out-rebounded him 11-5. He also played nearly twice as many minutes in a win at Allen Fieldhouse.
The season before that, with McCormack serving as the back-up to Udoka Azubuike, Tshiebwe combined for 31 points and 26 rebounds in 30 minutes per game against Kansas, while McCormack played just 10 minutes per game in the two meetings, averaging 3 points and 2 rebounds.
Although his experience against him in a Kansas uniform is limited, McCormack has as good a feel as anybody in the country for how Tshiebwe operates. The two even had a little friendly banter this week leading up to this one. The gist of the messages?
"I've known him since high school. We're former (AAU) teammates. (But) no brother-in-law ball," McCormack said of the term generally used for when players take it easy on each other. "We'll definitely be playing at 100%, and I'm just looking forward to it."
Jayhawk Pulse
Call it whatever you want — battle of blue bloods, meeting of the two winningest programs in college basketball history, a clash between two of the biggest brands in college hoops just don't try to make it about any one particular person or part of Saturday's game.
"When you play a game like this, you have to remember it's not coach versus coach, it's not player versus player, it's Kansas versus Kentucky," Self said Friday. "And that's what makes a game like this so special."
Rarely one to make promises, Self on Friday guaranteed that the atmosphere inside Allen Fieldhouse for this one would be better than the one these two teams experienced in Indianapolis a season ago. Makes sense. Because of the pandemic, that one was played in an empty arena with no fans and an eerie silence inserting itself into the game at certain times.
That won't be the case on Saturday. Like they did for the Missouri game, students camped out all week for this one, and the KU fan base is still buzzing from the energy that emerged from KU's double-overtime win over Texas Tech on Monday night.
Self, along with countless others, has said on plenty of occasions that a rocking Allen Fieldhouse is a huge advantage for the Jayhawks. But KU fans tend to get a little more fired up when the Jayhawks and Wildcats face each other, and that extra energy should be a factor in this one.
"It doesn't have to be Kentucky to make it special," Self said of the Allen Fieldhouse environment. "But when (it is), it's turned up another notch."
On paper, the Wildcats appear to be the best team the Jayhawks have faced so far this season. Despite being ranked No. 12 in the AP poll, UK is actually ranked two spots ahead of Kansas in the KenPom.com rankings at No. 7, with the fourth best offensive efficiency and 25th best defensive efficiency numbers to date.
KU ranks third in offensive efficiency and 48th on the defensive side of the ball.
Despite what the numbers say, though, this one is all about star power. The two brands are as big as it gets. ESPN's College GameDay is here. And both programs are led by Hall of Fame head coaches. Beyond that, many believe that Agbaji and Tshiebwe have positioned themselves right in the thick of the player of the year race, and both teams, as usual, have their eyes on a run to the Final Four later this year.
"This has the makings of just an incredible, incredible game," Greenberg said Friday.
KU has won four consecutive games against Kentucky inside Allen Fieldhouse, two in a row over the Wildcats in the SEC/Big 12 Challenge and four of the last five in the series overall. The two programs have met at least once in nine of the last 11 seasons.
Kentucky leads the all-time series 23-10, but Self is 7-4 against UK while at Kansas and Calipari is 4-4 against the Jayhawks during his time at Kentucky.
Probable Starters
No. 5 Kansas
G – Dajuan Harris Jr., 6-1, 180, Soph.
G – Ochai Agbaji, 6-5, 210, Sr.
G – Christian Braun, 6-7, 205, Jr.
F – Jalen Wilson, 6-8, 225, Soph.
F – David McCormack, 6-10, 265, Sr.
No. 12 Kentucky
G – Sahvir Wheeler, 5-9, 180, Jr.
G – TyTy Washington, 6-3, 197, Fr.
G – Kellan Grady, 6-5, 205, Sr.
F – Keion Brooks Jr., 6-7, 210, Jr.
F – Oscar Tshiebwe, 6-9, 255, Jr.