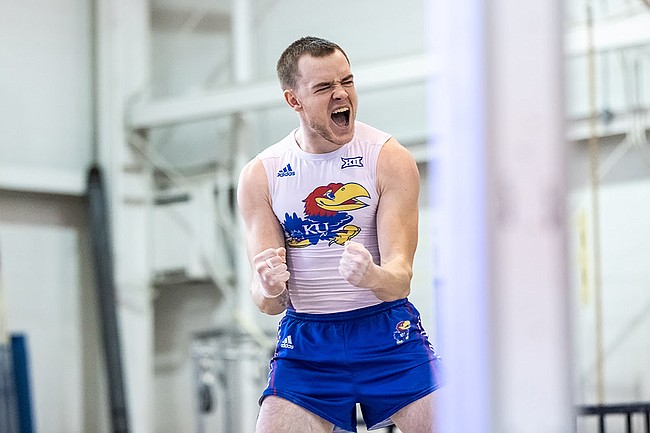 The Kansas track and field team recorded a pair of facility records at the final home indoor track meet of the 2021-22 season on Friday.
KU junior Zach Bradford broke the men's pole vault record and Avryl Johnson broke the women's 1,000-meter mark at Anschutz Sports Pavilion.
Bradford broke his fourth facility record in as many meets, clearing 5.75 meters (18-10.25 ft.) to break his previous facility record of 5.67 meters (18-7.25 ft.) set earlier this season.
Johnson broke a 2-year-old facility record by running a 2:47.82, breaking the previous record of 2:49.87 set by Wichita State's Rebekah Topham. KU's Sommer Herner also beat the facility record with a time of 2:49.42 to finish second.
In all, the Jayhawks won 17 events on Friday, including a pair of victories by sophomore Cameron Wilmington in the 60 meters and 60-meter hurdles. Wilmington started by winning the 60-meter hurdles finals in 8.06 seconds, before winning the 60 meters finals in 6.85 seconds.
In the men's weight throw, KU's Nick McMillin set a personal best mark of 16.93 meters (55-6.50 ft.) to win the event.
Junior Rylee Anderson continued her impressive season in the women's high jump. After tying the KU school record at the KU-KSU-WSU Triangular two weeks ago, Anderson cleared 1.83 meters (6-0.00 ft.) to win the event on Friday.
Kansas now will hit the road for five consecutive meets before postseason competition, starting with the Husker Invitational in Lincoln, Nebraska, February 4-5.