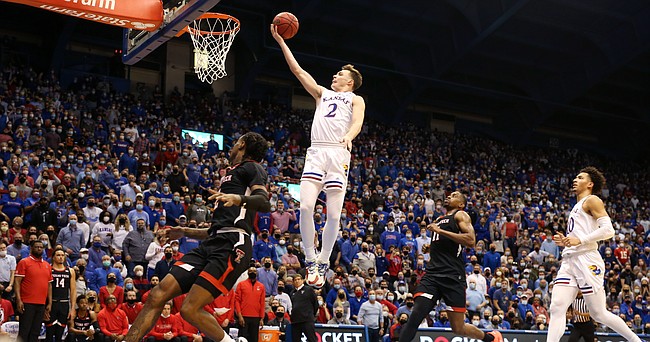 Any time blue blood programs Kansas and Kentucky get together, it automatically is considered a big game.
Rankings don't always matter. Records don't matter either. Heck, players and coaches don't even really matter. Neither does when the matchup of the two winningest programs in college basketball history takes place.
Still, more often than not, those factors all register at an elite level on the importance scale, and that is certainly the case on Saturday, when No. 12 Kentucky visits No. 5 Kansas for a 5 p.m. clash at Allen Fieldhouse in the Big 12/SEC Challenge.
As big as the buzz might be surrounding this one, Kansas coach Bill Self and his players are looking at this game in two very different ways. The first registers on the hype meter.
"Big, huge game," KU coach Bill Self said this week. "Bigger to fans than it is to what we're trying to do. But (it's a) huge game."
ESPN's College GameDay will be in Lawrence for this one, and the festivities actually begin on Friday, with an entire Fan-fest at the Phog event slated for 5 p.m. to 8 p.m. Friday and from 7 a.m. to 5 p.m. Saturday. Most of the Fanfest will take place on the lawn in front of Allen Fieldhouse, with free food, food trucks, games and giveaways.
On Saturday morning, fans will be invited into Allen Fieldhouse — free of charge — for the taping of College GameDay. Doors will open at 8:45 a.m. and the show will be live from 10 to 11 a.m. Students should enter through Gate 2 at the northeast corner of Allen Fieldhouse and the general public through Gate 11 on the south side of the building.
That type of build-up generally creates a pretty electric atmosphere by the time tipoff rolls around. And the fact that KU and Kentucky are separated by just three wins on the all-time wins list (Kentucky leads 2,343-2,340) figures to make things even wilder this time around, as many Kansas fans are convinced that this is the year that they can overtake the Wildcats at the top.
Outside of wanting to win this particular game, of course, none of that big-picture stuff matters much to the current Jayhawks. But that does not mean they'll be lacking enthusiasm for the matchup.
"It's not going to impact us on whether we win the league or not," Self said. "Maybe it's a seed line game; I don't know. But I'm excited about it. I love games like that. And I know our players do and I guarantee their players do, as well. So it'll be a fun game."
Leading scorer Ochai Agbaji agreed and said that, after a couple of days of rest following a wild stretch of wins at Kansas State and home against Texas Tech in double-overtime, the Jayhawks were looking forward to this one but also keep-ing an eye on what comes next.
"It's still early, but after Kentucky I know we have a stretch where then we're really going to be talking about the (Big 12) race and all that," he said. "So just wait a second."
Added Self: "Right after that, (with) at Iowa State, (home versus) Baylor and at Texas, we can't put so much emphasis on one (game) that we forget about what's really more important even though I know fans will."
The way KU junior Christian Braun sees it, having KU fans treat Saturday's game against Kentucky (16-4 overall, 6-2 SEC) like it's the biggest game on the schedule is fine with him because he believes their support will help keep Kansas rolling into the meat of the Big 12 schedule.
The Jayhawks (17-2 overall, 6-1 Big 12) have won five in a row in conference play, with three of those coming on the road. KU will jump right back into the Big 12 after Kentucky, with games against three teams that have been ranked for most of the season, including at home next Saturday against Baylor, which spent several weeks at No. 1.
"It's not like you get a break," Braun said.
KU heads into the weekend with a half-game lead over Baylor in the Big 12 race. The Jayhawks are a game up in the loss column and both teams already have six wins. After that it's three teams with three losses crowding the top, with Texas and Texas Tech both at 5-3 and TCU at 3-3.