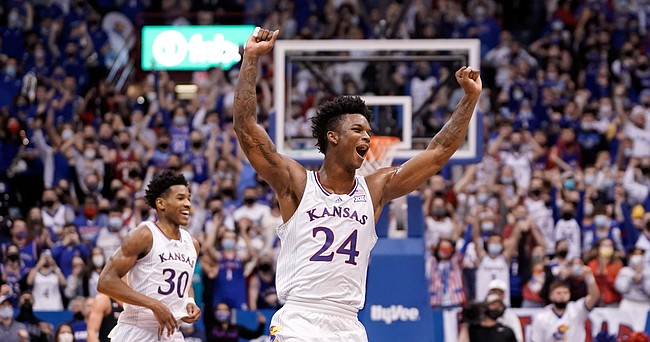 Before KJ Adams could rejoin his Kansas men's basketball teammates on the court, Mitch Lightfoot wanted a word.
Lightfoot, a sixth-year senior who has mentored Adams this season, reiterated the instructions from the coaches at the end of a timeout with 1:38 left in the second overtime against No. 13 Texas Tech on Monday. Adams, a freshman who had already shown during the game that he could handle his suddenly expanded role, listened and understood.
"He gives me confidence, tells me, 'You've got this, you've got this,' and just gives me confidence to do what I do," Adams said of Lightfoot's advice. "It was good coming from a leader in that standpoint."
Whatever certainty Adams may have lacked, until that moment and afterward, was never apparent. The forward finished with six points and four rebounds in the fifth-ranked Jayhawks' 94-91 victory, but it was his defensive versatility that earned him his greatest workload of the season.
Photo Gallery
Kansas Basketball v. Texas Tech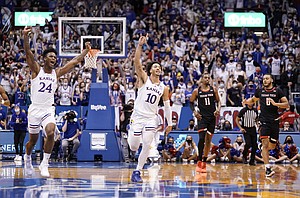 View a gallery of images from Monday night's game between the Jayhawks and Red Raiders at Allen Fieldhouse.
It may also open an opportunity for Adams to assume — or perhaps maintain — a greater responsibility the rest of the season.
"He came off the bench, gave us a spark, gave us that energy," said Ochai Agbaji, who led the Jayhawks with a career-high 37 points, including the 3 that tied the score at 86 with 7.3 seconds remaining in the first overtime. "Kind of switched up our defenses. We were kind of switching five there for a little bit with him in the game, kind of going smaller. He still had that rebounding factor that we needed for that stretch."
The coaching staff turned to Adams as an answer for Texas Tech's Bryson Williams, a 6-foot-8, 250-pound senior forward who finished with a season-high 33 points. Williams' versatility, range and comfort as a ballhandler made him a mismatch for Lightfoot and senior starter David McCormack, but Adams, at 6-foot-7 and 220 pounds, appeared comfortable not only defending in the post but switching off ball screens and drifting out to guard the perimeter when necessary.
That's not to say Adams was KU's antidote. In fact, on Texas Tech's first possession with Adams on the court, with 3:20 left in the first half, Williams easily backed him down into the low post, spun around and lofted the ball left-handed through the rim. On Adams' first play back on the court in the second half, Williams scored on a similar play, and a similar shot, with his right hand with 11:53 left to play in regulation.
But Williams scored 22 points before Adams returned in the second half. He then scored five more in the first overtime, most of which Adams spent on the bench, and only three in the second overtime, when Adams played the entire period.
"We couldn't guard him," said Kansas coach Bill Self of Williams. "KJ was the only one who had a chance to guard him. We decided not to trap him because we didn't want to give up 3s, and we thought we could do a good job if we could get him to being a 2 shooter. But we just didn't do a good job until KJ was in there and made a big difference when we could switch five and didn't have to guard a ball screen, too."
Adams also provided two of the biggest plays of the game on offense, both in the second overtime. With 1:56 remaining, KU's Jalen Wilson was forced to take a midrange jumper with three seconds left on the shot clock. Adams, on the weak side, was able to pull down the offensive rebound over Texas Tech's Kevin McCullar to extend the possession. After Dajuan Harris Jr. drove the lane and missed a layup, it was Adams who rose over McCullar and Kevin Obanor to tip the ball in and tie the score at 91.
Then, with 16.5 seconds left and the Jayhawks up 92-91, Wilson tried to draw a foul on a drive to the rim. The shot missed, no foul was called, but Adams, on the other side, managed to tip the ball away from the waiting hands of Williams and into the backcourt, where Christian Braun gathered it and was fouled with 10.1 seconds left.
Self called it "maybe the second biggest play of the game" behind Agbaji's tying 3-pointer.
"He got that ball one against two and CB was able to run it down and get fouled," Self said. "He didn't get the rebound on paper but that was his board."
Minutes have been hard to come by this season for Adams, a native of Austin, Texas, who was a top-100 recruit out of high school. Left to fight with Lightfoot and McCormack for a chance to get on the court, Adams' biggest contribution may have come Jan. 11 against Iowa State, when he started and played just shy of 10 minutes.
Adams had been told two days before the game that he would start, and he responded by repeatedly reviewing the team's scouting report, hoping to show during the game that he was ready. Aside from a thunderous dunk in the opening minutes, however, he played timid, and Self has turned back to McCormack to start ever since.
Perhaps that was the advantage, then, for Adams on Monday night: Without notice that he would be thrust into a more significant role, he didn't have time to overthink. He just had to play with instinct.
"I'm just grateful to my teammates for giving me the positivity to not even allow me to get scared or frightened by the big moment," Adams said. "I'd like to just thank all them for all they did."