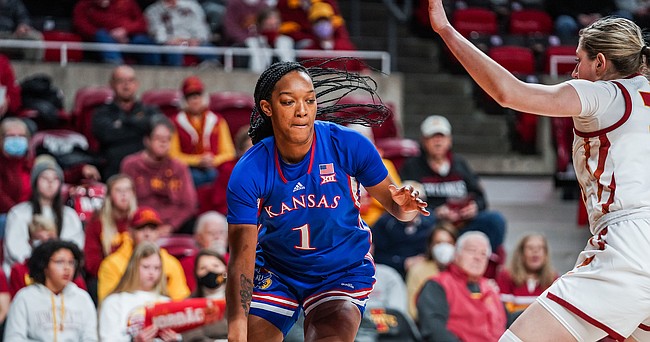 Taiyanna Jackson had 12 points, eight rebounds and six blocks, but the Kansas women's basketball team lost 77-62 to No. 13 Iowa State on Tuesday in Ames, Iowa.
Zakiyah Franklin scored 14 points and Julie Brosseau added 13 for the Jayhawks (12-5, 3-4 Big 12), who trailed 40-33 at halftime. They cut the deficit to three points just seconds into the third quarter, but Iowa State put the victory out of reach by pushing the margin to 19 nine minutes later.
Ashley Joens had team highs of 21 points and 11 rebounds for the Cyclones (17-3, 6-2 Big 12), who were ranked seventh a week ago but lost their previous two games as they dealt with the effects of COVID-19.
KU was without forward Ioanna Chatzileonti, its fourth-leading scorer and second-best rebounder, who was unavailable to play because of an illness and ruled out shortly before the game began.
"Not having her for this game, especially when all preparation that had taken place was in regards to having her available and a big part of our plan in terms of offensive attack — having to make some adjustments post-pregame meal is challenging," coach Brandon Schneider told Jimmy Chavez on the Jayhawk Sports Network radio broadcast after the game.
The Jayhawks trailed 24-12 after the first quarter, when they shot 2-for-10 from the perimeter. Meanwhile, the Cyclones, the conference's best 3-point shooting team, went 6-for-10.
But Iowa State forward Morgan Kane picked up her second foul on a charging call eight seconds into the second quarter, forcing her team to abandon its zone defense and open the door for Kansas — and for Jackson.
The junior center scored 10 of her 12 points in the second quarter to narrow the Cyclones' margin, but they roared back in the third. They finished the quarter on a 14-3 run to take a 63-44 lead into the fourth, then never led by fewer than 13 points the rest of the way.
Iowa State went 16-for-20 from the free throw line and shot 43.1 percent, including 37.9 percent from 3-point range. Kansas, which shot 42.6 percent, took just four free throws and made two.
Brosseau, a senior from Quebec who has also played at Maine and Utah, made her 200th career 3-pointer with 3:32 left in the first quarter and surpassed 1,000 career points with a 3-pointer with 5:57 remaining.
Holly Kersgieter, the Jayhawks' leading scorer at 14.3 points per game, was held to eight primarily by Iowa State's Lexi Donarski. Mia Vuksic made her return and played 17 minutes; she had not played since a Dec. 21 win at Wichita State.
The Jayhawks will play their next two games against Oklahoma State, with the first game on the road on Saturday before a Feb. 2 return.